Investment insights amid a trade standoff
Share - WeChat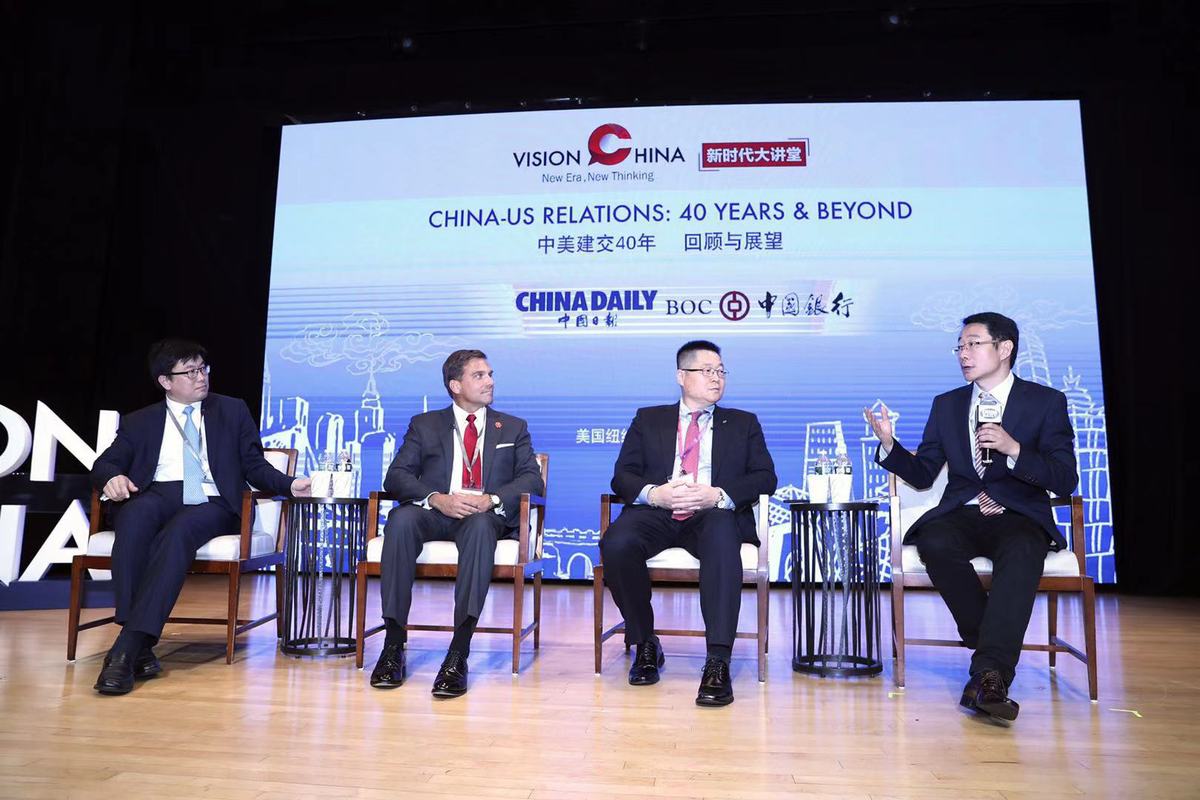 Kentucky needs and encourages foreign investment — especially from China, a state official said Tuesday at the Vision China event in New York.
Kentucky has attracted $21 billion in foreign investment in the last three and a half years, including $2 billion from China and $200 million recently, said Vivek Sarin, interim secretary for the Kentucky Cabinet for Economic Development.
"The situation in Kentucky is one of great encouragement," Sarin said. "We hustled because business is a contact sport. You have to get out of the office."
He made the comments during a panel discussion moderated by Ji Tao, president and editor-in-chief of China Daily USA. The event was held at the Asia Society and co-hosted by China Daily and the Bank of China.
Kentucky Governor Matt Bevin led a delegation to China where state officials met investors and pitched Kentucky's eagerness for foreign investment.
Sarin said the continuing US-China trade dispute has not affected discussions with China because business is conducted face-to-face, and politics isn't an issue.
"In Kentucky, we take more of a long-term view," he said. "We build personal relationships. Capital goes where capital is welcome. We make it clear that we want to do more business."
Sarin said the Kentucky delegation split into two groups: politicians and business representatives. The politicians meet in one room, and the investors meet in another to keep the lines of communication open and uncomplicated.
Xiao Yuqiang, vice-chairman of China General Chamber of Commerce-USA and chairman of the US management committee, said at the panel discussion that he is confident about the future because investment benefits both nations.
The market demands efficiency at every level of production. This requires sound management practices and a deep reservoir of human capital, factors that abound in China, he said.
Jeff Liu, another panelist who is a CGCC director and CEO of Fuyao Group North America, said Chinese companies operating in the US must understand cultural differences to get the most out their workers.
Liu appeared in American Factory, a recently released movie about Fuyao Glass that took over an abandoned General Motors factory in Ohio to produce auto glass. The movie examines the cultural factors as blue-collar American workers adapt to high-tech management techniques.
He said attracting young workers to manufacturing is difficult because the work is demanding, and technology jobs pay much better. Nevertheless, training can create engaging jobs that will attract younger workers who will thrive in an industry increasingly dependent on automation.
"It's hard to find young, talented people," Liu said. "It's not old-style manufacturing, and now involves a lot of automation. We need to work together because automobile production is a nonstop production line."
The demands of the production line are unforgiving, and therefore everyone must give their best effort to meet the demands of auto companies, including GM and BMW, while maintaining worker morale. A lapse in either will delay deliveries and erode profits, he said.
Liu said his operation is not directly affected by the continuing US-China trade dispute, and he's confident foreign investment will continue to fuel expansion.
"We work together - and that's a success," he said.