Dedicated to discovering China's landmarks
Share - WeChat Breaking stereotypes
In 1928, the discovery of the Yinxu Ruins, the remains of a capital city that existed during the latter part of the Shang Dynasty (c.16th century-11th century BC) in Henan, lifted a shroud that hung over domestic Chinese archaeology and also helped the Shang Dynasty to emerge from legend into actual history due to the abundant findings of "oracle bones" — historical records inscribed onto animal bones, and China's earliest known form of written characters.
"Unlike many other ancient civilizations, China had a particular tradition of keeping detailed records of history throughout ancient times," Li says.
Records of the Grand Historian, or Shi Ji, compiled by Western Han Dynasty (206 BC-AD 24) historian Sima Qian, remains a monumental reference work for archaeological studies.
For example, according to the book, the Xia Dynasty (c. 21st century-16th century BC), the first central kingdom with a vast land in China, once set its capital in an area around today's Luoyang, Henan province. Following this clue, archaeologists located the Erlitou relic site in Luoyang in 1959. As the biggest capital city ruins of its time in East Asia, it is widely considered in Chinese academia as the location of the Xia capital.
"However, old theories also once led people to form stereotypical views that the origins of Chinese civilization must lie in the Central China Plain," Li says. "For decades, archaeologists tended to stick labels based on established knowledge, and always looked to form connections between historical records and what the objects they had unearthed."
Nevertheless, a boom in the number of discoveries indicating early-stage civilizations over the following decades have gradually changed archaeologists' minds. Ranging from the western bank of Liaohe River in Northeast China, throughout Central China to the middle reaches of the Yangtze River, these findings appeared like stars on a clear night all across the country.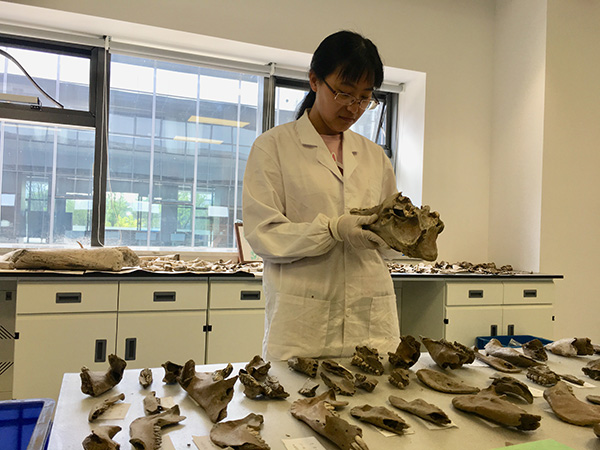 Many brilliant discoveries unknown to history were revealed by the shovels of the archaeologists—from the 4,000-year-old Shimao relics site in Shaanxi province, the most extensive prehistoric city ruins ever found in China, to the 5,300-year-old ruins of Liangzhu city in Zhejiang province.
"We began to realize that Chinese civilization formed in unison, yet with diversity," Wang from the Society of Chinese Archaeology says. "About 5,000 years ago, as hierarchical societies and metropolises began to mushroom all over today's China, Central China rose in prominence as a hub for civilization about 4,500 years ago — absorbing different cultural elements, mixing them together and later influencing a much wider region."
Highlighted moments appear on those sites once being marginalized.
The archaeological ruins of Liangzhu city, famed for its gradual discovery of outstanding ceremonial jade pieces, the palatial city of a regional state, and a complex dam system — thought to be the world's earliest — became China's latest entries on the list of UNESCO World Heritage sites in July, signifying global recognition for the 5,000-year Chinese civilization, according to Liu Bin, director of the Zhejiang Provincial Institute of Cultural Relics and Archaeology.
"A creative approach helped to bear more fruit," Li adds. "And, of course, the country's rich history is an advantage to all of us Chinese archaeologists, rather than a burden."
In January, the Chinese history research institute under the Chinese Academy of Social Sciences was established to better coordinate historical and archaeological research through interdisciplinary studies.
"We archaeologists have a constant mission to help people better understand the history of our country and fill in the gaps through the discovery of artifacts. People can learn from the past to benefit the future."
Most Popular