5G technology plays growing role in nation's industrial upgrading
Share - WeChat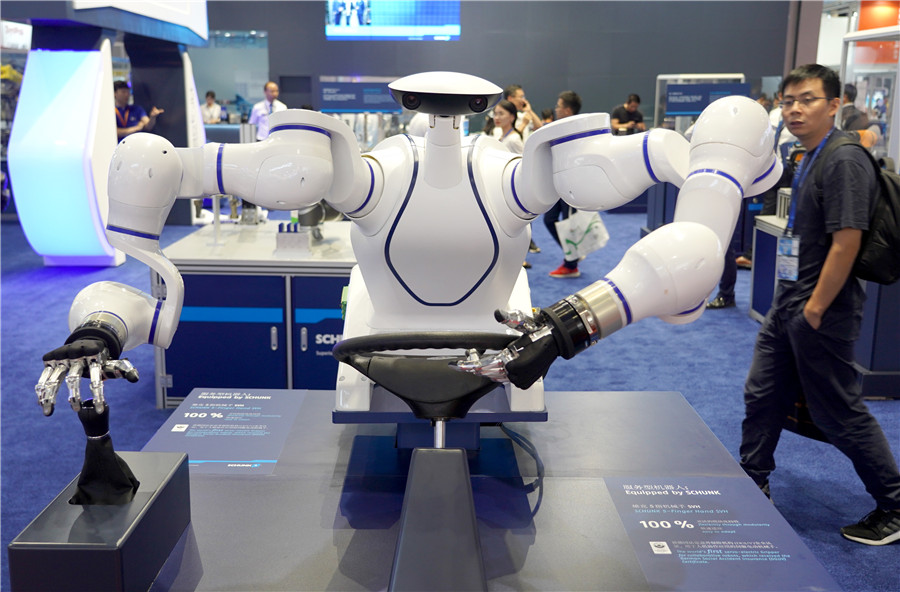 Chinese conventional industries are gaining traction from 5G technologies, as a number of latest products are showcased in the annual China International Industry Fair (CIIF) starting on Tuesday.
A demo vehicle of a 5G supported intelligent heavy truck was exhibited by SAIC Motor Corp Ltd, the largest listed auto company on China's A-share market.
The heavy truck is designed and manufactured by SAIC, part of a collaborative project launched by SAIC, Shanghai International Port (Group) (SIPG) and China Mobile earlier this year, according to Cheng Yisong, a project manager from SAIC.
"SAIC has produced 20 such intelligent heavy trucks so far this year, and kicked off closed road tests in late June," said Cheng.
According to the agreement, the trucks are expected to start commercial operation between Yangshan Port and Lingang by 2024.These unmanned trucks will play a great role in transferring containers from the port and greatly enhancing its capacity.
China Mobile exhibited the integration of its 5G technology with manufacturing machinery through digital twin technology.
In June, China Mobile joined hands with Shanghai Tobacco Machinery Co Ltd by copying a tobacco manufacturing machine in virtual space, said Tian Weicheng, a project manager with China Mobile (Shanghai) Industrial Research Institute.
According to Tian, the copied version operates simultaneously with the physical one at Shanghai Tobacco Machinery, and the digital twin technology makes augmented reality maintenance, inspection and failure recovery possible.
Industrial visual application is also taking advantage of 5G and AI technologies for quality control, said Han Yu, a senior manager with Shanghai Gantu Network Technology Co Ltd.
"Conventional quality inspection uses human eyes, which is unstable, while our application on key automotive parts has a defect recognition rate of 99 percent, enhancing work efficiency by 4 times and saving 80 percent of labor," Han said, adding that the machinery visual technology has already been used by several enterprises in the Yangtze River Delta region.
5G technology is also helpful in community maintenance and management in up to 1,000 communities across Shanghai, according to Shou Chenfei, a business manager from China Telecom.
"Sensors installed at fire hydrants, trash bins and manhole covers can do a better job than humans in daily community operation as well as preventing incidents including fire alarms," said Shou.
The five-day CIIF, which started on Tuesday, takes up an area of 280,000 square meters and has attracted 2,610 exhibitors from 27 countries and regions including the United States, Germany and France, according to Wu Jincheng, chairman of Shanghai Municipal Commission of Economy and Informatization.