Democrats slam trade rift in debates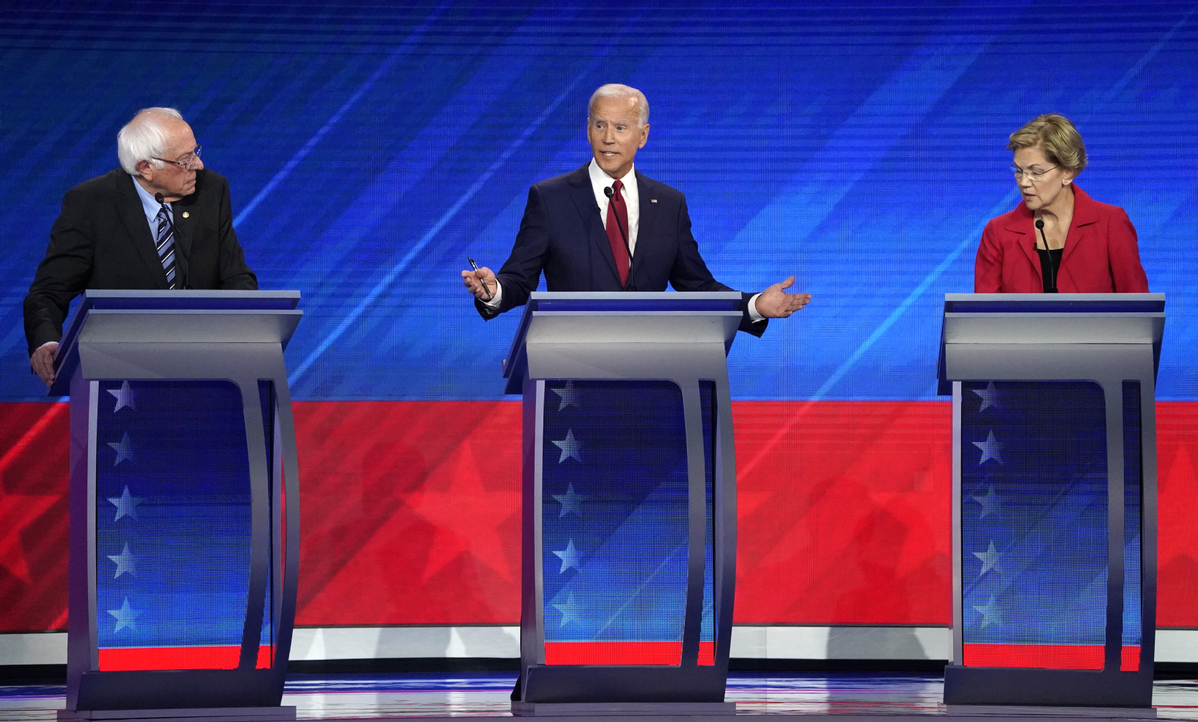 Democratic presidential candidates tackled the US-China trade dispute at their third debate on Thursday, with most criticizing US government handling of it.
Entrepreneur Andrew Yang, who was the first to be asked about the trade issue, said: "I would not appeal the tariffs on day one, but I would let the Chinese know we have to hammer out a deal. We have to let the Chinese know that we recognize that Trump's administration has pursued an arbitrary and haphazard trade policy."
US Senator Amy Klobuchar of Minnesota talked about bins of soybeans sitting in the Midwest with no market because of the trade dispute. She said Trump is "treating farmers like poker chips in one of his casinos".
US Senator Kamala Harris of California said the United States needs to partner with China on climate change and the Democratic People's Republic of Korea.
US Senator Elizabeth Warren of Massachusetts said US trade policy is working for "giant multinational corporations", and she would like to see labor unions and environmentalists at the trade negotiating table.
Testy exchanges on healthcare also stood out, as the candidates argued whether Medicare for All was better than combining private insurance with a public option.
"I, who wrote the damn bill, intend to eliminate all out-of-pocket expenses, all deductibles, all co-payments, … no more than $200 a year for prescription drugs. We're going to stand up to the greed of the pharmaceutical industry," said US Senator Bernie Sanders of Vermont.
"And while Bernie wrote the bill, I read the bill," Klobuchar rebutted, taking a more centrist stance. "And on … page 8 of the bill, it says that we will no longer have private insurance as we know it. And that means that 149 million Americans will no longer be able to have their current insurance."
"We are spending twice as much per capita on healthcare as the Canadians or any other major country on Earth, Sanders said. "We have got to recognize this country is moving to an oligarchical form of society where a handful of billionaires" control everything.
Former US vice-president Joe Biden survived the debate, becoming the Democratic front-runner. He clashed with Sanders and US Senator Elizabeth Warren of Massachusetts on the cost of Medicare for All during the debate. Biden said their healthcare plans would increase taxes on the middle class. He said his plan "costs $740 billion. It doesn't cost $30 trillion" in reference to Medicare for All.
At one point, Biden questioned Sanders over a plan that would have companies return their healthcare savings to workers.
"For a socialist, you've got a lot more confidence in corporate America than I do," Biden said.
Julian Castro, former secretary of US Housing and Urban Development, went after Biden more than any other candidate on the stage, saying he contradicted himself over whether Americans would have to pay to be enrolled in health insurance after losing a job.
"You just said two minutes ago that people would have to buy in-are you forgetting already what you said two minutes ago?" Castro asked directly.
"I'm fulfilling the legacy of Barack Obama and you're not," Castro told Biden.
"That'll be a surprise to him," Biden replied.
The two men also clashed on immigration.
"He wants to take credit for Barack Obama's work but not take any questions," Castro said in references to the Obama administration's handling of the migrant issue.
"I stand with Barack Obama all eight years, good, bad or indifferent," Biden replied.
The candidates also discussed racism and foreign policy.
US Senator Cory Booker of New Jersey said if elected he would set up an office to deal with "systemic racism" in the US.
The debate was hosted by ABC News and Univision at Texas Southern University, a historically black university in Houston, Texas.