Great Wall Motors 'plots' European expansion
Share - WeChat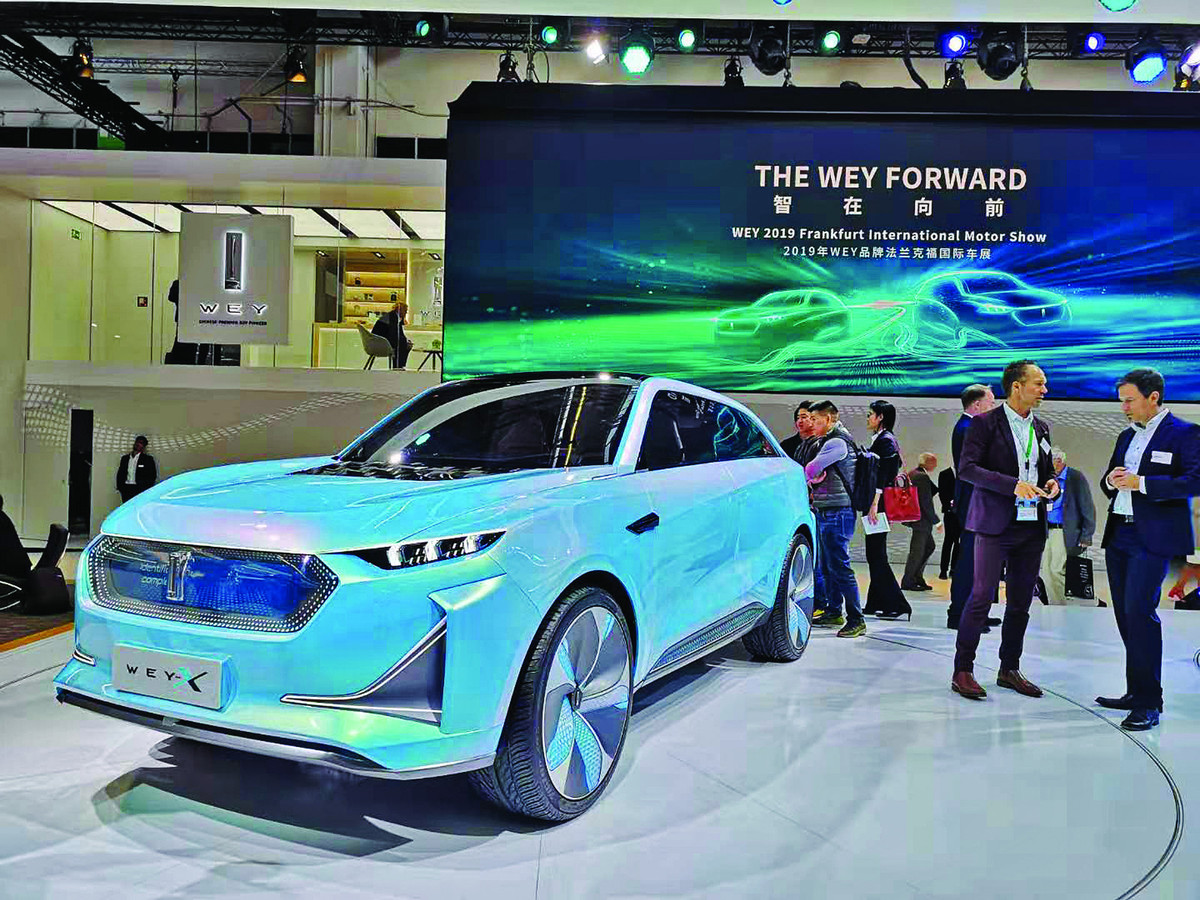 China may one day rival established European automakers in the production of market-leading smart vehicles, according to Wei Jianjun, chairman of major Chinese automaker Great Wall Motors, which is also called GWM.
Speaking from the International Motor Show Germany 2019 in Frankfurt on Tuesday, Wei said Chinese acumen in artificial intelligence will help the country compete against industry leaders in the manufacture of next generation vehicles.
"Germany is a highland of automobile manufacturing and Japan is a big producer of economical cars in the auto development history of over 100 years," Wei said in a speech. "In the wake of the fourth industrial revolution, where China takes the lead in the world by innovation in 5G, AI, internet, and new energy, China's auto industry is granted with a crucial opportunity for overtaking."
At the trade show, Wei outlined some of Baoding-based GWM's international expansion plans, and unveiled the WEY-S, a new all-electric concept car to be produced under the company's luxury SUV brand WEY.
"With Chinese mobile phone, home appliance, and internet-based companies leading in the world as precedents, chances are that China's auto companies can become market leaders," Wei said.
Under a separate brand Ora, GWM has already released all-electric small vehicles intended for inner-city transport. With the development of the WEY-S, the company promises a four-wheel-drive capable pure electric SUV with smart functions.
As this concept car is being developed, the company plans to release an electric version of its VV5 SUV as early as 2021, as well as plug-in hybrid versions of two other models.
Wei said the plan is to sell WEY-branded hybrid and electric SUVs in Europe within two years, and to establish a manufacturing facility in Europe once sales gather pace.
The company currently exports the majority of its vehicles to non-European Union markets through its mass-market brand Haval. GWM also sells some pickup trucks in Italy, and recently began manufacturing cars at a site in Russia.
GWM sold 26,000 vehicles overseas in the first half of this year, up 16.8 percent from the same period in 2018. The majority of GWM sales occur in China, where the company sold around 1 million vehicles last year.
"We plan to produce cars from China and export to the EU in the early stage," Wei told Reuters at the trade show. "We believe once we sell more than 50,000 units in the EU, we will begin to consider building a factory there."
In Frankfurt, Chinese transmission manufacturer and GWM affiliate HYCET also unveiled new technology, including a new engine, a new nine dual-clutch transmission, and a new electric drive system.
GWM brought in German engineering veteran Henning Gerhard to head up the HYCET team in 2014.
"I made many projects with Volkswagen and Mercedes, and they were all finished, so I had a long think about what I should do. I got the offer from China to start a new project from zero and that's what motivated me," Gerhard told China Daily."The biggest challenge was finding the right experts to support me. I couldn't start with just Chinese engineers, right now they are too young with not enough experience. So, I started with a small group of specialists, mainly German."
HYCET and GWM's strategy of acquiring and transplanting German know-how has paid off. Under Gerhard's direction, HYCET has become the only independent Chinese auto manufacturer to produce its own transmission, and the majority of its components go to GWM cars.
"The next big challenge is to combine everything with e-motor; all the new projects are e-motor powered. We are making transmissions with hybrid motors and pure EV," said Gerhard.
Gerhard said the company is also working on powertrains that can meet strict European emissions standards.
"Currently, our cars are mainly made for the Chinese market," he said. "To go to the European market there is a big challenge because of CO2 reduction, and we are working on meeting these standards with our new powertrains."
Gerhard said HYCET's long-term plans involve building a client-base outside of China.