Ikea planning to attract more young buyers throughout China
Share - WeChat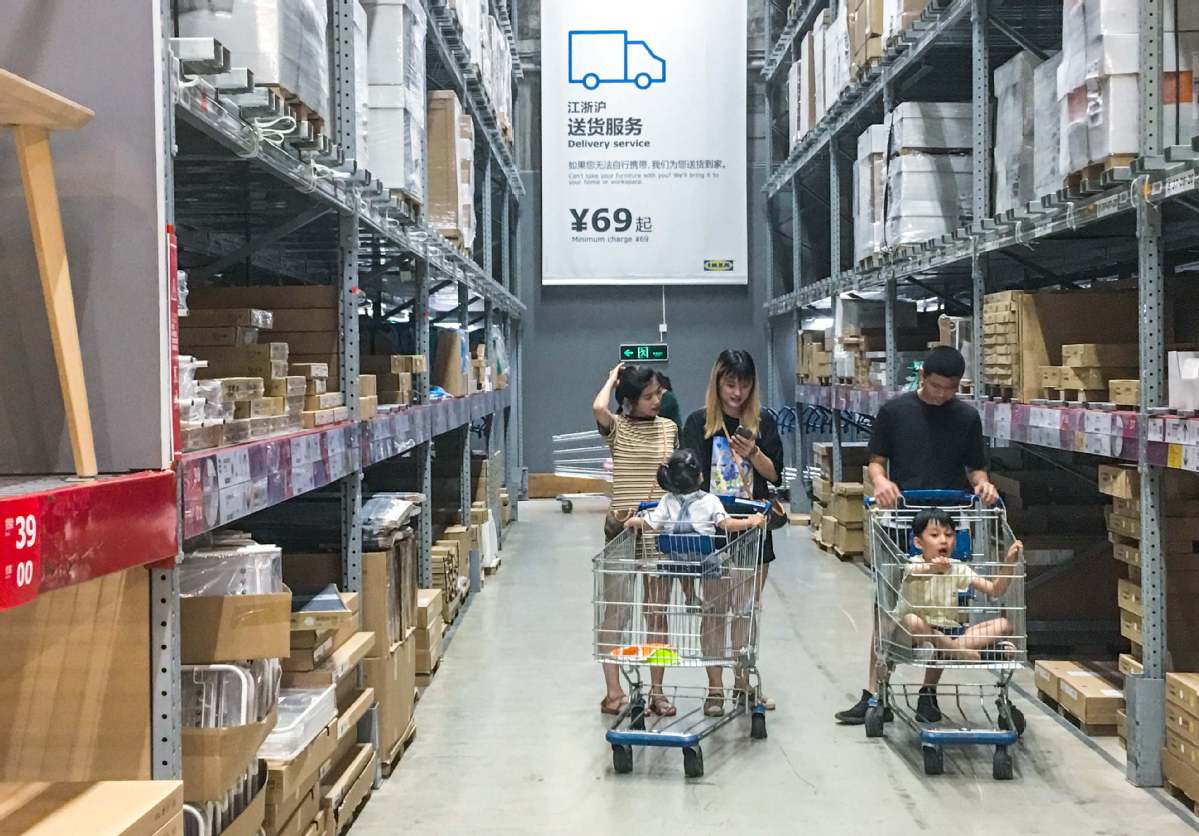 Ikea is working to connect better with young consumers in China by becoming nimbler and more digitalized. The Swedish company that sells modern Scandinavian-design ready-to-assemble furniture, kitchen appliances and home accessories has thrived for more than two decades in China on its business model that focused on large brick-and-mortar shopping centers. People paid about 100 million visits per year to the company's Chinese stores.
Ikea's fiscal report of 2018 showed that revenue in China was 14.6 billion yuan ($2.1 billion), a growth of 9.3 percent year-on-year. However, the growth rate was 4.7 percentage points lower than that in fiscal year 2017 and 10 percentage points less than that in 2016.
Ikea China will make its largest-ever yearly investment - 10 billion yuan - in fiscal year 2020, with more to come in the next two years, aiming to attract younger people in first-tier and smaller cities to its physical stores and digital sites, according to top executives of the company.
Ikea China will recruit over 3,000 new employees in the new fiscal year. The company now employs 14,000 people in the country.
Last October, Ikea China launched its website and delivery services and also smaller-sized stores at places where urban dwellers love to meet.
Anna Pawlak-Kuliga, CEO and president of Ikea China, said the plan has been adjusted based on the dynamics in the local market. "The home furnishings market in China is now in a phase of stable growth. In addition, urbanization, digitalization and people's increasing disposable income are changing the way people live and consume.
"That is why we have a full confidence in the market and strongly believe that the new strategy will help us to create a better everyday life for even more of the many people in China." Many innovations and initiatives that have been created in China are expected to be expanded to Ikea's operations globally, she said.
To offer easier consuming experience both online and offline, Ikea will upgrade its existing stores, with Ikea Shanghai Xuhui store as the company's first "store of tomorrow "in the world.
The company is accelerating its expansion in China by opening four new stores in the next four months and expanding the coverage of e-commerce to make Ikea's products and home furnishing knowledge accessible for more Chinese consumers.
Ikea will also create more smaller scale "meeting places" close to consumers, with the first small-size store, at 8,500 square meters, to be opened in Shanghai before Chinese New Year 2020.
IKEA also plans to provide a good shopping experience through the development of digitalization, including providing digital tools offline to simplify shopping and an equally inspiring and convenient shopping experience online.
The online and offline coverage is expected to help expand Ikea's consumer reach to about 1 billion people, said Francois Brenti, director of expansion at Ikea China. Thanks to the digital and physical coverage, he said the company has expanded to 227 cities and regions, from first-tier to third-tier and even lower-tier cities.
To achieve this goal, Ikea Digital Hub China was established in July, as a brand-new business unit with 250 digital experts to enable the digital capabilities across Ikea.
Ikea will also launch full-house design services, starting with bedrooms and kitchens, developing more products with the concept "In China, For China and Co-create with China". Pawlak-Kuliga said home furnishing is a complete package of products, design and services. Ikea's full-house design services can help Chinese consumers to best use their home space, she added.
The company will also upgrade its business-to-business service to work with commercial real estate companies to furnish move-in ready apartments, long-term rental apartments and offices.