Sustainability struts at Fashion Week
Share - WeChat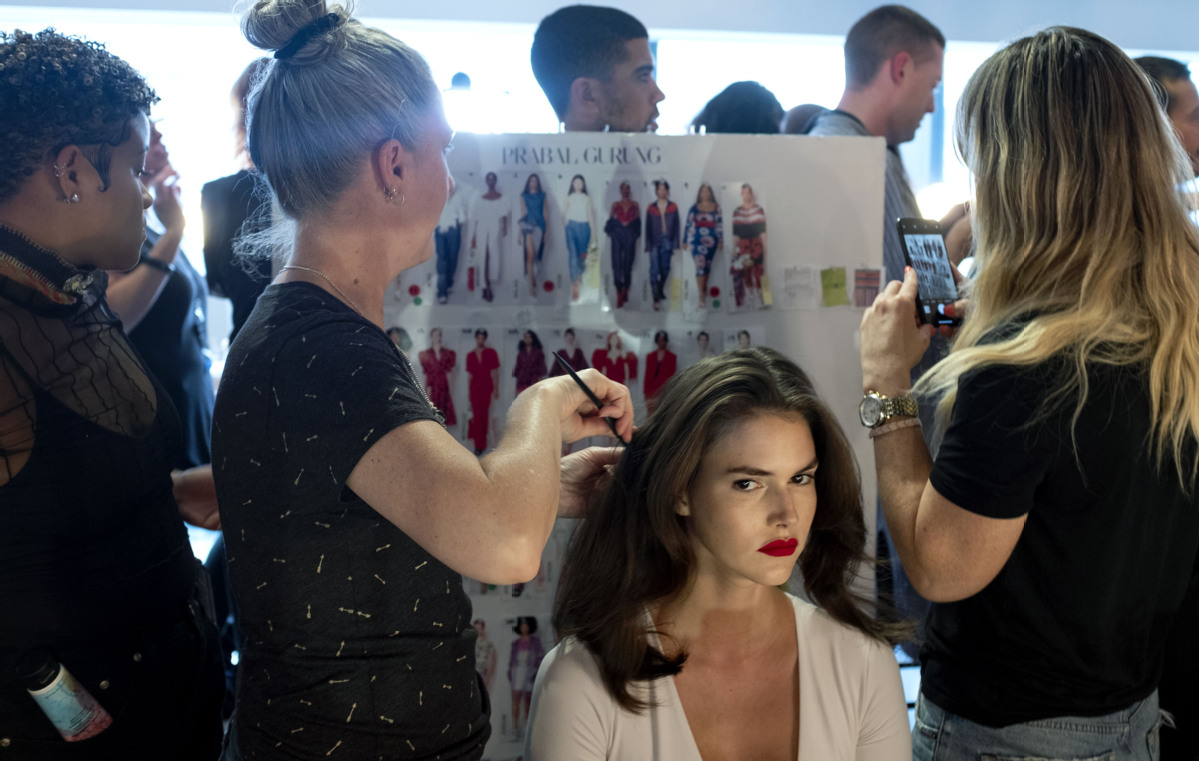 Movement raises consciousness in glamorous industry accused of contributing to pollution
The models will be on the catwalk, the photographers and celebrities in the front rows as Fashion Week gets underway in New York.
And though it won't be taking center stage with the glamorous clothes, the sustainable fashion movement is gaining increasing attention from the global apparel-making industry.
Its aim is to get the industry — from luxurious clothing designers and makers to producers of cheaply made fast fashion — to recognize itself as a major environmental polluter with inefficient and costly production that wastes raw materials and adds to greenhouse emissions by using excessive amounts of energy.
Sustainability is becoming one of the first things newcomers learn as they enter this industry, as experienced by He Binli, a recent graduate from the Parsons School of Design in New York. The young designer is planning a debut show in this year's Fashion Week that kicked off Friday with women's spring-summer 2020 shows.
During her two years at Parsons, the 26-year-old He, from Guangzhou, China, frequented local Goodwill thrift stores. They are her go-to places for fabrics and secondhand clothes that fuel her explorations in the field.
Designing with recycled material, a practice welcomed by the school, is one way that He is involved with sustainable fashion, a movement getting increasing attention from the clothes-making industry, estimated at $2.5 trillion globally by consultancy McKinsey in 2017.
Industry leaders and much smaller enterprises also are increasingly adopting the concept.
The movement is also taking aim at consumers who throw away used clothes that end up in landfills. Much of that clothing contains synthetics that are not biodegradable, which increases pollution.
In New York City alone, 200 million pounds of clothing ends up at city landfills every year, according to the World Economic Forum.
Swedish fast-fashion brand H&M initiated a recycling program that rewards customers with discounts when they send in used clothes. Zara and Ralph Lauren also have launched special product lines or sustainability-focused campaigns.
"It is slowly becoming mainstream now that we know the full truth of our impact, and brands can't get away with hurting people or the environment any longer," said Tara James, founder and designer of sustainable fashion brand Study NY.
The industry contributes to around 10 percent of global greenhouse gas emissions due to its many supply chains and energy-intensive production, according to the United Nations Framework Convention on Climate Change (UNFCCC), and it consumes more energy than the aviation and shipping industries combined.
The production of clothes also costs and pollutes a significant amount of water. Cumulatively, the clothing industry produces about 20 percent of global wastewater, according to UNFCCC. The international organization pointed out that producing a pair of denim jeans alone can take as much as 24.6 gallons of water.
The push for profits has been stopping companies from manufacturing in an environmentally friendly manner, say industry insiders and observers.
"They want to keep their profit margins," said Lauren Fay, founder of the New Fashion Initiative, a New York-based nonprofit dedicated to highlighting environmental and social impacts of the fashion industry.
It would be costly if the companies "slow down, review their processes and implement changes in production", she said.
"Larger brands can be reluctant to change their established list of suppliers fearing that they will encounter higher prices or lack of consistency," said James.
With the fashion industry being "notoriously opaque", companies can find it challenging to trace their supply chains all the way to the farm or fiber stage, she explained.
"These corporations do not know what is going on in their supply chain," said Stephanie Benedetto, CEO and co-founder of Queen of Raw, a digital marketplace for unused fabrics.
When companies expand rapidly, and their supply chain consists of more than 10 tiers of suppliers, the wasting of raw materials becomes inevitable, Benedetto said, and the excess fabric that sits in companies' warehouses is worth as much as $120 billion.
The Ellen MacArthur Foundation, a UK-based charity group advocating a sustainable economy, estimates that 87 percent of the total fiber input used for clothing is landfilled or incinerated during productions or after purchases.
Fast fashion, the contemporary production model where cheap clothing is made rapidly to feed consumer demand driven by trends, is a major source of waste, according to industry insiders.
"We now see a rapidly growing resale market for luxury and other well-made brands. However, because of the cheaply constructed nature of fast fashion, it doesn't have a very high resale value and is so overly abundant," thus it is more likely to end up in landfills rather than consignment shops, said James.
However unsustainable fast fashion is, it is lucrative because of booming consumer demand, Benedetto said.
Consumers favor fast-fashion products because they make the concept of being fashionable accessible to many more people, said James, who believes the entire apparel industry is to blame for making fashion disposable and by introducing the concept that "clothing should only be worn once for social media''.
"This ultimately will change when enough consumers are educated about the complexity of the issues and demand transparency, living wages and less environmental impact," said Fay, who is seeing millennials and Gen Z embracing used clothing and shopping for used goods.
James, who started designing sustainable fashion more than a decade ago, is seeing significantly more sustainable materials available for designers. Sustainability also has come to the forefront of most fashion education, at least at New York's schools, said James, who has taught at Parsons, Pratt and the Fashion Institute of Technology.
"We see both a dynamic network of private and public sector stakeholders focusing on and addressing pieces of sustainable fashion from organic dyes and water use, to electric vehicles in product transportation and material use in-store designs," Wagner said.