Pearl farming helps lift seaside village out of poverty in Guangdong
By Kang Bing, Li Jing and Li Wenfang in Leizhou, Guangdong | China Daily | Updated: 2019-09-04 10:14




Share - WeChat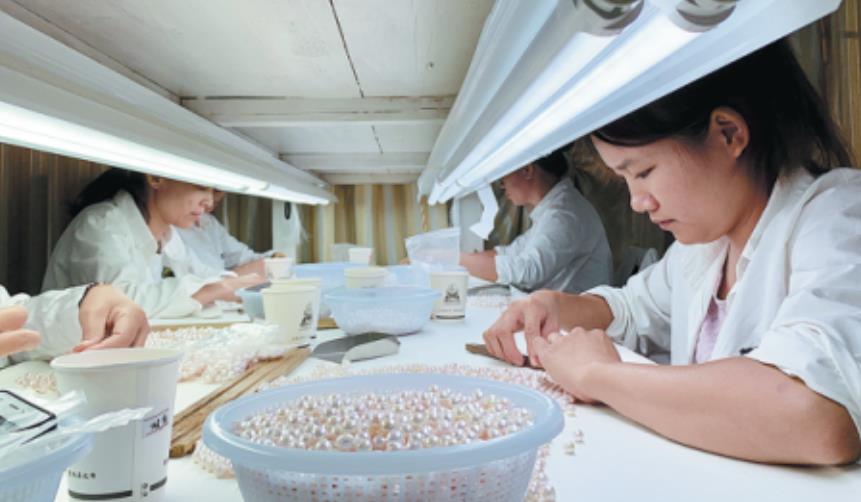 Pearl farming has helped to lift a seaside village out of poverty in South China's Guangdong province.
Nanzhu, or south pearl in English, refers to the pearls produced in the Beibu Gulf off the coast of the Guangxi Zhuang autonomous region and Leizhou peninsula of Zhanjiang in Guangdong.
"We're going for quality over quantity, for the high-end Nanzhu," said He Debian who founded Zunding Pearl Co Ltd in Liusha village on the Leizhou peninsula in 2017.
In late July, workers were busy harvesting pearls at the pearl farm. The harvest took place earlier than usual, because of the scorching heat. "The temperature goes up quickly, killing the living creatures," he said. "Oysters thrive in temperatures between 10 C and 30 C. When the temperature goes higher, oysters die."
The task of cultivating the right conditions for cultured seawater pearls has always been a big challenge, requiring reformed mollusk-farming practices, close production process control, and specific natural conditions.
As early as 2014, He cooperated with marine institutes to develop seawater pearl oysters, which are less vulnerable to the environment and more sustainable.
"We have improved 70 percent of the oysters at the pearl farm of 40 hectares, increasing the survival rate from 20 percent to more than 40 percent over the years," he said.
He gives oysters to villagers, who grow them for about a year and a half before inserting the nuclei. The company then organizes the artificial "seeding", harvest and pearl sales.
The improved cultured pearls sell at 18,000 yuan ($2,510) per kilogram on average compared to 5,800 yuan previously.
In 2018, the company made a profit of 15 percent, with 35 million yuan of annual turnover. Participating villagers can become company shareholders and benefit from the profits.
"I have increased my income. Now, I have some extra money to build savings," said Wang Qinying, who works in pearl quality control.
The company employs 300 people, including those from 50 impoverished families in the village. After getting reliable work, all the families have been lifted out of poverty.
Born in 1985, He was raised in the village. He made a fortune from pearls and then set up a trading business in Guangzhou, the provincial capital, which had an annual turnover of about 40 million yuan, before deciding to try the pearl farming business.
In the past decade, Nanzhu production has decreased dramatically. "The prevalence of interbreeding across generations caused the mollusks to decrease in size. Prematurely inserted irritant beads and abbreviated farming practices led to smaller, low-quality pearls that paled in comparison to their larger freshwater counterparts," He said.
Pearl expert Xiong Daren believes that the gulf's worsening environment also contributed.
This, paired with a hit to the freshwater pearl market in recent years, has meant that pearl farming is no longer a lucrative business.
A pearl industry park is expected to be built in the village in September, to create a pearl industry cluster, and develop pearl-themed tourism by attracting more investors.
Frank Zhou contributed to this story.