Changan, SAIC among domestic victims of continuous sales slump
Share - WeChat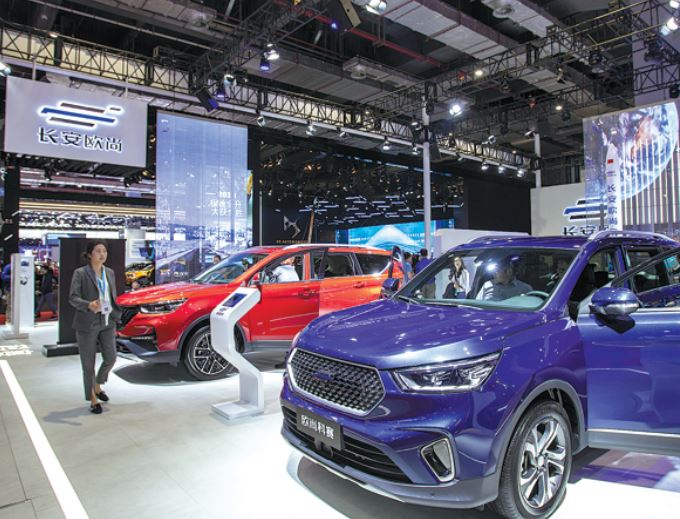 China's automotive industry is suffering from a downturn in the overall vehicle market, with two-thirds of the country's listed carmakers seeing falling profit in the first half of the year.
Changan, partner of Ford and Mazda, was hit the hardest. Its net profit from January to June fell 239.2 percent year-on-year, resulting in a net loss of 2.24 billion yuan ($313.3 million), according to a financial statement released Sunday.
The loss was the result of its sales, which fell 31.65 percent year-on-year to 825,200 units.
Its joint venture Changan Ford, formerly the cash cow of the carmaker, saw a 67 percent slump in its sales in the first half of the year, totaling a meager 75,200 units.
Another joint venture, Changan Mazda, also had bleak results, selling 61,200 vehicles in the same period, almost a third less than last year.
Even China's largest carmaker, SAIC Motor, did not stand unscathed.
Its financial statement released on Saturday showed revenue fell 19.05 percent to 376.29 billion yuan, while net profit slumped 27.49 percent to 13.76 billion yuan.
It was the first time in almost a decade that SAIC has seen a falling profit.
The company's total sales, including those from its joint ventures SAIC GM and SAIC Volkswagen, both among the most popular carmakers in the country, reached 2.94 million, falling 16.6 percent year-on-year.
The result was achieved despite SAIC's various promotional efforts in the first half of the year.
It had also scaled down its 2019 sales target to 6.5 million from 7.05 million last year. Analysts say this would be the first annual sales fall in 14 years for SAIC.
SAIC was not alone. China's best-selling private carmaker Geely cut its sales target by 10 percent to 1.36 million, and the country's largest SUV producer Great Wall Motors trimmed its goal from 1.2 million to 1.07 million.
SAIC also estimated that China's overall vehicles sales this year will decrease from 5 to 9 percent from 2018, which saw the country's first fall since 1990.
Its pessimistic view of the market was echoed by BAIC, partner of Mercedes-Benz and Hyundai.
Revenue of the Hong Kong-listed carmaker in the first half of the year grew 14.1 percent year-on-year to 87.76 billion yuan, but its profit fell 25.9 percent from the same period last year to 2.09 billion yuan.
BAIC General Manager Zhang Xiyong said the market would fall around 7.5 percent this year from 2018 and the situation will not rebound soon. "It will be a decent job if China's vehicles sales in 2020 reach the level of this year," said Zhang at the International Forum (TEDA) on Chinese Automotive Industry Development held over the weekend in Tianjin.
BAIC's new energy arm, BJEV, which is also a listed company, was one of the few companies that had seen growing profit.
The profit of BYD, China's largest new energy vehicle maker, also saw positive growth because the segment had managed to grow at a double-digit rate.
New energy vehicle sales in the first half of the year totaled 617,000, up 49.6 percent year-on-year, according to the China Association of Automobile Manufacturers.
The association expected total sales this year to reach 1.5 million.