Used green cars struggle to retain value
Share - WeChat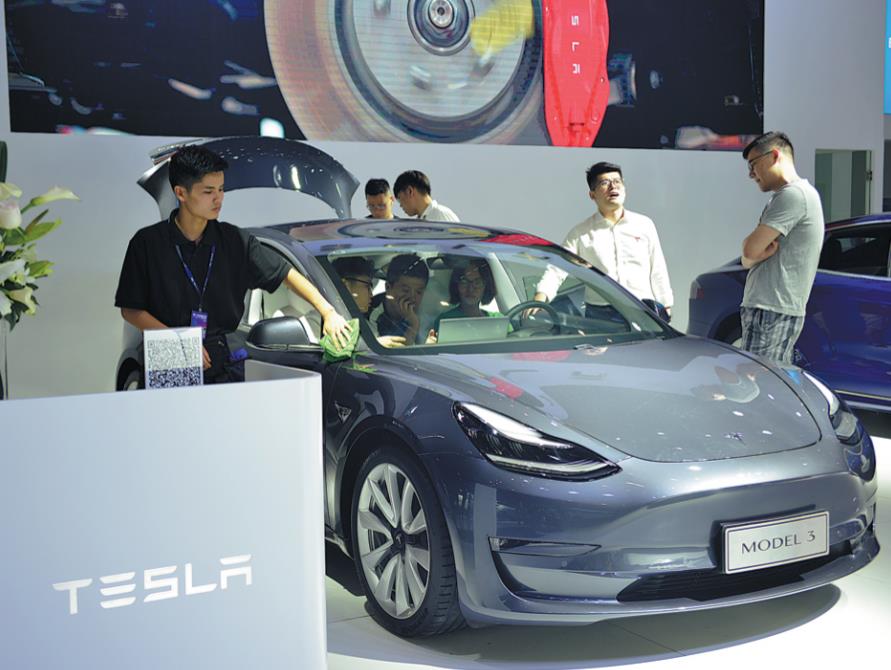 Electric vehicles fight to narrow residual value gap with gasoline counterparts
The low residual value of used electric vehicles is beginning to loom large in China as the country sets to further promote the green-energy cars, prompting automakers and industry organizations to solve the problem.
United States-based electric carmaker Tesla has been best when it comes to the residual value of their models, said a report by the China Automobile Finance and Residual Value Research Committee. The report was released at an event held last week by automotive news website EO Auto.
Others companies lag far behind Tesla. A three-year old BMW i3 is worth merely 32.51 percent its original price and an E6 from China's BYD, 29.56 percent.
But even Tesla is no rival for gasoline vehicles.
A three-year old Model X SUV can be sold at 49.55 percent of its original price, the best of all electric vehicles.
A three-year old Toyota Camry sedan or Honda CR-V SUV is usually priced at 65 percent of its original price tags.
The phenomena are dissuading some potential buyers of new energy vehicles as China is stepping up efforts to further drive the segment.
Freeman Shen, chairman and CEO of electric car startup WM Motor, said one possible reason is the fast progress in the segment.
Three years ago, most of the electric vehicles in the market were built on gasoline car platforms, which means they were not comfortably designed, and most of them had a shorter mileage, Shen explained.
"It's understandable that people now won't buy such a used vehicle, not even a new one," he added.
Shen said WM has launched a program that promises a residual value 61.8 percent of its original price if its customers would like to trade in their three-year old vehicles.
WM started to deliver its vehicles in late 2018. In the first seven months it sold 9,137 vehicles in China.
Xie Peng, CEO of Unicdata, a big data service provider, said batteries are a key element in evaluating the residual value of new energy vehicles.
He said batteries usually account for 50 percent to 60 percent of car prices but scientists are making fast progress in batteries, making them cheaper and better, so their values are hard to define.
His words were echoed by a senior manager at CATL, China's largest power battery maker, who argued that if uncertainties about batteries are removed, electric cars will be almost the same as gasoline ones.
CATL is designing better batteries. The manager said batteries with a total mileage of 500,000 kilometers in five years will hit the market in 2020 and they will get around 80 percent charged in 15 minutes.
The China Automobile Finance and Residual Value Research Committee said the small number of used electric vehicles is also hurting the market.
Statistics show around 3 million electric vehicles were in China by the end of June, but the absolute majority of them will not be sold as used vehicles soon.
In comparison, gasoline vehicles in the country could reach around 240 million.
So used vehicle dealers are adopting a wait-and-see attitude toward electric vehicles.
The China Automobile Dealers Association is also calling for automakers to help improve the residual value of used new energy vehicles, suggesting that officially certified vehicle programs could be applicable for used new energy cars.
It said the officially certified vehicles would help stabilize the brand value and lower the purchase threshold of target customers, which will also boost new car sales.
Few electric carmakers have such a program, but for gasoline car producers, there have been some 30 conducting the business of officially certified secondhand vehicles in China since 2002.