NEV sales fall by 4.7% in July
Share - WeChat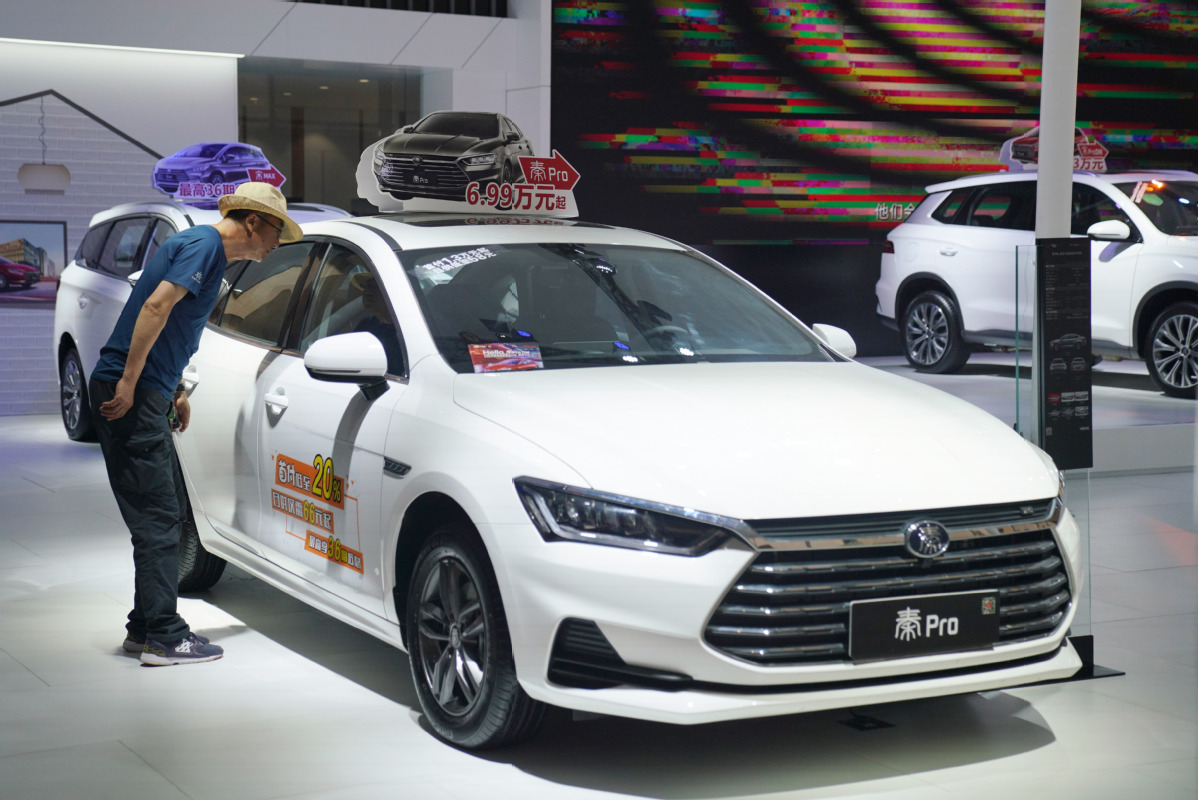 Emerging sector set to ring in healthy numbers for the full year, say experts
Sales of new energy vehicles in China fell for the first time in 30 months, sliding 4.7 percent in July from a year earlier, but the country's leading auto industry association expects the segment to ring up overall growth for the calendar year.
Carmakers in China delivered 80,000 electric cars, plug-in hybrids and fuel cell vehicles in July, a little more than half of sales in June, data released on Monday from the China Association of Automobile Manufacturers (CAAM) showed.
China cut its subsidies for the vehicles in late June so people rushed to place their orders before the policy took effect. This resulted in a spike in June sales and then a fall in July, said Xu Haidong, the deputy secretary-general of the association.
Another cause was the implementation in July of stricter State VI emission standards earlier than the central government's 2020 deadline by 15 cities and provinces, Xu explained.
"The primary reason for new energy vehicle sales decline in July was the switch of policies," he said. "Dealers offered really attractive discounts to sell out the older gasoline models in stock before the new standards took effect, which lured away some potential new energy vehicle buyers as well."
CAAM said overall vehicle sales in the world's biggest vehicle market fell 4.3 percent in July, down for a 13th consecutive month.
New energy vehicles had been the rare bright spot in the country's auto market before their sales declined last month. The accumulated NEV sales hit 699,000 from January to July, up 49.9 percent year-on-year.
Analysts at Ping An Securities said in a research note that sales of such vehicles would return to normal in the third quarter as the impact of the policy changes gradually subsides. September and October are also usually the best months of any year for car transactions in the country.
CAAM is optimistic about the new energy vehicle market, although it sliced the whole-year sales estimate from 1.6 million to 1.5 million in late July. Still, that would represent a roughly 19 percent growth in sales from the 1.26 million posted last year.
Ping An said it is normal that annual growth rates of over 40 percent seen in the past years would become harder to hit because the base number of such vehicles in China has become bigger.
China has been the world's largest market for new energy vehicles since 2015, with around 3.5 million on its roads and most of them produced by local makers such as BYD and BAIC's new energy arm, Beijing Electric Vehicle Co.
Ping An said competition will become tougher as China has made it clear it will withdraw its subsidies by the end of 2020 and international carmakers are stepping up their preparations to get into the segment.
Japanese carmaker Toyota's battery-making subsidiary will build its fourth hybrid vehicle battery plant in China, the publication Nikkei reported.
The new plant to be built in 2021 will be capable of producing roughly 100,000 batteries a year, quadrupling its total capacity in China to about 400,000 units. Nikkei said two more battery plants are slated to go into operation in China next year.
The CEO of German car giant Volkswagen AG, Herbert Diess, said half of the 22 million electric vehicles it plans to produce by 2028 globally will be in China.
BMW is making China as one of its exporters of electric iX3 SUV, which is scheduled to roll off the assembly line in 2020.