Nowitzki takes trip down memory lane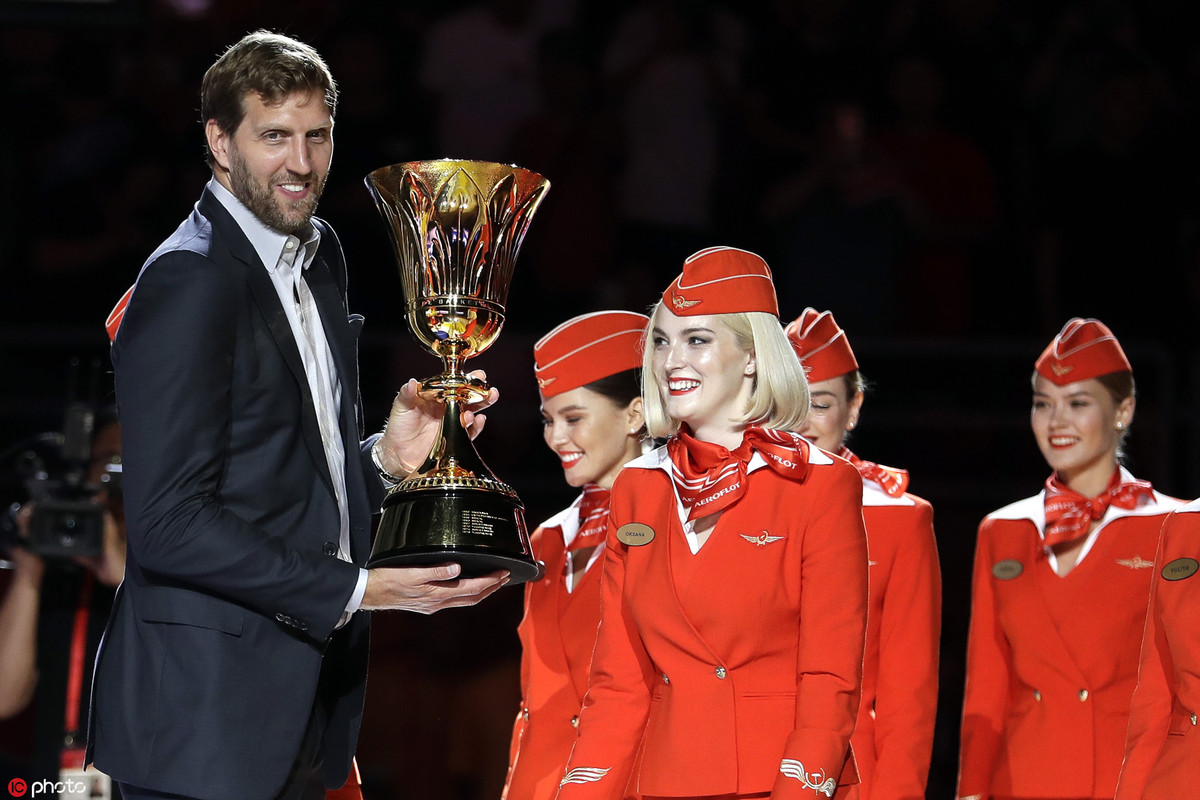 NBA great relives 'dream' days at Beijing Olympics
German hoops legend Dirk Nowitzki was filled with pride, and just a little pain, as he returned to the scene of one his most memorable games on Saturday.
To the excitement of a capacity crowd at Wukesong Arena in Beijing, the 14-time NBA All Star showed off the World Cup trophy in a halftime ceremony during China's opening Group A victory over Cote d'Ivoire.
As fans chanted his name, the former Dallas Mavericks star stood near the exact spot where Chinese forward Yi Jianlian drained a decisive jumper to send the host into the last eight and Nowitzki's German squad packing.
"I always think back to that game-that was a tough game for me, but it was good for the Olympics that the host went to the next round," said the 41-year-old, who retired in April after spending all of his 21 NBA seasons with Dallas.
"That was a big game with a great atmosphere in the gym. They beat us, they had a great team and they deserved to win to go to the next round," said Nowitzki, one of three global ambassadors for the World Cup alongside Yao Ming and Kobe Bryant.
Nowitzki cited carrying the German flag into the opening ceremony of the 2008 Games as the proudest moment of his legendary career, during which he claimed an NBA MVP award (2007) and a championship ring (2011).
"I was able to fulfill my dream here at Beijing 2008. Every athlete wants to be a part of the Olympics at least once, which is a great experience," he said. "Hopefully the young (German) guys can fulfill their dream and be in the Olympics next year."
However, qualifying for the Tokyo Games in Beijing seems a tall task for the current Germany squad. The World Cup offers direct entry to just the top two European performers. If that route fails, a continental qualifying event, which offers one place, will be Germany's remaining hope.
Since the 2010 world championships, which Nowitzki missed, Germany has reached neither the worlds (now the World Cup) nor the Olympics.
"Young teams have to go through experiences like this and make mistakes on the biggest stage. So they learn from these mistakes, get better and don't make those again at the big tournaments. For Germany, I hope the young team can make a difference this time around."
Even with the likes of Serbia, Spain and Greece closing the gap with their own NBA superstars, Nowitzki still rates the United States as favorite for the title, despite not having LeBron James and several other big names on board.
"They are still going to represent their country well. With (Gregg) Popovich, they will be well coached. He is the best in the business. They are still going to be the team to beat," said Nowitzki, who is the most successful foreign player in NBA history.
A strict workout regime helped Nowitzki extend his career into his forties. However, a few months into his retirement, he has no desire to return to that old routine.
Instead, the German giant is enjoying spending time with his Swedish wife Jessica Olsson and their three children, as well as working with his charity foundation in Dallas.
But he admitted: "I am going to miss basketball of course. I've done it for over 20 years. It's going to be weird when training camp starts while I am at home watching on TV.
"For me, it's just great now to enjoy myself and go traveling with my family without looking for gyms or workout rooms all the time. I've been enjoying that."