Skyworth to boost core tech for bigger market share in TV sector
Share - WeChat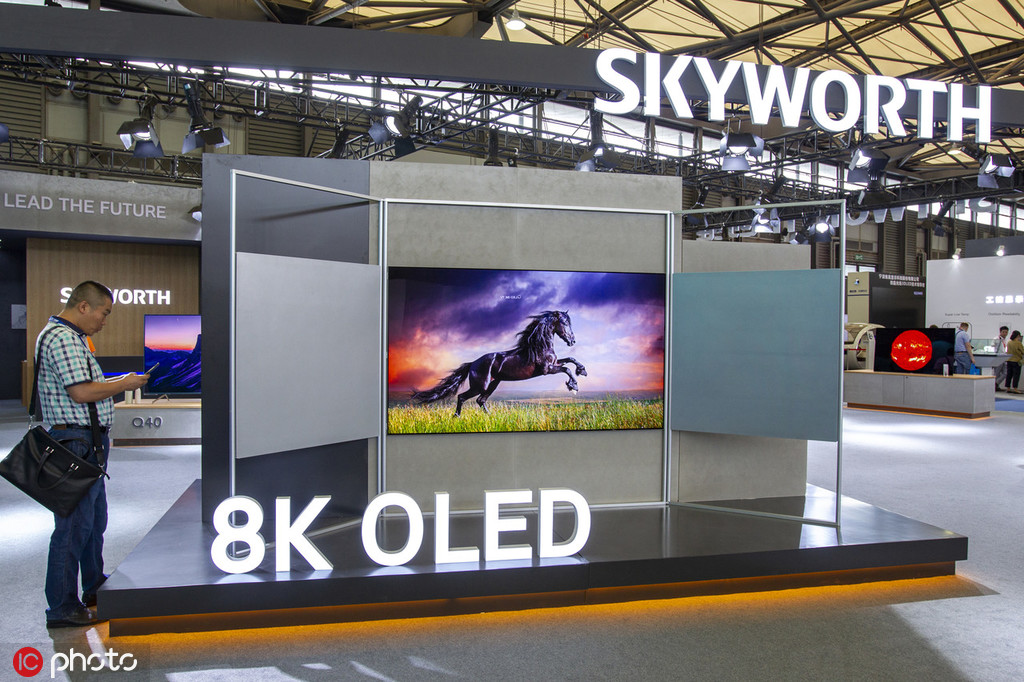 Chinese television maker Skyworth Group is doubling down on cutting-edge organic light-emitting diode (OLED) televisions and beefing up efforts in the research and development of core technologies to gain more market share despite the slowdown in the domestic TV sector.
"With the arrival of 5G and artificial intelligence, smart screens will not only exist in TVs, but also appear on multiple smart terminals," Wang Zhiguo, chairman and president of Shenzhen Skyworth-RGB Electronic, a subsidiary of Skyworth Group, said while emphasizing the big screen has always been the center of the smart home.
Wang said the company always insists on innovation and launched an open big-screen AIoT ecosystem named Swaiot earlier this year that enables users to view, control and manage all their smart home devices from their TVs.
AIoT, which means artificial intelligence of things, is the combination of AI technologies with the internet of things infrastructure to improve human-machine interactions and enhance data management and analytics.
Wang said the sales of Skyworth's OLED TVs topped the list, accounting for over 61.8 percent of the OLED TV market in July. The official added they will launch high-end and cost-effective products to lure more customers.
The revenue of the Shenzhen-based company totaled 17.23 billion yuan ($2.4 billion) in the first half of this year, down 0.7 percent year-on-year, while its net profit surged 20.4 percent to 348 million yuan, its 2019 interim results said.
Market consultancy All View Cloud, or AVC, said TV sales reached 22 million units nationwide in the first half of this year, down 2.7 percent compared with the same period last year, and related sales revenue totaled 64 billion yuan, a fall of 11.8 percent year-on-year.
The data also said sales of OLED TVs are expected to reach 38 million units this year and 80 million units in 2020. Compared with traditional LCD display panels, OLED has a fast response rate, wide viewing angles, high-contrast images and richer colors. It is much thinner and can be made flexible.
Skyworth has been producing OLED TVs in partnership with South Korea's largest panel maker LG Display since 2013. Statistics from AVC showed sales of Skyworth OLED TVs accounted for 46 percent of total OLED sales in the Chinese market in 2017, followed by LG with 16 percent and Sony at 14.9 percent.
"The traditional TV market is almost saturated and companies need to seek new growth points," said Dong Min, an independent researcher in the home appliances sector.
New display technologies such as OLED TVs, curved screen TVs and screenless TVs are all good choices, he added.
Peng Jianfeng, deputy secretary-general of the China Video Industry Association, noted that the over-the-top business of content that providers distribute via online streaming will become an important revenue source for TV manufacturers in the years ahead.