Stock connects fuel inflow of foreign capital
Share - WeChat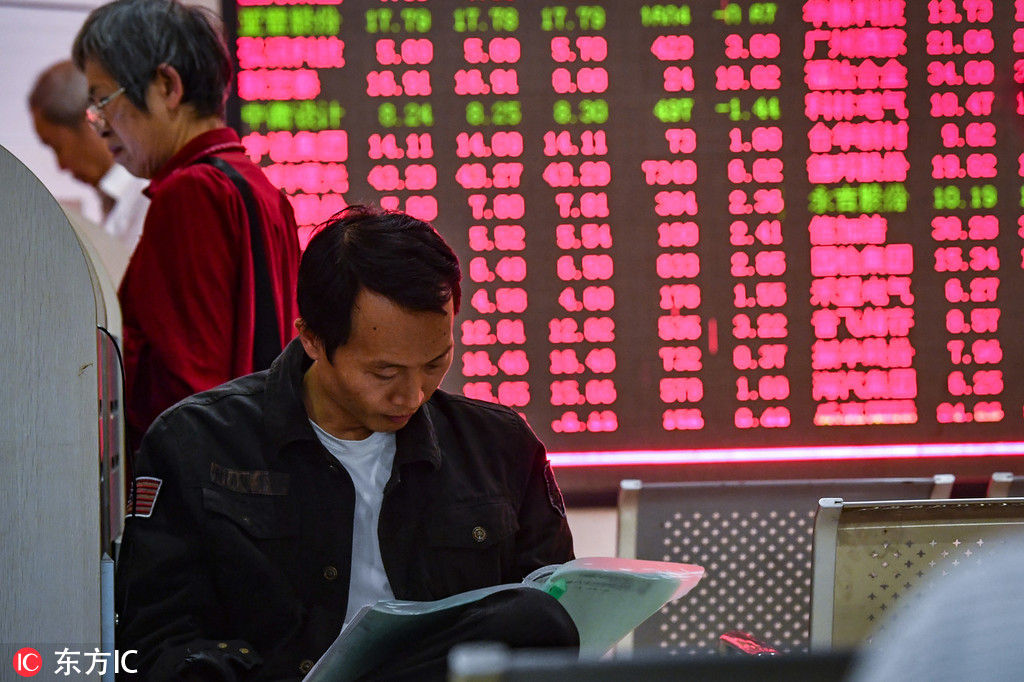 Analysts attribute jump to weighting increase of A shares in MSCI indexes
Foreign capital inflows into China's A-share market via stock connect programs hit a nine-month high and helped fuel a market rally on Tuesday, as the weighting increase of A shares in major global investment benchmarks took effect.
A net total of 11.3 billion yuan ($1.6 billion) flowed into A shares via northbound trading under the stock connects between mainland and Hong Kong bourses on Tuesday, the highest since Dec 3 last year, versus a 3-billion-yuan net outflow on Monday, according to financial information provider Wind Info.
Analysts attributed the jump in foreign inflow mainly to the weighting increase of A-share constituents in MSCI indexes widely used by global investors, which took effect at the close on Tuesday.
According to global index compiler MSCI Inc's previous disclosures, the inclusion factor - which dictates constituents' weighting in MSCI indexes - of 260 existing A-share constituents was due to be raised from 10 to 15 percent on Tuesday. Another eight A shares, meanwhile, would be added as new constituents with an inclusion factor of 15 percent.
The index adjustment was estimated to trigger foreign funds of $3.6 billion into Chinese shares on Tuesday, as overseas passive fund managers tracking MSCI indexes synchronized their allocations with adjustments in index composition, according to Shenzhen-based China Merchants Securities.
Chinese shares leaped on Tuesday with quickened foreign inflows. The Shanghai Composite Index closed up 1.35 percent higher at 2902.19 points, the second highest in August.
The smaller Shenzhen Component Index jumped 1.86 percent to 9443.18 points, while the ChiNext Index, which tracks startups and innovative firms, rose by 1.71 percent to 1628.12 points.
Among all A shares, Wuliangye Yibin Co Ltd, a Sichuan province-based liquor maker, saw the highest net purchase via the stock connect arrangement of 713 million yuan on Tuesday, with its share price up 3.89 percent to 132.38 yuan, according to data from information provider eastmoney.com.
Foreign inflows may remain at a relatively high level in the following month, driven by the inclusions of A shares by another two major investment benchmark providers, FTSE Russell and S&P Dow Jones Indices, analysts said.
FTSE Russell announced on Saturday that it would raise the inclusion factor of more than 1,000 A shares in its global benchmarks from 5 to 15 percent and include 87 new A-share constituents, effective on Sept 23.
Also on Sept 23, S&P Dow Jones Indices is due to include A shares in its global benchmarks with a 25-percent inclusion factor.
On back of the successive inclusions, more than 240 billion yuan worth of foreign capital may flow into A shares from Tuesday to Sept 23, said Chen Guo, chief strategist with Shenzhen-based Essence Securities. As of Tuesday, the A-share market had drawn in a total of 115 billion yuan of foreign capital via stock connects, Wind Info data showed.
The foreign inflow, in tandem with macro easing to fend off downside risks and new policies to improve economic structures, such as to revitalize the private economy and to deepen capital market reforms, may lead to a market rally over the third quarter, Chen said in a report.
"Changes in the external environment may weigh on the market in the short term, but may also help the market bottom out and augur well over this autumn," Chen said.
Zhang Xiaodan contributed to this story.