Market moves seen as spark for a bull run
Share - WeChat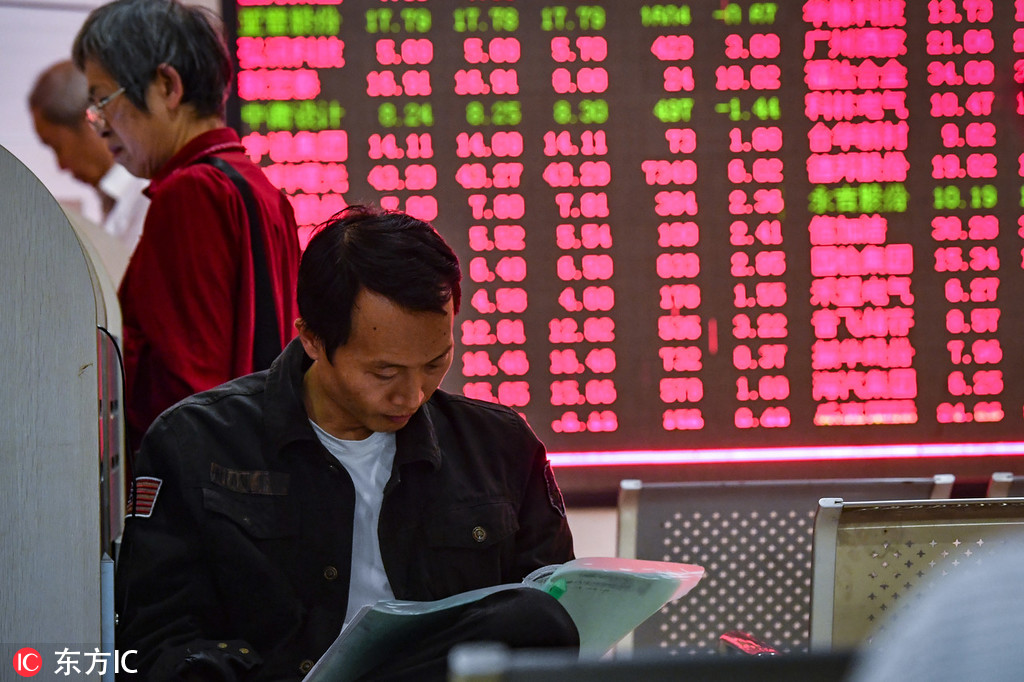 Adjustments in A-share trading may trigger long-term high performance
This year will likely mark a historic milestone in the opening-up of China's capital market, as groundbreaking initiatives are bearing fruit and ushering the A-share market into a long-term bullish run, experts and officials said.
"Capital market opening-up has accelerated substantially this year, with launches of the Shanghai-London Stock Connect and the Nasdaq-like tech board STAR Market," said Wang Tingting, an associate professor of finance at Central University of Finance and Economics in Beijing.
On July 22, the much-anticipated STAR Market of the Shanghai Stock Exchange will start trading, with the first group of 25 public companies listed, the exchange said on Friday.
The opening of the new market comes around eight months after President Xi Jinping announced in November that China would launch the new board and pilot the registration-based initial public offerings system.
"As the pioneer of registration-based reforms that will bring the rules of the A-share market closer to international practices, the STAR Market represents an important stride in capital market internationalization," Wang said.
Another groundbreaking initiative, the Shanghai-London Stock Connect, commenced trading on June 17. The connect brings Shanghai and London bourses together with the issuance of depository receipts that are exchangeable with stocks listed on the other exchange.
It enables foreign companies to list on a mainland exchange for the first time, elevating capital market opening-up to a new level, said Dong Dengxin, director of the Finance and Securities Institute at Wuhan University of Science and Technology.
Capital market internationalization is set to accelerate more in the next few years, given major global benchmarks' inclusion of A shares and regulators' determination to deepen opening-up, Dong said.
In May, global index provider MSCI roughly doubled A shares' weighting in its indexes, followed by its competitor FTSE Russell's adding A shares into its global benchmarks in June.
Another renowned compiler, S&P Dow Jones Indices, is due to include A shares in September. Propelled by the inclusions, more than $600 billion of foreign capital may flow into the A-share market over the next five to 10 years, according to HSBC.
Yi Huiman, chairman of the China Securities Regulatory Commission, the top securities regulator, recently vowed to "firmly push ahead capital market opening-up" no matter how the external environment changes. Yi announced nine opening-up measures to be implemented soon.
Capital market reforms and opening-up measures are expected to be rolled out continuously to achieve steady and healthy market development, as China's economic upgrading will rely heavily on the capital market to spur advances in technologies and the services sector, said Hong Rong, founder of Shanghai-based investor education platform Hongda Education.
"This may have ushered us into a new era of the A-share market, featuring a long-term, slow market uptrend, unlike the previous mode of short bullish runs, but long bearish runs," Hong said.
As of Friday, this year's benchmark Shanghai Composite Index had leaped by 20.7 percent to 3011.06 points.
The rise can be regarded as the initial stage of a new bullish run, catalyzed by cyclical market patterns and progress in economic restructuring, a report from Haitong Securities released on Sunday said.
A bigger uptrend may kick off in the second half of the year, with stabilized corporate earning growth, the report said, while advising that a close eye be kept on the progress of countercyclical policies and developments in Sino-US trade.
Lynda Zhou, a portfolio manager at Fidelity International, a leading global asset manager, is also upbeat about the A-share market over the second half of the year, as wider access to foreign investors and the STAR Market debut will attract long-term inflows.
To bolster long-term market performance, regulators should stick to fundamental market reforms, such as those for delisting and trade settlements, rather than focusing on reducing short-term fluctuations to shield investors from losses, said Zhu Ning, deputy dean of the National Institute of Financial Research at Tsinghua University.
Zhou said opening-up measures will boost long-term market performance because listed companies can better allocate resources to achieve sustainable earning growth as foreign investors' participation increases.
"Foreign investors, who usually care more about long-term shareholder returns, such as return on equity and dividend yield, will help listed companies to focus on these areas," she said.