Suitable sentencing can ensure rule of law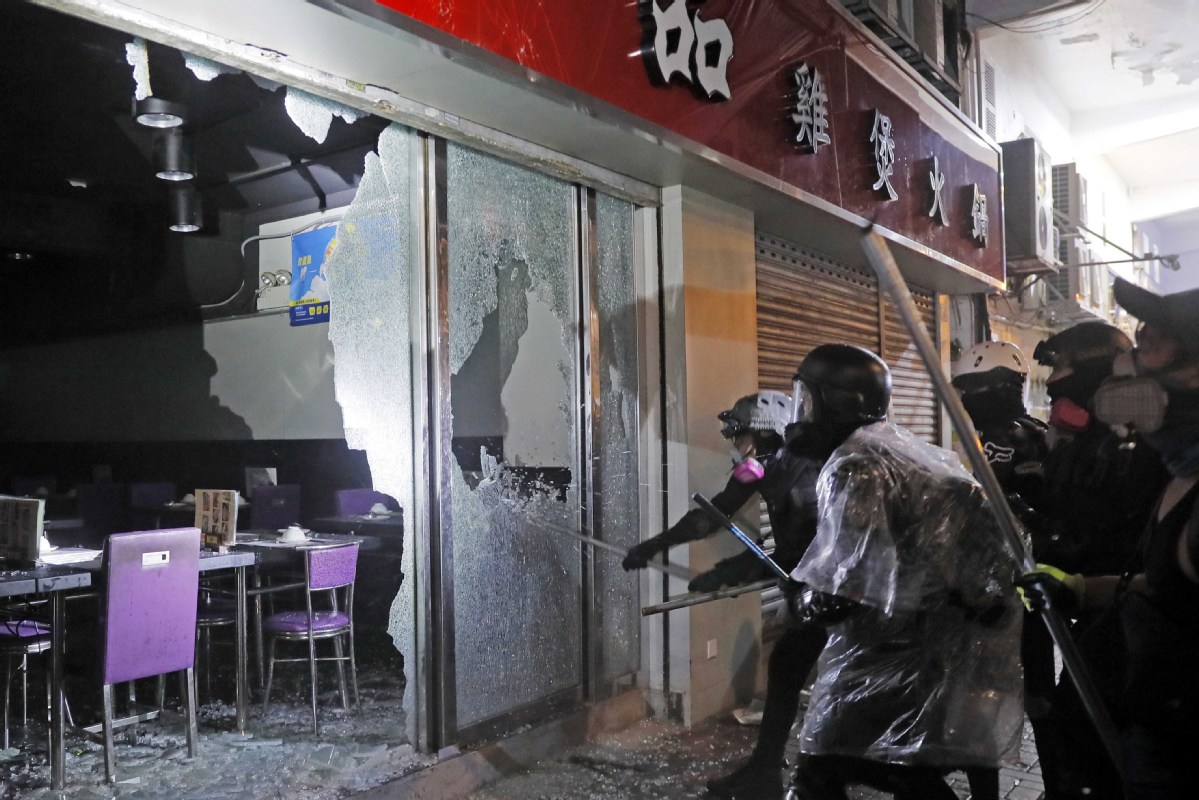 Although a large number of suspects have been arrested for alleged involvement in offenses arising from the ongoing protests in Hong Kong, many cases are still being investigated. Within the Department of Justice, a dedicated team is providing legal advice, and some very serious charges will undoubtedly be brought in due course.
Apart from the obvious riot charges, suspects may also expect to be charged with offenses that include arson, injuring with the intent to cause grievous bodily harm, assaulting police officers, criminal damage, possession of offensive weapons and public nuisance. Prosecutors will also need to consider attempted murder charges in cases involving police officers being attacked with Molotov cocktails.
For suspects arrested in connection with the bomb factories, charges of making or keeping explosives with the intent to endanger life or property-which are punishable by life imprisonment-are almost inevitable, evidence permitting.
At some point, these cases will be brought to trial, and the judges will take control of matters. Many cases, because of their seriousness, will be too serious for trial in the Magistrates' Court, and will be sent to either the Court of First Instance, where the maximum penalty is life imprisonment, or the District Court, where it is seven years' imprisonment.
If an accused pleads guilty at an early stage, he or she will receive a one-third reduction in sentence, partly as a reward for not wasting judicial time, but also as an incentive for other guilty people not to contest the charges.
If the examples of people charged with offenses arising from the "Occupy Central" disturbances and the Mong Kok riots are anything to go by, the suspects this time will, in all likelihood, plead not guilty, thereby delaying things as much as possible.
Their day of reckoning will, however, hopefully still come, and the sentences they receive will need to emphasize punishment, with mitigating factors carrying little if any weight.
When an offender is sentenced for a serious crime, the courts need to consider various factors. These include public protection, commensurate punishment, societal disapproval, deterrence, compensation and the possibility of rehabilitation.
Although in the earlier public order cases, courts have sometimes imposed relatively lenient sentences, these appear to have provided little deterrence. Due to the seriousness of the offenses, the scope for leniency this time will be greatly reduced.
Judges will need, through their sentences, to demonstrate that the offenders' conduct is intolerable in a civilized society. Although some of the offenders and their apologists appear to think they are above the law, the judges should rid them of such notions.
In 2018, when the Court of Final Appeal considered sentencing principles in a public order case related to "Occupy Central", and which involved both violence and injury, it emphasized the importance of maintaining public order. The message, therefore, was unequivocal, and trial judges will be fully justified in future cases in imposing suitable punishment upon any offender convicted of serious public disorder as well as related criminality.
Where deterrence is the primary sentencing consideration, it is essential for the courts to impose punishments that not only deter the offender, but also others who might be of a mind to commit similar offenses.
It is only through the sentences they impose that judges can express society's abhorrence of a particular conduct, and provide the police with the support they need in upholding law and order.
Although the ultimate sentences to be imposed must always be just and appropriate, anyone held to account for waging war on society must expect to be imprisoned for a very long time.
The author is a senior counsel and law professor, co-author of Sentencing in Hong Kong, and was previously the director of public prosecutions of Hong Kong.