Maoming on verge of transforming and upgrading its economy
Share - WeChat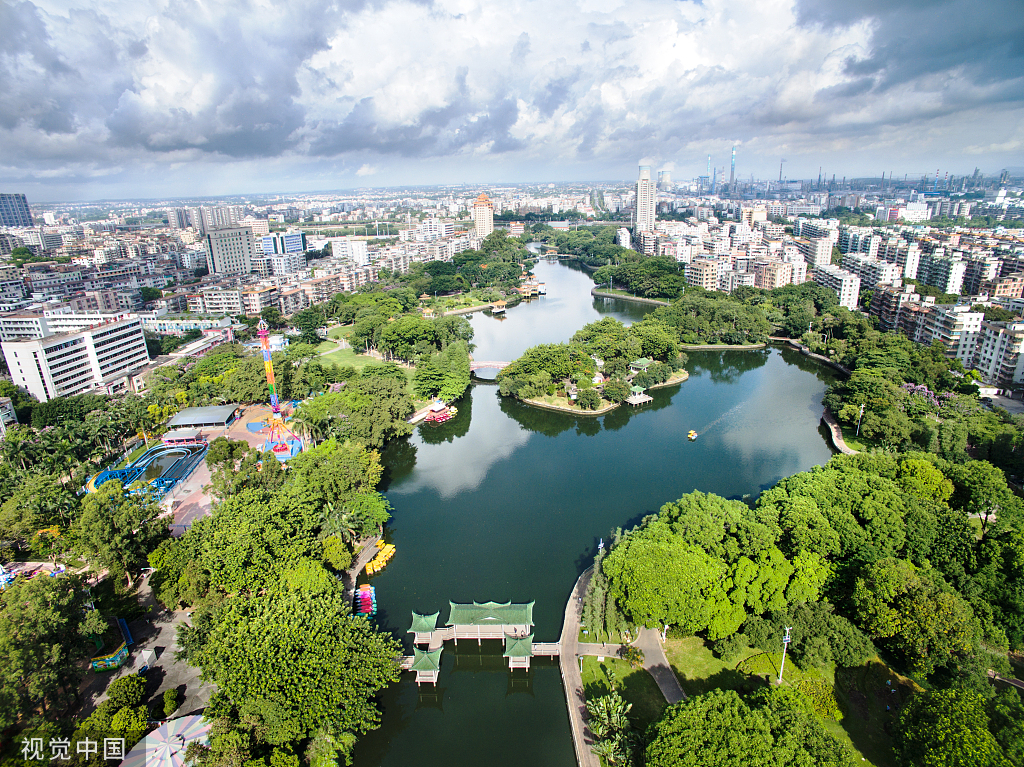 Maoming in western Guangdong province is on the cusp of transforming and upgrading its economy by boosting its new energy industry, extending the industrial chain of its petrochemical sector and tapping the potential of its coastlines.
Dubbed the "southern oil city," Maoming was built on oil shale discovered here in the 1950s, with oil refining and its petrochemical industries accounting for the lion's share of the local economy.
Negotiations are now going ahead for a massive propane dehydrogenation project in the city to create a gas chemical cluster in the port-side of the Binhai New Area, Xu Zhihui, Party secretary of Maoming, said in an interview with China Daily.
"Compared with petrochemical and coal-chemical, it is cleaner and more efficient and signifies our industrial transformation," Xu said.
Chemicals such as polypropylene and carbon can be used in 3D printing and carbon fiber production. The hydrogen can also be used to feed a hydrogen-fueled cell manufacturing project.
A hydrogen fuel cell project with an intended investment of 1 billion yuan ($141 million) is expected to start operation on a trial basis in the High-Tech Industrial Development Zone next June, said Yang Xi, deputy director of the city's commerce bureau.
The investment will mainly come from Shanghai-based energy service provider Sinomec Group. Other bodies involved are the China Aerospace Science and Technology Corp's Academy of Aerospace Solid Propulsion Technology and Tsinghua University's Institute of Nuclear And New Energy Technology. The cells can be used in cars, drones and backup power units.
The pillars of the city's economy will therefore include not only the petrochemical and primary raw material industries, but also high-end new materials and possibly the hydrogen energy-based industry which takes its inspiration from future industrial trends, Xu said.
The operation of the Maoming branch of Sinopec, the country's top oil and gas company, represented about 56 percent of the city's industrial added value and some 13 percent of the city's GDP last year.
"When the key projects are implemented, we will sustain our competitive edge," Xu said.
Petrochemical equipment manufacturing is also a key part of the city's industrial chain. Challenge Petrochemical Machinery Corp of Maoming, which was founded in 1958 and focuses on innovation in niche products, exports fire heaters and polyolefin reactors.
The company has a major share in the domestic market for those products as well as for quenching heat exchangers, said Deputy General Manager Huang Siluo.
The local authorities have set a goal of turning Maoming into a modern coastal city with powerful industrial strength, Xu said.
Though blessed with 220 kilometers of coastline, Maoming has yet to fully tap the potential its coast has to offer. The city has embarked on major investment in its Bohe New Port to strengthen its shipping capacity, port logistics and seaside industries.
Two general berths jointly developed by Maoming Port Group Co and Guangzhou Port Group went into operation in March. Two more berths are being constructed.
An application has been submitted for a 300,000-metric-ton crude oil dock and the construction of a 100,000-ton refined oil dock is expected to begin next month. Maoming Port Group Co and Sinopec are joint investors in those projects.
Three docks for chemical products and chemical warehousing facilities will also be built, said Liu Naiying, chairman of Maoming Port Group Co.
The port has also been designated as a liquefied natural gas terminal for western Guangdong.
Singaporean agribusiness giant Wilmar International is building a 1.35 billion yuan soybean, wheat, peanut and edible oil processing plant in the port. Daodaoquan Grain and Oil Co from Yueyang, Hunan province, will also set up a 1 billion yuan edible oil processing plant in the same port.
Maoming is the largest grain, vegetable and meat producer in Guangdong, the top fruit and cash forest grower in the country, and the No 1 lychee and tilapia producer globally. Xu said more is being done to boost the agricultural sector.
Capitalizing on the fine sand and extensive beaches of the area, the Shenzhen-based OTC Group and Singapore's Perennial Real Estate Holdings plan to develop large tourism and healthcare resorts in the region.
The coastal economic belt development plan of Guangdong province should help bring the coastline and the port into full play, Xu said. The plan is aimed at promoting coordinated development among the regions in the province.
Maoming is attempting to integrate into the Guangdong-Hong Kong-Macao Greater Bay Area.
This would include improvements in the transport network of highways, high-speed railways and a new airport being built for western Guangdong cities, Xu said.
The Greater Bay Area includes nine cities in Guangdong province and the Hong Kong and Macao special administrative regions. The outline development plan was released in February.
Maoming is also aligning its steps with the nearby free trade zone in Hainan province as well as the Beibu Gulf city cluster, Xu said.