Clan of achievers
Share - WeChat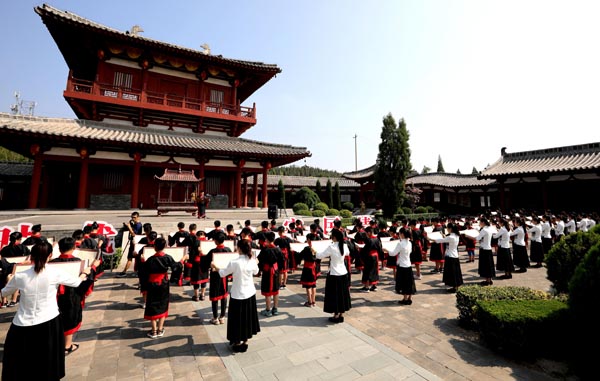 The Pei ancestral hall in a Shanxi village tells the remarkable story of a family and its accomplishments, Yang Feiyue and Sun Ruisheng report.
An unassuming ancestral hall continues to attract visitors from far and wide thanks to its glorious history and inspiring setting.
There are no magnificent pavilions, winding galleries or lush greenery to greet visitors when they enter the iron gates to the Pei ancestral hall in Peibai village, Wenxi county, in northern Shanxi province.
While the quiet courtyard seems unremarkable at first glance, a sense of grandeur develops when visitors catch a glimpse of the inscribed portraits of historical figures across the square.
The Pei ancestral hall was built during the Tang Dynasty (618-907) by the offspring of the Pei clan to worship their ancestors - many of whom had left their mark on ancient Chinese history.
Having produced 59 prime ministers and 59 senior generals since the Qin Dynasty (221-206 BC), around 500 members of the Pei clan have become well-known writers, artists, scholars and scientists.
Their achievements in politics, economics, the military and diplomacy have elevated the Pei clan above scores of their counterparts.
"The Pei ancestral hall sits by a mountain and river, and enjoys magnificent views," says Pei Jianmin, one of the 78th generation of the Pei family clan.
The 42-year-old has been working at the hall since 1995.
Pei Jianmin developed a keen interest in studying the Pei family history since a young age.
"The ancestral hall mainly serves as a place to worship our ancestors and remind us to stay loyal to our family," he says.
In ancient times, major village and educational affairs were conducted at the hall, too.
The hall was a grand palace which was restored during the Ming Dynasty (1368-1644), Pei Jianmin adds.
However, some of the buildings were destroyed during the wars of the 1940s, along with many of the precious inscribed tablets and delicate wood carvings.
Things began to pick up in 1975, when the local government decided to build five houses on the ruins of the original site.
"The hall still has some precious antiques and stone tablets," Pei Jianmin says. In particular, the Peihong tablet carries a history of more than 1,400 years.
These stone tablets are considered by experts to have great historical value and for students of calligraphy.
In 1995, the Wenxi county government decided to develop Peibai village into a cultural and tourism destination by tapping into the hall's ancient heritage.
It had 59 steps built to lead up to the existing hall, to symbolize the 59 prime ministers from the clan, Pei Jianmin says.