GM looks to the future by investing in technology
Share - WeChat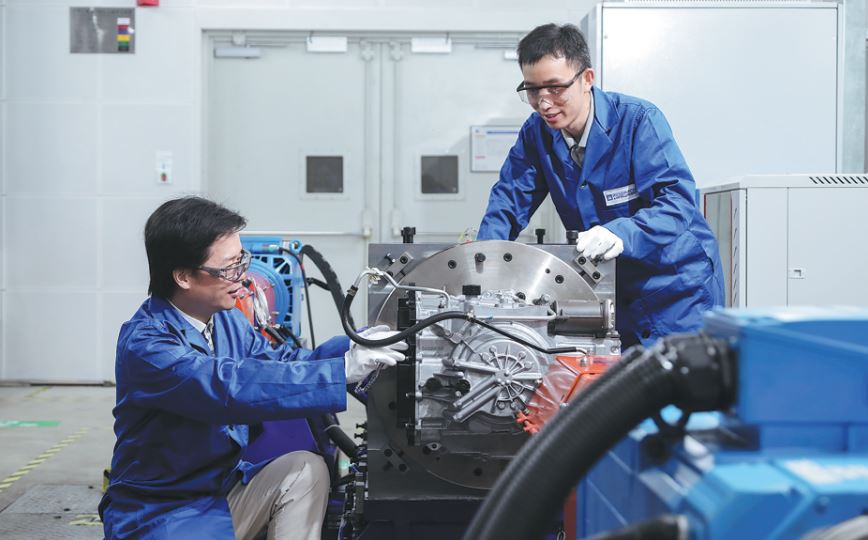 Automotive experts based in Advanced Technical Center help design cars of tomorrow
At 10 years old, GM's China Advanced Technical Center is working to fuel the automaker through the next decade by progressing in the research and development of cutting--edge technologies and advanced materials.
Founded in 2009 in Shanghai, where GM China is headquartered, the ATC is a member of GM's global engineering and design network. It includes research and development, design, vehicle engineering and battery laboratories, and develops solutions for GM on a domestic and global basis while supporting the company's vision.
"Being committed to delivering safer, better and more sustainable ways for people to get around, GM is empowered by its vision of the future with zero crashes, zero emissions and zero congestion. We believe technology is the key to turn the vision into reality," said Matt Tsien, GM executive vice-president and president of GM China, on Tuesday in Shanghai.
Improving research and development of new materials, battery testing, concept car design and the localization of global technologies, the GM China ATC will focus more on new energy vehicles, intelligent connected cars and advanced materials in an effort to meet Chinese customers' needs, the company said.
The technical center is equipped with a team of highly-qualified designers, scientists and engineers. They work together to develop mobility solutions and technologies, and are committed to promoting the application of the technologies, Tsien said.
Wang Jianfeng is a chief researcher of advanced materials and manufacturing at the GM China ATC.
He said automobiles are the synthesizer of diverse modern materials. His team is working to develop lightweight, yet strong materials at affordable prices.
The technical center has developed a third-generation steel with enhanced strength, which helps a vehicle reduce its weight by 20 percent.
Doctorate holder Hu Bin at the technical center has developed a high-performance cast aluminum alloy, which has greatly improved ductility and tensile strength. And the new material is named after Hu Bin, which is called the HuCrAlloy.
The HuCrAlloy has been used in the CT6 V-Sport, a Cadillac model on sale in North America, as well as the 2020 Corvette Stingray.
Compared with conventional cast aluminum alloy used by General Motors, the HuCrAlloy is 40 percent lighter. Rich in raw materials and with fast-paced technology, China is at the forefront of innovation in metals and metallurgical processes. This helps lay a solid foundation for the technical center's research and development, according to Wang.
A remote laser-welding technology was also developed by the technical center.
It has improved the welding efficiency by three to four times and cut carbon dioxide emissions by 50 percent, according to the carmaker.
As the automobile industry leans toward electrification and intelligent connectivity, the automaker said there are higher requirements for auto materials.
The aim is to help ensure the operation of electrified and internet-connected devices.
For instance, precise and corrosion-resistant materials are needed by the battery, the cell and the motor to help reduce risks, improve efficiency and gain strength.
William Hotchkiss, director of GM China Engineering, said the ATC is transforming into a hub of intelligent connected vehicles. The automaker will invest a great deal of engineering resources there to shape the future, he added.
According to GM, it is set to join hands with China Intelligent and Connected Vehicles (Beijing) Research Institute.
They aim to help build a vibrant ecosystem of intelligent connected vehicles.
"Based on our own technical strengthen and resources, we hope to develop integrated mobility solutions with the Chinese partners. And the cooperation with CICV is a good example," Tsien noted.
Hotchkiss added that innovation and cooperation are key to building the future of personal mobility. Intelligent connected vehicles have inspired them to focus on technological harmony and develop integrated technical solutions so as to improve road safety and travel efficiency.
Super Cruise is an advanced intelligent driving assistance system developed by GM. It entered the Chinese market in 2018, being used in the Cadillac CT6.
Before that, the automaker collaborated with its local partners in China to localize the technology.
The ATC is a pivotal design center for GM, which is mainly composed of Chinese local designers and aids in its global product design and development.
Designers also take part in market research to capture what's happening in China and the tastes of its customers, according to the carmaker.
Focusing on designing electric cars and concept vehicles for the Chinese and global markets, the technical center is scheduled to recruit more local designers and further improve its design capability.
Growing in its size and capability, the GM China ATC is charting a bold course for the automaker's next decade by continually meeting customers' aspirations, the automaker said.