Sino-Africa partnership on water issues vital
Share - WeChat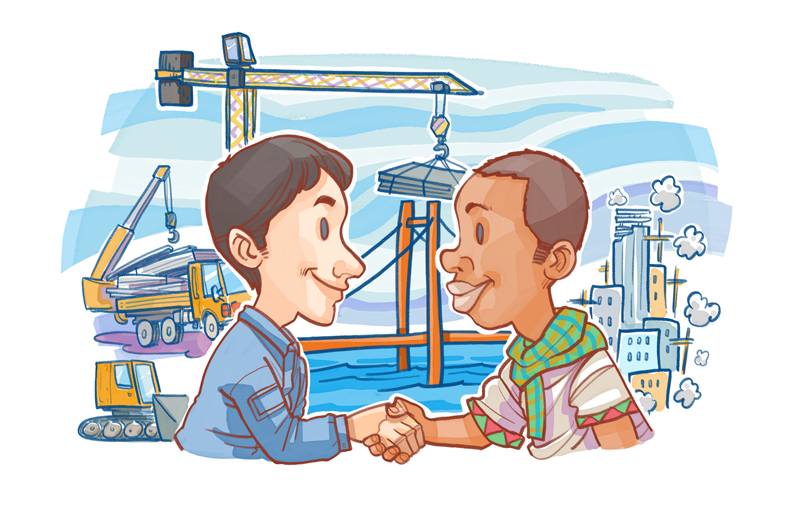 During the China-Africa Water Forum held in July in Windhoek, Namibia, the Chinese ambassador to Namibia noted the importance to Africa of having a partnership in overcoming its persistent water shortages.
Indeed, resolving the water crisis in Africa is part of the Beijing Action Plan (2019-21) under the umbrella of the Forum on China-Africa Cooperation.
The plan outlines measures to build and develop a China-Africa Research Center for cooperation in scientific research and training of professionals in water-related disciplines geared toward treatment and production of clean and safe drinking water. The program aims at research and dissemination of knowledge in creation of artificial rainfall, desalination, rainwater purification, water recycling, and water-saving irrigation technologies, among others.
The United Nations World Water Development Report 2019 estimates that more than 2 billion people worldwide lack access to safe and clean water. In 2010, the UN General Assembly resolved that inability to get safe and clean drinking water and sanitation is part of the growing body of human rights concerns, and therefore countries have an obligation to try to achieve "universal access to water and sanitation for all, without discrimination".
Despite this resolution and adoption of the UN's 2030 Sustainable Development Goals, many countries have not met the objective of reducing the number of people living without adequate clean water and sanitation. In 2015, individuals living without clean and safe water stood at 2.1 billion, more than a half being in sub-Saharan Africa, where only 24 percent of the population have access to the vital resource. Similarly, UNICEF established that nearly 500 children die each day in sub-Saharan Africa due to lack of access to universal sanitation and clean water, and that West and Central Africa needed about $30 billion annually to meet the universal requirements for water.
The water shortage has hit South Africa hard, especially Cape Town, where rationing was adopted to prevent the city from completely running out of water. Water rationing is common in numerous cities across Africa, including Nairobi, Kenya; Accra, Ghana; Bulawayo and Harare, Zimbabwe; and Mapu-to, Mozambique.
To overcome water shortages, the African Development Bank projected that the continent will need $66 billion per year to build adequate dams, pipelines, pumping stations and purification plants.
China offers an opportunity for an exchange of ideas that would help Africa overcome its water problem. For instance, in 2011, China had the capacity to desalinate about 600,000 metric tons of water per day and is projected to push the figure to about 3 million tons of desalinated water a day by 2020.
In the Horn of Africa, China funded a cross-border water project between Ethiopia and Djibouti. The project involved the drilling of wells and reservoirs and the installation of pipeline.
The importance of water as a resource is not limited to sanitation and drinking, since it is crucial to many activities, including agriculture, electric power production, transportation and mining.
In Uganda, China International Water and Electricity Corp built a dam costing $568 million. The Isimba Hydropower Dam was launched in March and is expected to add 184 megawatts to the national grid. China is also financing Karuma Hydropower, a 600-MW dam costing $2 billion in northern Uganda.
It is important that more African countries take the opportunity offered by China and create a cooperative environment through which ideas can be shared and implemented. The scope of cooperation should also focus on areas such as energy and food security, which require water as a key input.
The author is a senior policy analyst at the Africa Policy Institute in Nairobi, Kenya. The views do not necessarily reflect those of China Daily.