Ne Zha shaping up to be movie of the summer
Share - WeChat A crossover video featuring Nezha and Monkey King, two of Chinese people's favorite mythological figures, was released Monday to promote the animated feature Ne Zha which will hit the big screens across China Friday.
The 45-second clip caused a great stir on social media. Ne Zha humorously tackles the question, "Is Nezha a boy or a girl?", a hilarious gag from the 2015 blockbuster Monkey King: Hero is Back, by proudly riding on the wind fire wheels into a men's bathroom to confront Monkey King who had said the Third Lotus Prince was a girl.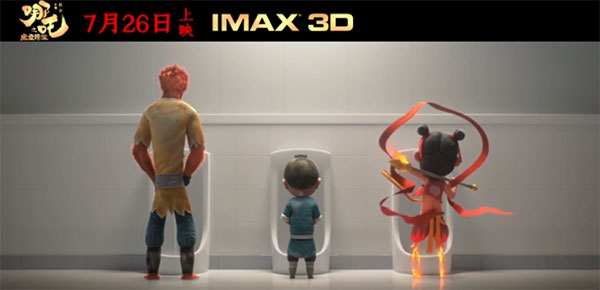 Uploadedby Sina Film's Weibo account, China's version of Twitter, the video has so far logged 13.57 million views and 150,000 likes. Weibo users commented that the fun interaction between the two legendary heroes convulsed them with laughter with many tagging their friends to watch the video.
"Wow, this is so adorable! If there's a sequel to Hero is Back, will Nezha be the guest star? I can't wait to check out the film soon," one Weibo user commented in their repost of the video.
Online reviews based on the film's test screenings in the past two weeks bode well for its box office performance, with many industry insiders predicting it will shatter the box-office record held by Monkey King: Hero is Back, the highest-grossing Chinese animated film of all time.
On China's major film reviewing site Douban, the film has scored 8.8 points out of 10, while on box office tracker Maoyan, the film has maintained a rating of 9.7, topping the site's charts of 2019 films.
"After watching so many domestic animated films, only Ne Zha and Monkey King: Hero is Back have made me shang tou (obsessed or fascinated)," a Weibo user commented under the promotional video.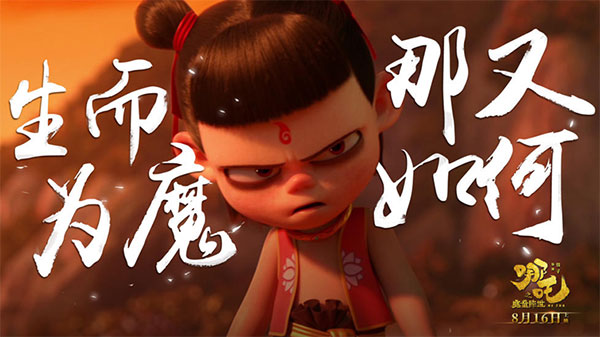 "Epic! I finished watching Ne Zha in tears. The content-rich story, vivid characters, and amazing visual effects, work together to create a 110-minute roller-coaster watching experience," a Douban user commented.
"Bravo! Couldn't believe a domestic animated film can be created with such a well-developed story. The image of Nezha in this film has been subverted but his rebellious spirit is well-established. I'm sure Ne Zha is gonna go viral this summer!" reads another comment on Douban.
The first-ever interaction between Ne Zha and Monkey King was made possible thanks to the friendship between Ne Zha's director Jiaozi, and Tian Xiaopeng, director of Monkey King: Hero is Back.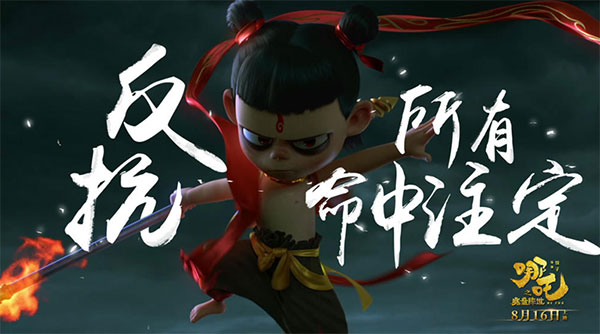 Tian knew of Jiaozi and reached out to him following the success of his maiden film, See Through in 2005. Days earlier, Tian also posted a blog on his Weibo account suggesting that Jiaozi and Ne Zha have unlimited potential.
The Ne Zha director also commended Tian's influence on him. He once said that because of the discouraging macro environment for domestic animation creators, he and many other animators used to focus most of their energy on cutting back on production costs.
But the sweeping success of Hero is Back enabled many domestic animators to see Chinese audiences' support for quality animation productions, which reinforced the young director's determination to go all out to create premium animations.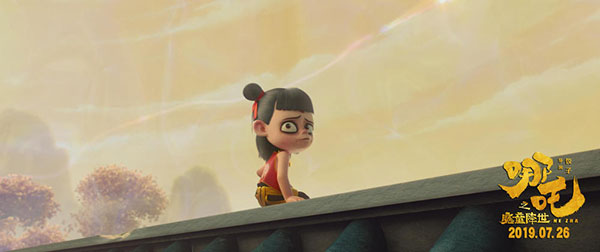 In many audiences' minds, Ne Zha and Monkey King share a lot in common. On the one hand, both are lone dissidents and fighters, refusing to resign themselves to destiny. On the other hand, the two mythological figures have been recreated with bold innovation, giving audiences a brand-new take on the two classic images through animation.
Due to a dearth of successful movies in the first six months, Chinese cinemas have suffered a notable decrease in footfalls and the world's second-largest film market is witnessing a fall in revenue.
Therefore, films with rich content and excellent word-of-mouth like Ne Zha are of course something for moviegoers to look forward to in the scorching mid-summer.
Yang Xiaoyu contributed to this story.
Most Popular