Pole star leads the way
Share - WeChat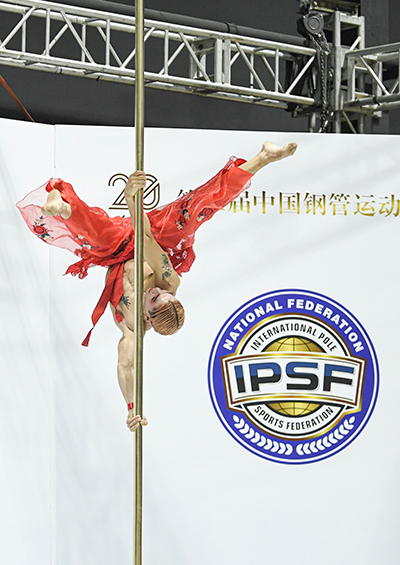 A new breed of dancers and athletes help to elevate a once stigmatized art form into a growing fitness trend, Xing Wen reports.
The music rings out, starting with a cacophony of gongs, cymbals and bamboo clappers, as a topless, handsome man in long, red silk trousers steps on stage. After performing some stylized movements reminiscent of Peking Opera, the dancer leaps onto a vertical pole, spins gracefully, then suddenly flips himself upside down, scissoring his legs to perform the splits. Testing every sinew of his chiseled musculature, he whirls, spins, crouches and flies, alternating between the two silver poles, rippling with the vigor of a man in the prime of his life.
The dancer, Jiang Lei, 28, through this athletic display of control and strength, is trying to tell the beautiful, yet sad, story of Cheng Dieyi, a fictional Peking Opera performer with an obsession for both the art and his love - a bittersweet tale based on the role played by Leslie Cheung in the popular movie, Farewell My Concubine. This unique interpretation won Jiang the top prize at the second China Pole Sports Championships, which took place in Beijing on July 14.
"I want to combine the skills of pole sports with elements of traditional opera and classical dance to express specific plots and the character's feelings within them," says the pole sports athlete.
Once a student of classical dance at Taiyuan Normal University, Jiang felt that he could not compete with his classmates, so he made the decision to move on to a fresh genre, jazz dance, in 2012. It was at the jazz dance studio where he was exposed to the physically-challenging art of pole dancing, which, in his own words, gave his career a new lease of life.
"Because male pole dancers are scarce in China, to improve the gender balance, I was persuaded by my instructor to climb onto a pole and try to pull off some of my tricks and turns," he recalls.