Six rafting destinations around China
Share - WeChat The traditional Chinese lunar calendar divides the year into 24 solar terms. Major Heat, the 12th solar term of the year, begins Tuesday, and ends Aug 6. During Major Heat, most parts of China enter the hottest season of the year.
While people are racking their brains on how to avoid the intense summer heat, why not try rafting? It's a perfect option for summer escape since it allows you to enjoy a whiff of coolness while appreciating the natural scenery along the river.
Here we recommend six ideal rafting destinations if you want to experience the thrill.
Mengdong River, Central China's Hunan province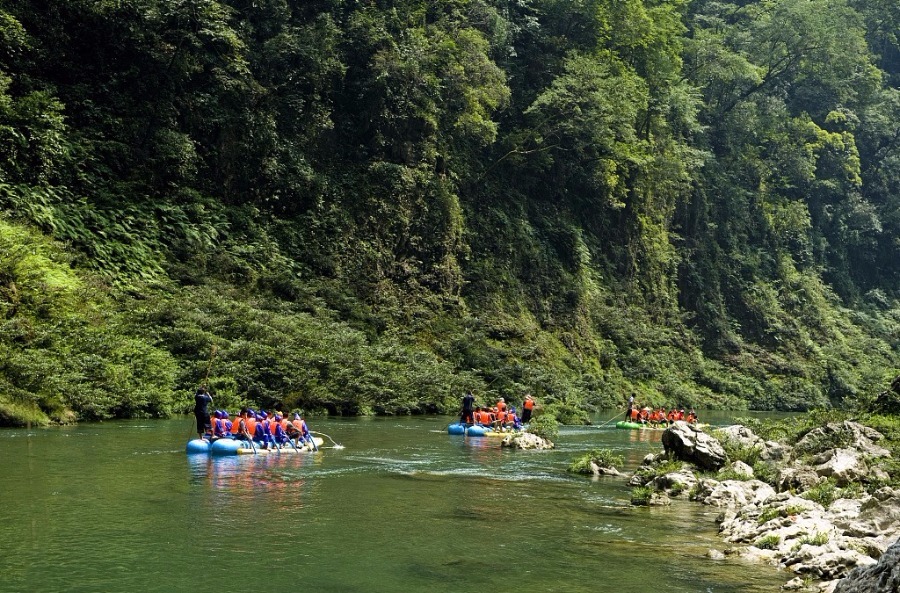 Located in Yongshun county, Xiangxi Tujia autonomous prefecture in Central China's Hunan province, the Mendong River flows through steep country with high cliffs and deep valleys. The waterway is narrow and the flow is rapid, making it an exciting prospect for visitors. Tourists can see many Tujia-style houses, which are on stilts in the water on both banks.
It's also possible to see the Xizhou bronze pillars, important cultural relics under the protection of the state in the ancient town of Wangcun on the lower reaches of the river.
There is something serene and mystic about the Mengdong River as it twists and turns across the karst terrain of Yongshun county, 90 km west of Zhangjiajie. Narrow,swift and strewn with dangerous shoals and rapids, the river is cut out for daredevils.