Envelope celebrates Chinese friendship with Russia
Share - WeChat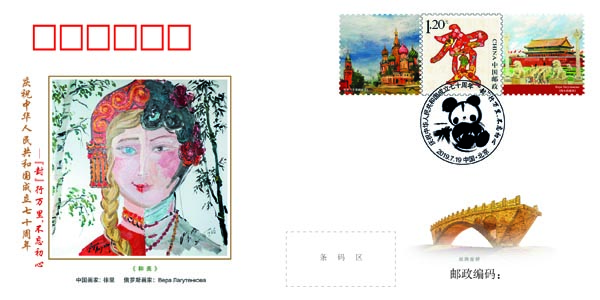 The unveiling ceremony for the China-Russia commemorative envelope took place Friday at the Liangmaqiao Diplomatic Office building in Beijing.
This year marks the 70th anniversary of the founding of the People's Republic of China as well as the 70th anniversary of the establishment of China-Russia diplomatic relations.
Themed Commemorative Covers Travel Thousands of Miles, Remain True to Our Original Aspiration, the event was part of the cultural exchange program sponsored by the China Foundation for Peace and Development to celebrate PRC's anniversary and mark its diplomatic ties with foreign countries.
The program, organized by the Beijing-based Zhongyulidu Culture Co, Ltd, teams up an array of Chinese and foreign artists, co-creating artworks featured on the commemorative covers, showcasing the achievements of cultural exchange between China and its friends.
The painting Harmonious Beauty on the China-Russia commemorative cover, a half-length portrait jointly created by Chinese painter Xu Li and Russian artist Vera Lagutenkova, embodies the close friendship between the two countries spanning seven decades.
Most Popular