Chinese scholar's killer sentenced to life in prison
Share - WeChat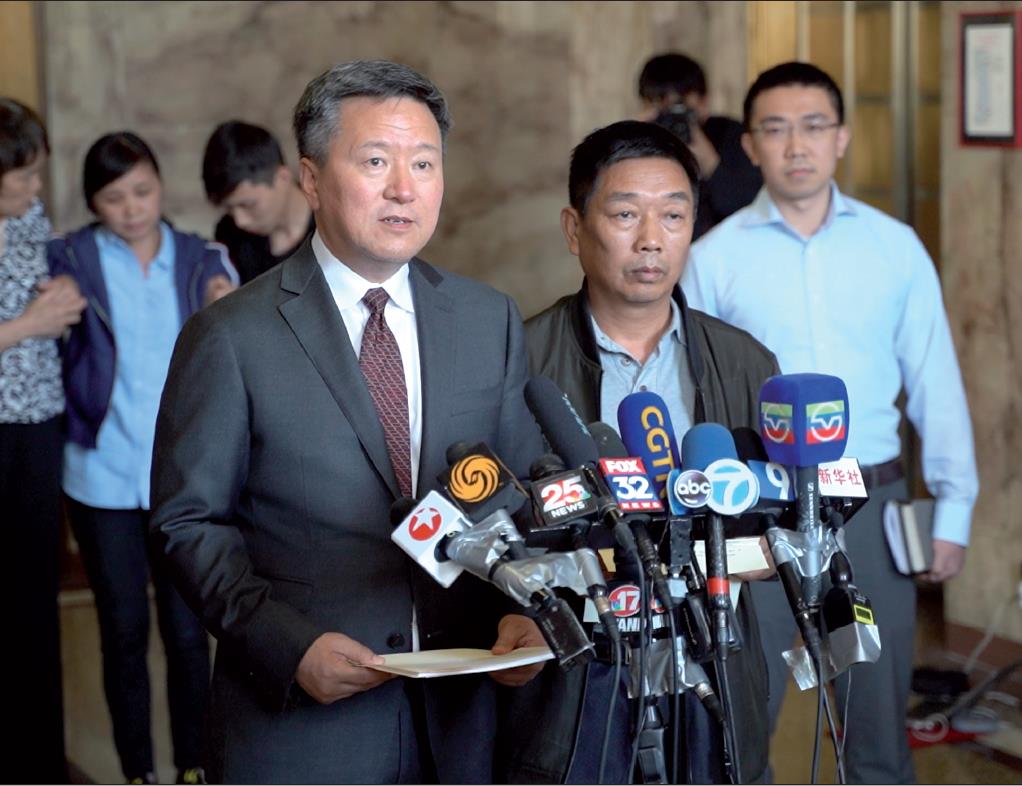 A federal judge on Thursday sentenced Brendt Christensen, a former University of Illinois doctoral student, to life in prison without the possibility of parole for the kidnapping and killing of Chinese scholar Zhang Yingying after a jury said it was unable to reach a unanimous decision on the death penalty.
"The jury has spoken, and the trial is over, but Yingying is not home," said Zhang's father, Zhang Ronggao at a brief news conference following the sentence.
"We ask the defendant to unconditionally tell us what he knows about Yingying's location," the father said. "If you have any humanity left in your soul, please help end our torment. Please let us bring Yingying home."
He said that although the family does "not agree with that result (referring to the jury's decision), we accept that he will spend the rest of his life in prison, which still reflects our loss in a meaningful way".
"We hope that every day he spends in prison he feels the pain and suffering that we feel for the loss of Yingying," Zhang said.
US District Court Judge James Shadid addressed Christensen, who declined to make a statement directly to the court after the judge announced the sentence.
Shadid called the crime committed by Christensen, 30, an "inexplicable act of violence".
Christensen flashed a smile, and said "thank you" to his defense attorneys after the verdict was read.
"The mercy extended to you by the jury is a testament to their humanity, not your character," the judge said. "In effect, the failure to reach a unanimous decision is actually a death sentence, but a natural death as opposed to the death you imposed on Yingying Zhang.
"The Zhang family, who may never know where their daughter's remains now rest, must live with the thought that Yingying was ripped away from them by a total stranger, thousands of miles away, fulfilling his self-absorbed and selfish fantasies with no regard, yet to this day, for anyone other than himself," Shadid said.
"So whatever self-centered opinion you have of yourself, when you are taken out of here today by the United States marshals, to wait for that lonely, isolated and cold deathbed that follows your natural life in prison, maybe, just maybe, the moment will strike you to pick up paper and pen and write 'I'm sorry' to Mr. and Mrs. Zhang," the judge said.
At the news conference, John Milhiser, the US attorney for the Central District of Illinois, said "the efforts to locate Yingying have not stopped; they have not stopped when we started two years ago, and they will continue".
Zhang's boyfriend, Hou Xiaolin, said he did not understand how the jury did not sentence Christensen to death for killing his girlfriend.
"For my own personal opinion, the result today seemed to encourage people to do crimes," Hou said. "And me, myself, will never agree with that."
The jury deliberated for roughly eight hours over two days after more than a week of testimony in the trial's penalty phase during which they heard from Zhang's parents and brother, as well as her fiancé. Christensen's parents and sisters also testified.
During the day and a half of deliberations, jurors raised several questions regarding a form they must complete at the end of the process.