Nation plans to expand charging infrastructure for new energy vehicles
Share - WeChat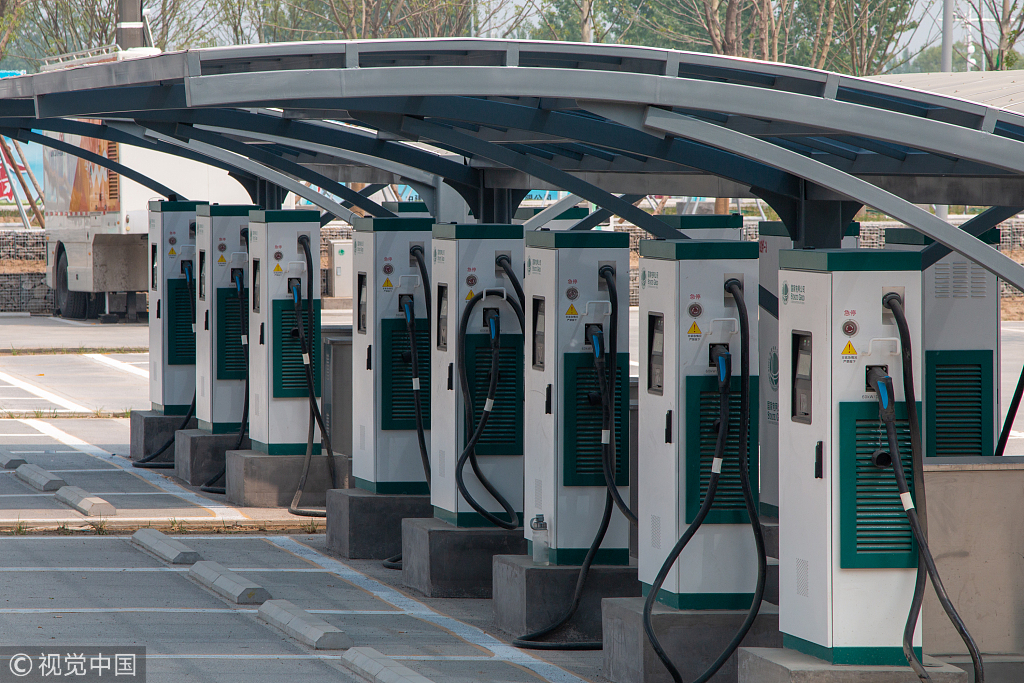 Development of charging infrastructure for new energy vehicles is fast catching up with the growth in sales of such vehicles, although the number of NEVs in China still outstrips the existing charging facilities, according to industry experts.
They said the main driving force for the fast development of charging infrastructure includes the increased demand, due to rapid growth of NEVs, as well as the government's efforts.
"The development of charging infrastructure is important for the development of the NEV industry, because lack of charging facilities is usually a major barrier for NEV purchases," said Tong Zongqi, director of the information department under the China Electric Vehicle Charging Infrastructure Promotion Alliance.
"As the NEV sector develops rapidly, demand for charging facilities has also been growing steadily."
Although China already has a large number of charging piles, they are not enough, and to some extent the lack of charging facilities has become a bottleneck for the quick development of the NEV industry, Tong said.
According to the latest statistics from Tong's organization, by the end of June, charging piles for NEVs in China totaled more than 1 million units, with a year-on-year growth of 69.3 percent.
Charging piles in public places stood at 412,000 units by the end of June, while the number in other locations stood at 591,000.
A total of 10,926 charging piles were built in June in public places. Earlier, 11,656 were built on average each month from July 2018 to last month, which resulted in an overall growth of 51.5 percent year-on-year.
However, despite the fast growth, currently every 3.5 NEVs in China share a charging pile on average, far from the ideal situation, and that has prompted the government to ramp up efforts to strengthen NEV infrastructure construction and operation, according to Tong.
Tong said the Chinese authorities have funded his organization to build a national charging facility surveillance platform that plans to connect charging facilities, NEV enterprises, charging service providers, and local charging facility surveillance platforms.
The national platform aims to improve NEV drivers' charging experiences by optimizing connectivity of the charging facilities to increase availability, and other related services including those for entertainment. The platform will also provide data analysis for enterprises and government to help them make decisions.
Since its launch in early 2019, the platform has connected a number of companies and local platforms, he said.
The Chinese authorities are expected to increase financial support for NEV infrastructure as they slash subsidies for the sector, experts said.
Lin Boqiang, head of the China Institute for Studies in Energy Policy at Xiamen University, said NEV production in China is on a fast track and in less need of financial support compared with charging infrastructure, although the former still needs further tech breakthroughs to reduce production costs.
In March, four ministry-level authorities, including the Ministry of Finance and the Ministry of Industry and Information Technology, announced a new policy to further whittle down NEV subsidies to meet the 2020 goal of completely phasing out subsidies with a smooth transition, as well as to improve the technological standards on NEVs.
Subsidies on different NEVs vary from 47 percent to 60 percent, depending on the distance they can cover, and on average the 2019 subsidies fell by 50 percent from that of 2018.
Moreover, the policy asked local governments to stop subsidizing NEV purchases from June 26, and instead, to strengthen financial support for the development of charging infrastructure like charging stations and related services.
Till now, several local governments, including Beijing and Shanghai, have announced new moves in line with the new policies of central authorities.
Hainan and Zhejiang provinces, the Guangxi Zhuang autonomous region and Tianjin Municipality have rolled out detailed three-year or five-year plans.
However, different levels of charging infrastructure development in different regions are expected to continue, and coastal areas are likely to keep their lead, due to higher popularity of NEVs there compared with other regions, especially the northeast, according to Tong.