Supercomputing efforts set to gain momentum in China
Share - WeChat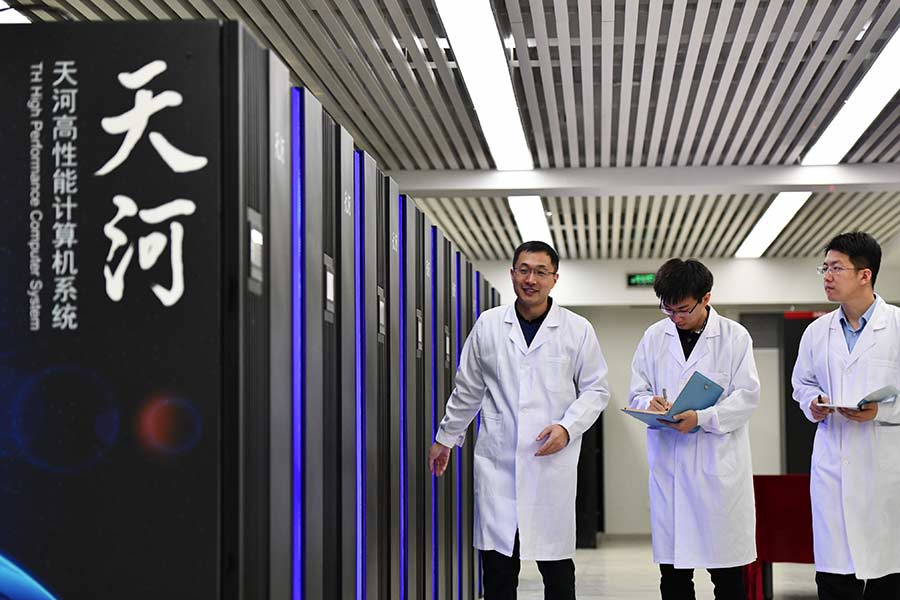 Work on next generation of exascale models likely to be completed by 2021
Research and development work on the next generation of exascale supercomputers, the Tianhe-3, is expected to be completed by around 2021, according to the National Supercomputer Center in Tianjin.
Making the announcement at a ceremony to mark the country's 40-year development in supercomputing, officials said that the new machines will have a calculation speed that is 200 times faster than the present models and have storage capacity that is 100 times more than the Tianhe-1. The speed is expected to hit a billion billions, or 1 followed by 18 zeros.
Insiders indicated that 2021 could see tough competition among the exascale supercomputers around the world in their final stage of research.
The US' first exascale supercomputer will be delivered by 2021, while the European Union and Japan have announced their completion by around 2020.
Liu Guangming, director of the National Supercomputer Center in Tianjin, said the Tianhe-3 has seen several major self-innovations including three chips for many core processors, interconnection and routers; nodes for servers, computing and storage, some 10 printed circuit boards; new hardware systems for computing, high-speed interconnection, parallel storage, service processing, surveillance and analysis; and software systems for system operation, parallel research and development, application support and comprehensive management.
The supercomputer will see widespread applications on the convergence front in cloud computing and big data, computing and stimulation on highly efficient weather forecasts, massive measurements in wind tunnels, earthquake monitoring and geology research, medical care, information security services, intelligent urban services, and effectively advancing the next generation of artificial intelligence development for the country.
The Tianhe-3 based in the Binhai New Area is expected to herald a new chapter for the intelligent manufacturing industry in the city and drive technology innovation among Beijing, Tianjin and Hebei provinces.
Liu said: "The past 10 years have seen an innovation convergence in homegrown computing technologies, high-efficiency semiconductors, high-speed interconnections and operational systems. The next decade will be a golden one for companies like Sugon and Insper, especially for their high speed servers and computing systems."
After Tianhe released the prototype of China's first new-generation exascale supercomputer Tianhe-3 in July last year, the prototypes of other exascale supercomputers of Sunway and Sugon were announced.
Currently, how big data, artificial intelligence and exascale supercomputers can promote traditional industries' transformation and regional development will be the key challenge for the sector, said experts.
Zhang Yunquan, director of the National Supercomputer Center in Jinan, East China's Shandong province, said that China's supercomputers are feeling the pinch from the gaps in applications and software development.
"In areas such as manufacturing industries and basic research sectors where supercomputers are used widely, foreign software companies have dominated the market ... and China needs to make huge investments on software procurement and upgrading.
"In addition, China has a shortage of software development research personnel for supercomputers," said Zhang, adding that China's supercomputer makers should transfer their development model to be more market and application driven.
In addition, focus needs to be paid to software development and education and stimulation of human resources.
Mei Jianping, deputy director-general of the High and New Technology Department of the Ministry of Science and Technology, said the country will continue to support the establishment of the supercomputer centers in key areas, and enhance their collaboration with other key supercomputer centers in China.
To date, China has built six national supercomputing centers since 2009, mainly as new drivers of innovation.
Since the establishment of the center in Tianjin was approved by the Ministry of Science and Technology in May 2009, five other supercomputing centers were founded in Shenzhen, Jinan, Changsha, Guangzhou and Wuxi.