Chinese music pioneer receives honorary doctorate
Share - WeChat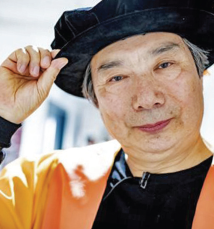 A Chinese musician, acclaimed as a pioneer of electroacoustic music in China and around the world, has been given an honorary doctorate in Music by De Montfort University in Leicester, England.
Well-known as a composer, academic and performer, Zhang Xiaofu is among the few contemporary Chinese composers whose work covers a wide range of genres. These include electroacoustic, symphonic, traditional Chinese orchestral music, chamber music and music for ballet and film.
The honorary degrees were presented at the university's summer graduation ceremonies, and the newly created Dr Zhang told the class of 2019 to seize the opportunities that technology gave them to make a difference to the world.
"I said to graduates today that they are graduating at the best time. Technology has made the world smaller and it brings many opportunities with it," he said afterwards, calling it "an opportunity to recognize my 40 years' work in research and teaching but also a reminder for me to work harder."
De Montfort University said the honorary degrees awarded to Zhang and this year's other recipients "recognize people who are an inspiration to graduates, due to outstanding achievements in their field and because of their contribution to learning".
Zhang has spent the past 40 years at China's premier music school, the Central Conservatory of Music in Beijing. His works are performed around the world and for many years he has been involved with the Musicacoustica festival in Beijing.
De Montfort University has worked with Musicacoustica through its Music, Technology and Innovation Research Centre, which was created to make innovative sounds accessible to all.