Child-friendly destinations hot among summer travelers
Share - WeChat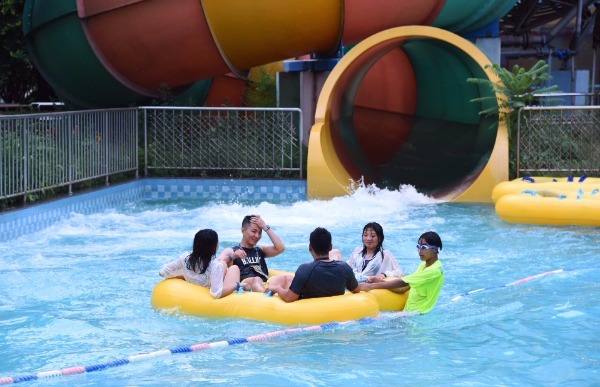 Family trips are on the rise this summer, with attractions that cater to travelers with children preferred, travel agencies said.
Also, theme parks with water-related entertainment programs and places featuring cooler weather are attractive to visitors seeking to avoid the summer heat.
Tuniu, an online travel agency headquartered in Nanjing, capital of Jiangsu province, said 21 percent of people reserving summer tours this year were taking one child with them, while 10 percent were traveling with two children thanks to the relaxation of the family planning policy.
The agency said the summer holiday is "family time" for many parents, who choose to take leave to travel with their children. Theme parks or zoos featuring cute animals and entertainment are the most popular choices.
It said the top five destinations during the summer holiday are: Shanghai Disney Resort; Chimelong Safari Park in Guangzhou, Guangdong province; Zhuhai Chimelong Ocean Kingdom in Guangdong; Haichang Ocean Park in Shanghai; and Fantawild Dreamland in Wuhu, Anhui province.
In addition to the popular theme parks, cruises have also seen a boom this summer because they offer diverse activities for travelers with children.
Qi Xin, president of Wuhan Chunqiu International Travel Service, in Hubei province, said cruises have been successful at attracting parents.
"Cruises, in general, offer many entertainment options to the passengers on board, ranging from amusement corners and kindergartens to libraries, where parents can send the kids to be looked after by staff members if they want to spend some time together," he said.
Data from Lvmama, a travel agency in Shanghai, show that cruises are popular because they offer "one-stop services" where travelers can rest, relax and enjoy good food.
Reservations for cruises in June, July and August are up 17.8 percent year-on-year according to Lvmama, most of them made by families. Japan remains the most popular destination for cruise travel.
Destinations with cooler weather are also attractive to travelers during the summer holiday.
A report by Ctrip, an online travel service provider in Shanghai, said that Urumqi, capital of the Xinjiang Uygur autonomous region, has emerged as an attractive summer destination for domestic visitors. One attraction is the cooler weather to be found in nearby mountain areas.
The report said Urumqi's improved infrastructure and travel services have also helped make it one of the most popular domestic summer destinations this year. The others are: Shanghai; Beijing; Guangzhou; Kunming, Yunnan province; Chengdu, Sichuan province; Sanya, Hainan province; Xi'an, Shaanxi province; Shenzhen, Guangdong province; and Chongqing.
Many Chinese travelers are also choosing to venture abroad during the summer holiday, to places such as Japan, Thailand and Singapore.