Japan-ROK feud flare-up imperils regional progress: China Daily editorial
Share - WeChat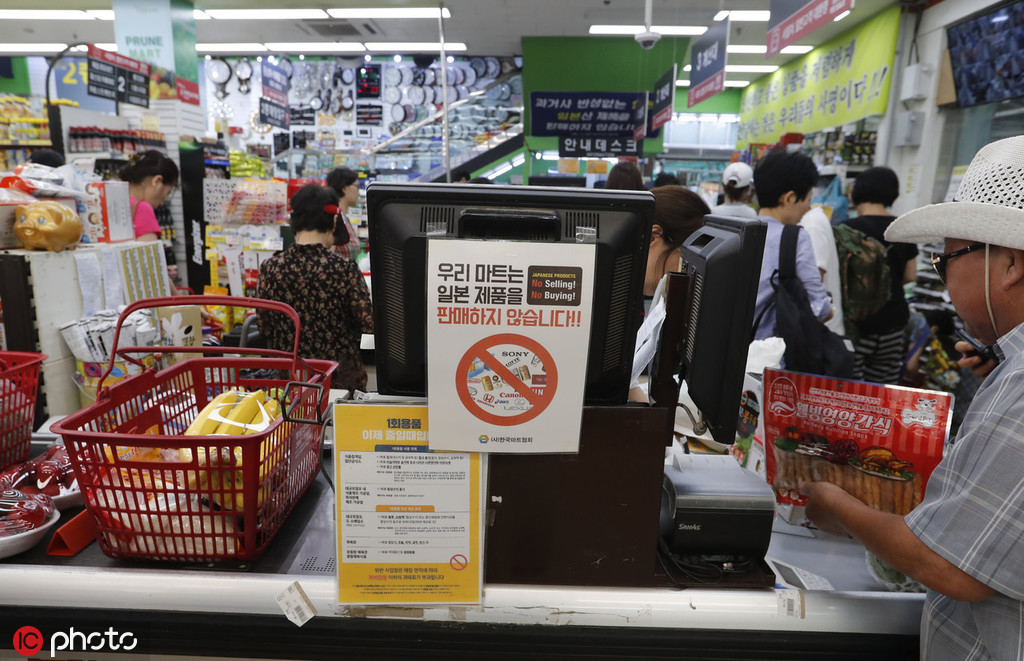 In a move that the Republic of Korea says risks pushing bilateral ties to a "dead-end street", Japan announced last week that it would tighten curbs on exports to the ROK of three materials vital to the tech industry. Seoul said the measures would leave it with no other choice but to take "countermeasures".
Tokyo cited broken trust as reason behind the move, saying there may have been the illegal transfer of sensitive materials from the ROK to the Democratic People's Republic of Korea. But many believe it is Japan's retaliation for recent ROK court rulings ordering Japanese corporations to compensate Koreans used as forced labor during World War II, an issue that Japan insists has long been resolved.
The tough stance that it has taken suggests that Japan no longer wants to continue to bear the moral burden of history-related matters when handling bilateral relations with its East Asian neighbor, especially after the current ROK administration revived the issue of so-called comfort women after its predecessor agreed to a pact in 2015 that was supposed to "finally and irreversibly" resolve the issue.
Japan has already started the process to remove the ROK from a list of 27 nations that receive preferential treatment for the streamlining of export procedures, which would mean Japanese exporters would need to apply to the Japanese government for approval for other kinds of shipments to the ROK.
Their dispute puts at risk the good momentum that has been attained in Northeast Asia over the past year or so. China, which has improved relations with both countries, hopes that the two neighbors can resolve their differences through dialogue and consultation. They should focus on their common interests, which range from making the Korean Peninsula nuclear-free to promoting a trilateral free trade area with China. The three countries make up about 20 percent of the world's economy, and establishing a free trade area between them would speed up regional economic integration and growth. Only when reason prevails can that be achieved at an early date.
For Japan, which caused its neighbors so much suffering, it must remember that there is no such thing as "enough is enough" when it comes to apology and atonement. Tokyo should refrain from taking any actions that may further worsen the situation.
And although Japan's colonial occupation of Korea from 1910 to 1945 undoubtedly left an indelible scar on the national psyche of the ROK, Seoul should not let the past influence its judgment. It is not a betrayal of history to look to the future.
Most Viewed in 24 Hours
China Views