If you can't hack the Hakka, no worries
Share - WeChat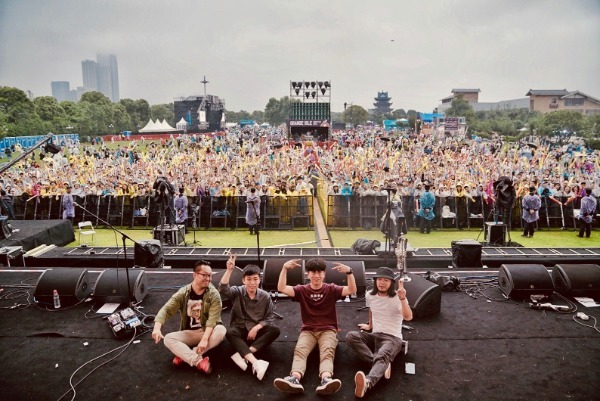 The audiences who do not speak Hakka dialect may not understand the lyrics sung by Jiulian Zhenren, a three-piece rock band from Lianping county, Guangdong province, but that does not seem to stop them loving the group's music.
On June 1 when the band made its debut appearance on the reality show The Big Band, which celebrates China's indie music scene, it performed an original song titled Mo Qi Shao Nian Qiong, literally translated as "don't underestimate the youth around".
The song revolves around a father-and-son conversation. When the son, named Amin, tells his father that he wants to leave their small town and pursue big dreams in cities, the father is against the idea and does not think his son can make it.
The performance received accolades not only from the fans but also impressed the other indie rock bands in the reality show.
"They were a total dark horse in the show," says Ye Jingying, drummer of the punk rock band Reflector, which was founded in 1997 in Beijing. "Their music is so raw and powerful, and it was beyond anyone's expectation."
For the band, just 1 year old and comprising lead vocalist, guitarist and singer-songwriter Ouyang Haopeng, vocalist and trumpet player Mai Haipeng and bassist Ye Wanli, the positive feedback from fans and rockers came as a surprise.
"Maybe it's the Hakka dialect that intrigued them," says Ouyang, 26, who worked for a film and television company in Shenzhen as a designer and returned to his hometown and started teaching art at a local primary school about three years ago. The trumpet player and singer Mai and the drummer Wu are both music teachers at the local primary and middle schools in Lianping county. They rehearse in the warehouse of Wu, who also runs a small musical instrument rental business in their hometown.
"The song is part of the series about Amin," Ouyang says. "We developed the character Amin, an ambitious young man who represents us. He lives in a small town and dreams about the life of bigger cities. He is unsure about the future but still wants to give it a try. We all share Amin's experience so we write songs based on his stories, which, in fact, reflect our own lives."
"As the only child in our families, we experience similar problems, like fear about the future, love for someone and feeling lost."
At first Jiulian Zhenren had few opportunities to perform its own music in its hometown. It just covered pop music to make money but continued writing its own songs and spent their weekends, summer and winter holidays on rehearsing.
From the day the band was born it used Hakka dialect to sing, "because it's in our blood, natural and real", as the band members put it, adding that the band's name, Jiulian Zhenren, is named after a mountain in their hometown.
Last November the band went to Beijing to compete in the final round of the 2018 Original Band Contest, which was organized by Rock Records of Taiwan and Xiami, one of the leading music streaming platforms in China.
With a five-hour bus journey and a four-hour flight, the band made its first trip to Beijing from their hometown. That night it won the first prize after a four-hour battle with other new indie rock bands.
Two of its songs were performed in Hakka dialect, one of which is titled Yeyou Shen, literally translated as "nocturnal wanderer", after a mythic character in Shanhaijing, or The Classic of Mountains and Seas, a collection of legends written more than 2,000 years ago.
In the Hakka dialect, yeyou shen refers to "those who fool around and do nothing", Ouyang says. He wrote the song based on a real event that happened about 10 years ago, when one of his schoolmates was stabbed by a hooligan wandering around outside the school.
Their performance caught the attention of veteran indie music promoter Huang Liaoyuan, who discovered the Chinese rock band Second Hand Rose in the late 1990s and propelled them into one of the most successful Chinese rock bands in the country.
"When I saw Jiulian Zhenren's performances, I decided to come out of retirement," says Huang, 54, who lives in Los Angeles and travels back to Beijing occasionally.
Huang's ancestors came from Meixian county in Guangdong province, where the Hakka community lives. "My parents speak Hakka dialect, and I can understand it though I cannot speak it fluently," Huang says. "I also know Hakka folk songs. But Jiulian Zhenren's music is not based on those folk songs. They are original and have a unique taste of combining Western rock music with their hometown sounds."
Huang foresaw the band's success after it performed in the reality show, though some of his friends doubted his decision of signing the band because the dialect is not popular among the Mandarin-speaking audiences. But Huang is assured.
"When I saw the band perform onstage, they were young and their eyes were full of fire. I had not seen that kind of courage, passion and eagerness for rock music for many years."
Band members still live in Lianping county, and the members keep their own jobs. Huang encourages them to keep a low profile and continues exploring their own music.
"Our hometown is the source of inspiration to us. We have no plan to leave home," Ouyang says.
Asked about how success in the reality show has changed the lives of band members, Ouyang says the band was interviewed by a local newspaper and its members' parents know what they are doing and are supportive of their musical ambitions.
As teachers, they have also inspired their students to pick up the guitar and play music together.
"It's a good feeling to play music with friends and to write songs about what we are going through," Ouyang says.
Most Popular