San Franciscans fascinated about charm of Chinese folk music
Share - WeChat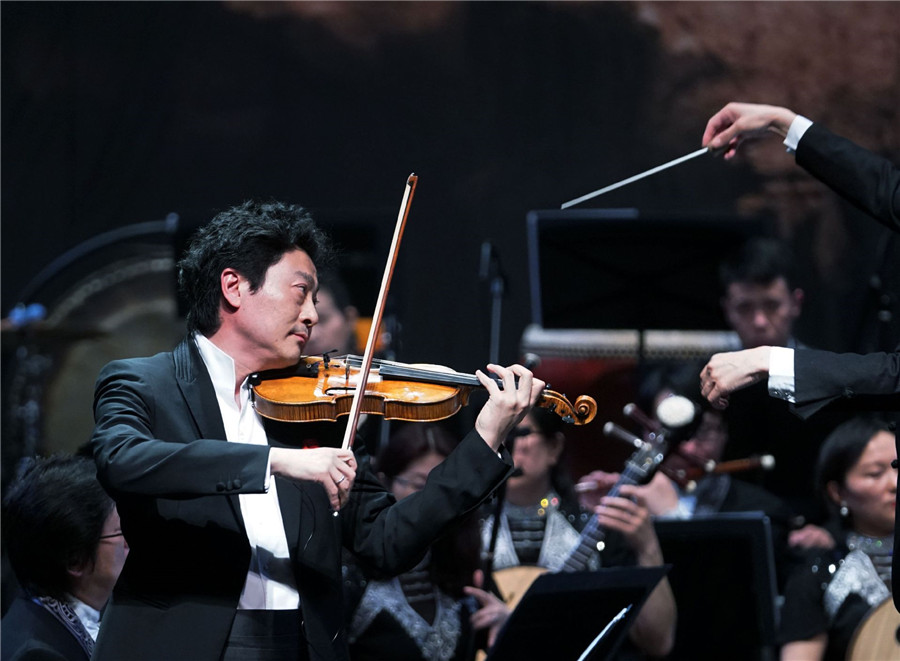 About 2,000 San Franciscans had a fascinating night Sunday here as some 80 musicians from the China Broadcasting Performing Arts Troupe (CBPAT) gave a performance of several pieces of classical Chinese folk music.
The "Enchanting China" concert, which is to conclude on Monday in downtown San Francisco, showcases the diversity of Peking Opera, traditional folk music, and classical music through a traditional Chinese orchestra.
The concert featured some of the most popular Chinese musical works including Ode to Pear Blossoms, a tune adapted from Peking Opera, Concerto Random Banhu Playing, an excerpt from Chinese orchestral suite Shanxi Image, as well as the well-known violin concerto Butterfly Lovers, a folktale of the Chinese version of "Romeo and Juliet."
Renowned Chinese violin master Lyu Siqing played the concerto Butterfly Lovers in partnership with the Chinese orchestra in what he said a combination of exquisite Western music techniques with profound Chinese culture.
"This music piece is very popular in the West after it was discovered and promoted by a Japanese musician beyond China. I've performed the musical work in more than 20 countries across the world, but tonight's show will be my first cooperation with the CBPAT," he said.
"I believe the audience will find something innovative in the rendering of the music that is enriched with both Western and Chinese musical elements and substance," he added.
Famous Chinese Banhu musician Jiang Kemei said the concerto Random Banhu Playing is typical of the folk music with strong characteristics in the landlocked Shanxi Province in northern China.
"I hope the performance of the two-stringed Chinese instrument will help the audience delve deeper into the unique artistic form of the heritage rooted in the Yellow River culture," she said.
Zhang Gaoxiang, deputy head of the CBPAT and director of the show, called the "Enchanting China" program a major name-brand in North America after more than a dozen years of practice.
"Cultural exchanges are a top priority of our troupe and we have visited more than 70 countries over the past half a century," he said.
He explained that this was the second time he has led the CBPAT on a tour show to San Francisco after its first performance in the U.S. city made a great success.
"We had wonderful cooperation with foreign artists, which proved to be meaningful, as they gradually become more familiar with our traditional Chinese music that they had little knowledge about before," Zhang said.
He noted that his troupe will continue to develop and build on the program of "Enchanting China," so that the concert could be brought to other cities of the United States including eastern and central parts in the country.
The CBPAT came to San Francisco after it gave a show in Los Angeles on Friday, the first stop of its U.S. tour. It will head for Seattle, Washington state, to perform at the Marion Oliver McCaw Hall in the city on June 26.
Most Popular