June 18 shopping festival hits the mark
Share - WeChat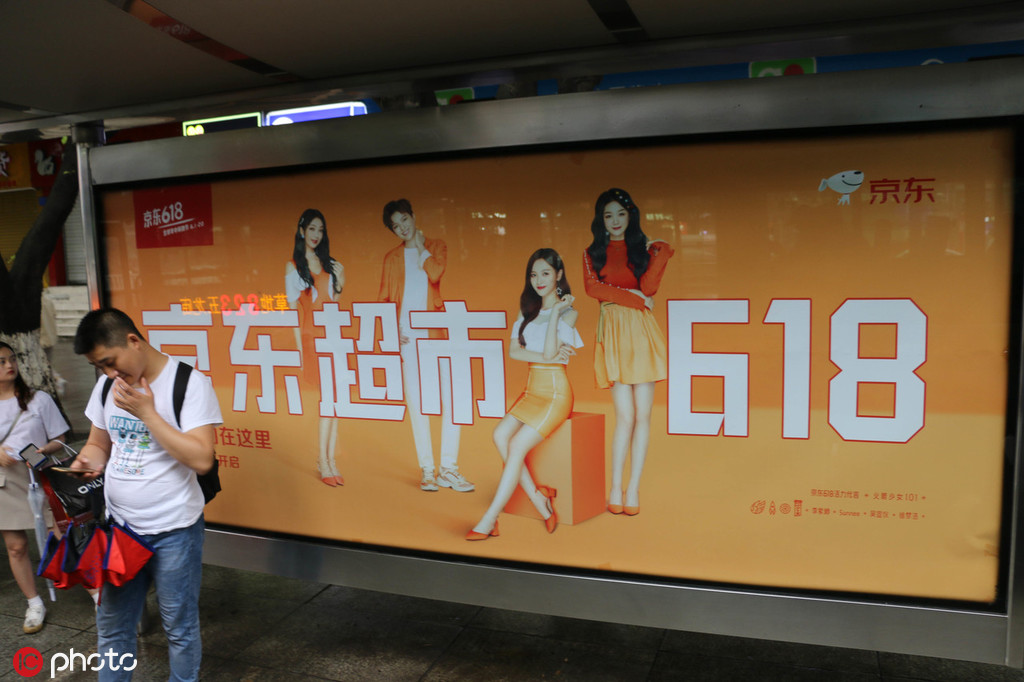 E-commerce players seeking new growth points tap consumption potential from smaller cities
Chinese consumers whose enthusiasm for online shopping was not satisfied on Nov 11 were able to snap up more bargains in this year's June 18 retail festival.
Major Chinese e-commerce platforms are accelerating efforts to seek new growth points and further tap the consumption potential from lower-tier cities and towns by providing an array of exclusive offers and promotions during this year's shopping carnival, which ended on June 18.
JD, which initially launched the midyear campaign, reported its sales during the 18-day period reached a staggering 201.5 billion yuan ($29.2 billion), compared with 159.2 billion yuan a year ago.
Xu Lei, chief executive officer of JD Retail said with the ongoing consumption upgrade in China, consumers are showing a preference for high-quality and imported products. Moreover, sales from lower-tier cities and towns have witnessed robust growth during this year's June 18 shopping gala promotion, Xu added.
During the event from June 1 to 18, the firm said sales of sweeping robots and window-cleaning machines priced at more than 3,000 yuan surged 200 percent year-on-year, while sales of high-end hair care products priced over 2,000 yuan jumped 220 percent.
According to JD, the orders from fourth-tier cities and below surged 108 percent on June 1, when the 18-day promotional event officially kicked off.
Compared with consumers living in first and second-tier cities, young people from third to sixth-tier cities prefer imported fresh products, with the most popular being cheese and butter, low temperature pasteurized milk, ice cream and passion fruit.
More than 17 million products were sold within the first hour after the clock struck midnight on June 1, up 83 percent compared with the same period last year.
Sales of home appliances surpassed 800 million yuan in just three minutes 47 seconds, while over 100 million yuan of air conditioners were sold in just 15 seconds. More than 50,000 smartphones were sold in the first three minutes of the event.
In addition, more than 90 percent of key brands on JD launched new items during the midyear shopping event.
E-commerce is a major driver of China's retail economy, accounting for almost one-fifth of the country's total retail sales in 2018, according to the National Bureau of Statistics.
The June 18 sale has become the second-largest shopping event in China, next to Alibaba Group Holding Ltd's Singles Day's 24-hour shopping blitz on Nov 11. Alibaba reached a new high with 213.5 billion yuan ($30.67 billion) in sales from last year's Singles Day.
Alibaba's Tmall and Taobao used the 18-day shopping gala to launch new products and penetrate into lower-tier cities and towns.
According to company data, within the first hour of trading from midnight to 1 am on June 1, gross merchandise volume exceeded that of the first 10 hours last year. And at 11:23 am, less than 12 hours after the start, total GMV surpassed last year's full-day figure.
Branded products proved extremely popular. Apple, Xiaomi, Haier, Aux, Midea, L'Oreal, Lancome, Nike and Adidas each notched up more than 100 million yuan in sales in the first hour. Apple sold over 100 million yuan worth of products in two minutes and 45 seconds, while Midea and Nike both hit that mark in four minutes.
Alibaba's multiple sites are also attracting customers in lower-tier cities with special initiatives such as flash sales and daily deals. For instance, group-buying unit Juhuasuan organizes dozens of 618-themed group-selling campaigns featuring must-buy items recommended by brands.
According to company data, 80 percent of the transactions for branded goods through the platform were from new customers since 2018, and nearly half were from smaller cities and towns.
"Consumers in China's less-developed regions are becoming increasingly sophisticated shoppers who are looking for lifestyle upgrades. This increased consumption potential could mean bright prospects for our merchants," said Jiang Fan, president of Alibaba's Tmall and Taobao.
Chinese commercial giant Suning Holdings Group Ltd said orders within the first 12 hours on June 18 surged 171 percent compared with same period last year, with online sales of air conditioners jumping 183 percent year-on-year. Sales of televisions measuring 65 inches and above surged 211 percent.
Cao Lei, director of the China E-Commerce Research Center said e-commerce players are seeking new growth points and tapping the consumption potential from fourth-tier cities and below this year, as the growth of online shopping in first and second-tier cities is slowing down.
The competition among online retailers will focus on logistics, supply chains and new technologies, Cao said, adding e-commerce players should expand their offline consumption offerings and apply more cutting-edge technologies.
Technologies such as big data and machine learning can help retailers understand consumer needs and fuel demand-driven optimization. Conducting range optimization through big data analysis can realize at least a 10 percent surge in sales, according to Pedro Yip, partner of Oliver Wyman.
"Product and service ranges are becoming more important and challenging, and retailers need to consider how to cater to consumer needs and provide profitable options for different channels after effectively studying the consumer data on hand," Yip said.
Through the Taobao app, customers can access special offerings directly from manufacturers and purchase products at lower prices. Equipped with insights from consumer preferences and behavior, manufacturers are able to adjust their production processes on a real-time basis to meet consumer demands, the company said.
Meanwhile, JD said the consumer-to-manufacturer or C2M model, which leverages online retailers' big data and customer analysis capabilities to optimize a brand's products specifically to meet unique demands of the Chinese market, gained momentum during this year's June 18 shopping festival and drove sales growth of electronics products.
Fenqile, an installment e-commerce platform under Nasdaq-listed LexinFintech, has leveraged complex networks, using AI-enabled technology that analyzes the social interconnections of customers, to make targeted product recommendations. Attributes such as age, gender, educational background, region, and purchasing history are factored in for analysis.
If a customer's friends are mostly Generation Z, he or she will likely be recommended products that his or her friends have already purchased or those endorsed by Cai Xukun, a pop star dubbed the Chinese Justin Bieber.
Big data was also used to boost sales on Fenqile for the June 18 shopping festival. For example, clothing worn by celebrities is a major product category recommended on Fenqile, whose customers are mainly educated young people.
This approach was adopted after Fenqile's big data functionality indicated that young consumers searched for and talked about these products both within and outside its platform.
"Unlike the Nov 11 promotion, which focuses more on products used in autumn and winter, the June 18 shopping carnival puts an emphasis on goods used in summer, such as air conditioners, fans and T-shirts," said Chen Tao, a senior analyst from market consultancy Analysis.
Chen said the influence of June 18 is rising steadily; apart from JD and Alibaba, other retailers including Suning, Pinduoduo and NetEast Kaola have also jumped on the bandwagon with special offers to attract more consumers.
"Online sellers don't want to lose the opportunity to gain more online traffic during this midyear festival," Chen said, adding that people in smaller cities and towns are looking for high-end quality products, along with the rising e-commerce penetration rate in lower-tier cities.