Online influencers turning clicks into cash
Share - WeChat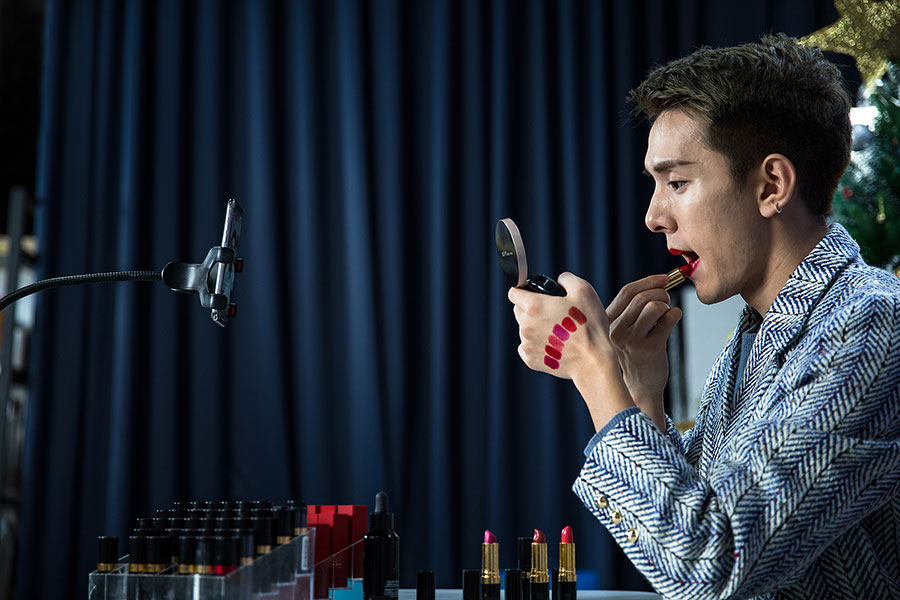 Brands are teaming up with internet celebrities, fashionistas and beauty experts to engage with potential clients, drive sales
Despite being the founder of Alibaba Group, the world's largest e-commerce company by transaction volume, Jack Ma doesn't seem to know much about selling lipstick.
In a video that went viral ahead of last year's Nov 11 promotion-a global shopping festival established by the online retailer-Ma pitted himself against Li Jiaqi, a broadcaster known for endorsing and selling lipsticks through live broadcasts and short-form videos. In the allotted time, Li sold 100 times as many lipsticks as the business guru.
But the competition is a seemingly win-win-win game. Brands gain access to Li's huge audience, products are snapped up, brands see revenue expand, and platforms like Alibaba take a bigger cut.
Influencer endorsement is big business in China. Consultancy Frost & Sullivan's data showed that sales generated by online influencers reached 32.9 billion yuan ($4.9 billion) in 2017, and that number is expected to enjoy a brisk 40.4 percent compounded annual growth rate over the next five years.
The most profitable types of internet celebrities are fashionistas and beauty experts who broadcast through an array of social media platforms from Weibo to Douyin.
Turning clicks into cash, these brand ambassadors and content providers are shaping up to be such an influential force that they are known as KOLs (key opinion leaders).
In order to capture a slice of China's booming consumer market, influencer marketing is no longer an option but a necessity for brands. Now it has even proven to be a compelling business tale, as is exemplified by the Nasdaq-listing of Ruhnn Holding Ltd, a Chinese startup bridging influencers with brands to help engage potential clients and drive online sales.
While shares tumbled since its debut trading day in early April, the initial public offering has stirred much discussion on the potential of this emerging industry.
KOL, as an existing marketing concept, is "supercharged" in China, according to Lee Folland, head of research at Reuter: Intelligence, a marketing agency specializing in luxury brands.
He said it is "at least five years more advanced than the rest of the world". And this is largely thanks to the country's pioneering power of its digital ecosystem, namely social media and social commerce.
"The integrated nature of WeChat and other platforms lends itself ideally to social commerce, in terms of the ongoing popularity of social media, and the seamless nature of m-commerce syncing up with the social platforms," Folland said.
The richness of a media portfolio also plays a role. Tadashi Yoshida, vice-president of iStyle Inc, Japan's leading cosmetics portal, has discovered Chinese consumers' propensity to KOL endorsement to be notably higher than their global counterparts. Such findings are propelling the company to promote heavily online through a partnership with Tmall, an Alibaba shopping site.
"With digital media forms being much more diverse in China than elsewhere, people here have become wearier of standard media advertising and are increasingly drawn to influencer endorsement," he said.
Coolio Yang, chief executive officer of consultancy Kantar's media division in China, pointed to the cultural significance behind the move. He said the so-called "half-acquaintance society" of China has given rise to the likes of Pinduoduo and WeChat-based commerce, both of which rely heavily on word-of-mouth and interpersonal recommendations.
A mixture of such factors has contributed to a generation of youngsters who stand to make a fortune out of online stardom. And depending on the varying level of popularity, KOLs stand to rake in tens, or even hundreds of yuan for each endorsement placement on a single platform, Yang noted.
"Top-notch stars can charge up to 800,000 yuan to even 1 million in extreme cases. And it's always oneoff prepayments that we are talking about," he said.
This is the case with Zhang Dayi, a model-turned-influencer with Ruhnn, who managed to sell 2,300 bottles of sunscreen co-branded by Zhang and US skin care brand Neutrogena in just one minute during a campaign last year.
Reaping the earlier gains of brand endorsement, trendsetters like Zhang have even ventured into establishing their own brands rather than simply promoting for others.
In an interview with China Daily during a Tmall Beauty event in March, Zhang identified the prerequisites of her success as China's unprecedented digitalization, the decentralization of cosmetics consumption and the rise of Generation Z who aspire to novel experiences.
Meanwhile, she also stressed the importance of constant output of original and compelling content to keep followers hooked.
This holds true for Zhang's peer Yvonne Ching, who had worked for multiple luxury brands in Shanghai before fully devoting herself to her full-time KOL business that includes a longtime partnership with UK fragrance maker Jo Malone.
"I position myself as a brand ambassador. The critical thing about this is authentic storytelling and genuine sharing. Original content is therefore highly important," she said.
Ching said she has been highly selective of her clients and does thorough research to make sure she delivers precise, relevant and value-added information.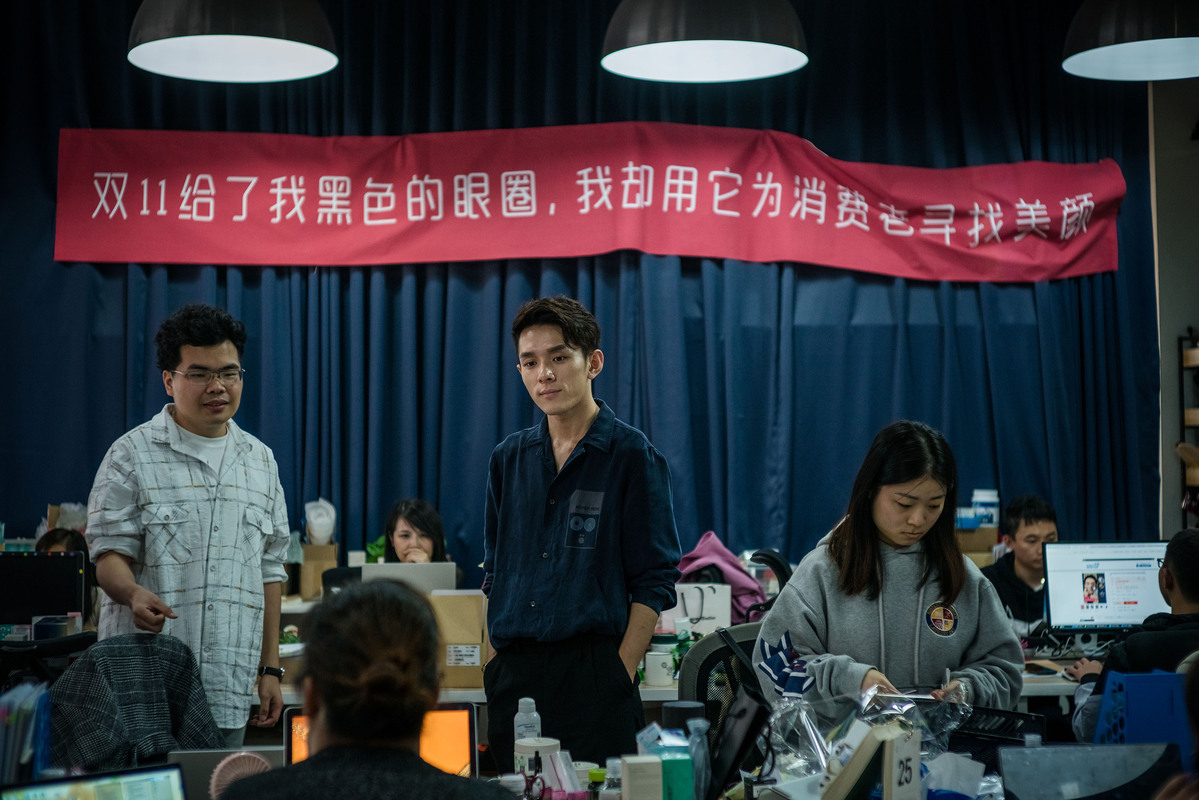 According to Kantar's Yang, due to the faltering influence of print media and television, KOLs are shaping up to be a highly useful medium for brands to reach their target audiences and through whom to deliver critical information regarding products and brands.
Folland found out that compared with their Western counterparts, Chinese KOLS are creative and savvy in terms of looking at international brands and products.
"For instance, they are able to explain them in a locally relevant and culturally appropriate way," Folland said. "Meanwhile, customers are also keen to take in new information that's given to them by influencers, whom they can feel much closer to than an A-list celebrity."
Ideally, KOLs need to be a great brand fit. For example, they should be knowledgeable on skin care, beauty and lifestyle, said Klaus Redomske, president of Babor, a German skin and body care brand that entered China less than two years ago.
"While still at an early stage of working with KOLs, we are always looking for those who like our brands sincerely. From there we can gradually build willingness, awareness and relationships," he said.
Talent agencies scour the internet to snap up and train budding KOLs, and internet platforms are joining the fray. Weibo has officially launched an e-commerce influencer incentives program and put "influencer incubation" at the nexus of social media and e-commerce. Tencent's WeChat and Douyin has rolled out similar programs.
But the most noteworthy platform is perhaps Xiaohongshu, or Little Red Book. Targeting 18-to-35-year-old Chinese urban women, the platform helps 250 million users discover and buy luxury, fashion and beauty products from overseas, share shopping tips and swap fashion ideas.
As brands bankroll lucrative endorsements and influencers funnel fans into traffic, objectivity might be at stake. Influencers need to strike a tricky balance in their relationships with their corporate partners without losing integrity.
To step up scrutiny on the eligibility of its influencers, Xiaohongshu has unveiled a new set of rules stipulating that only influencers with over 5,000 followers, and whose average post view of the past month exceeds 10,000, are allowed to establish a business relationship with brands.
Its founder Qu Fang said the new regulations are aimed at "disciplining the behaviors of influencers", and that the company will come up with more rules to regulate the content-making process of influencers, such as criteria of ads and sponsored posts, in the near future.
"It is not a silver bullet," said Folland. "Any negative side or risk is due to the point that there are now so many, almost infinite KOLs, that there are those who might not truly connect with their audience."
According to him, it's important for a brand to work with a KOL that has really achieved something and gained fame and followers for a reason-that they are not merely famous for being famous, but they have built a following through real achievement.
"We now call these figures LOLs-local opinion leaders. With their own community, they offer a brand a real way to connect to genuine fans," he said.
The overheating of the KOL industry is also due to the fear of missing out borne by many brands in China, Yang noted, which resulted in an inevitable imbalance between supply and demand.
"From a purely financial point of view, using KOLs is not such a cost-effective choice. The price for ad exposure ahead of online videos has quadrupled to 200 yuan per 1,000 views in just a few years," he said.
Also, it's hard to gauge a reasonable rate in such an unregulated market as influencer endorsement, leading to overcharging. And this will undoubtedly erode the basis for drawing real followers: credibility.
In her defense, Ching likened her relatively high charges to the preservation of authenticity.
"We cherish our platforms, which we put a lot of effort into building, because random acceptance of any endorsement requirements consumes our own brands too," she said. "That's why we need to be selective and why we ought to be expensive."