Europe opens its arms to Chinese students
Share - WeChat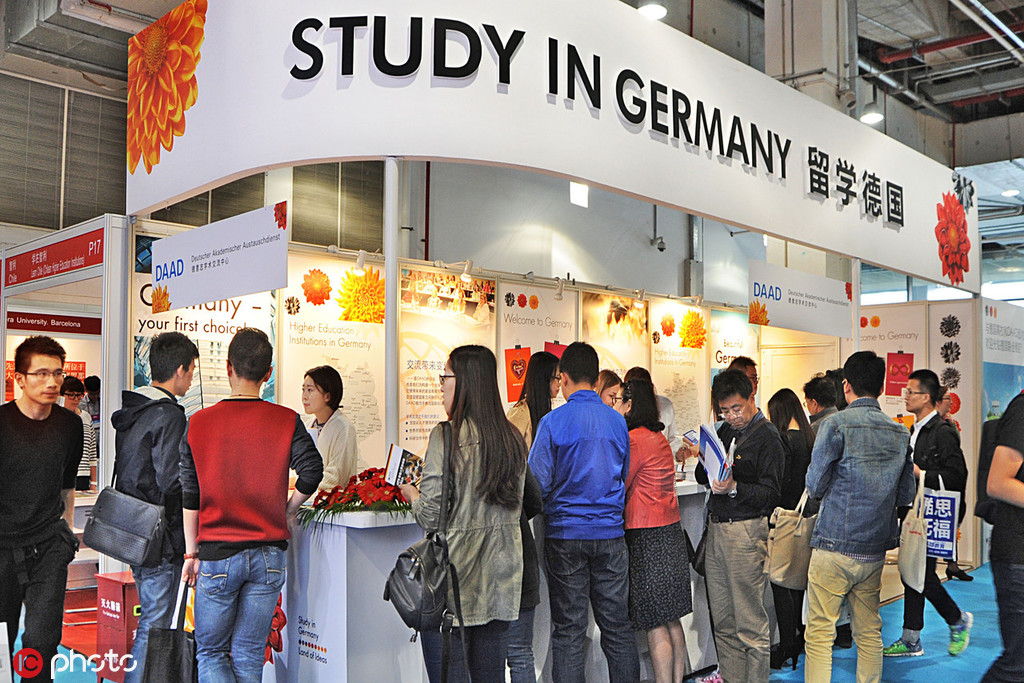 BRUSSELS -- Wang, a senior at a prestigious Chinese university, will do a three-month internship in a British university this summer. There's nothing special about his choice, except for the fact that recent events in the United States have forced Wang and his peers to look to Europe as his top study destination.
What's caused the change? Blame a more tightened visa regime in America.
"Many Chinese say their US visas have been reviewed multiple times," said Wang, who declined to give his full name. "A PhD student I know, after spending a vacation in China, was forced to delay his return to the United States, and his research has been hugely affected."
US universities have been the top choice for overseas study for most of Wang's university peers. "I'm making a Plan B for my PhD research program. Now I have to take more uncertainties into account," Wang told Xinhua.
Welcome Europe
For Chinese students seeking an overseas education, the United States and the European Union (EU) have long been popular choices.
A report by the US-based Institute of International Education showed US colleges and universities registered over 363,000 Chinese students in academic year 2017-2018, making up 33.2 percent of the international student body. China has become the largest source of international students for nine consecutive years in the US.
But due to US visa restrictions to Chinese students following trade frictions between the two countries, 3.2 percent of the more than 10,300 people supported by Chinese government scholarships in 2018 to study in the United States cancelled trips, according to statistics from the China Scholarship Council. In the first three months of 2019, however, the cancellation ratio soared to 13.5 percent.
In European countries, however, the tallies of Chinese students have kept increasing in recent years because of agreeable environment.
According to official statistics, more than 303,000 Chinese students were studying in the EU by the end of 2015, accounting for 24 percent of all Chinese students abroad, an increase of 7.5 percent from 2014.
In France for example, Chinese students now total nearly 40,000 after an annual increase of 2-3 percent since 2015, according to data by Campus France, a French agency promoting higher education.
In the Swedish capital Stockholm, Chinese students have become the largest international student group, reports Stockholm Academic Forum.
The Alexander von Humboldt Foundation in Germany has so far sponsored about 2,400 Chinese individuals. "In 2018 China ranked number one in terms of the number of Humboldt research fellowship applications or approvals," said Judith Wellen, head of strategy and external relations at Humboldt.
Chinese students are attracted to European universities because of the supportive environment for academic research and quality life.
"Germany's natural beauty and diversified culture make it a livable place. Its higher education is also an international brand. Besides, I feel very safe here," said Liu Yijia, who specializes in translation at the University of Bonn.
Zeng Xi, a PhD student researching electric devices, described studying in Belgium's University of Louvain (UCL) as "a wonderful choice," saying, "The university provides us with excellent experimental platforms and its professors care about students very much."
European universities also distinguish themselves through their various academic features. While the Chinese students in Rome are mostly engaged in the arts, those in France cover a wide range of fields.
"Around 40 percent of Chinese students choose to study management and finance in France, followed by language and literature taking up 15 percent," said Siegfried Fau, head of Campus France's Shanghai office. "Engineering and art design are also popular choices," he said.
Countries in Eastern Europe are ensuring they aren't left behind in the race to attract Chinese students. Hungary's University of Debrecen signed a strategic partnership with one Chinese company related to bolstering bilateral academic exchanges and international research programs as well as increasing the number of Chinese students on campus.
Zhang Yinnan, who studies at Czech Technical University in Prague, is seeing more Chinese students in her surroundings. "When I came here in 2016, there were only five Chinese students including me. Now the number is more than 70."