Chinese opera gets a modern storyline
Share - WeChat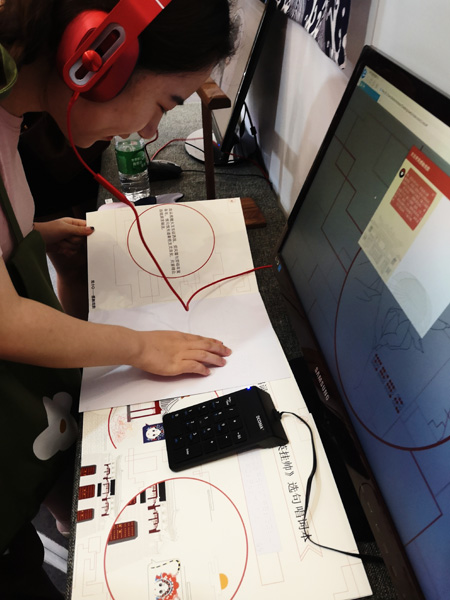 Still not content, she wants to further adopt new technology to the traditional art forms. "I would like to one day present my design through a mobile app. With touch screens or voice recognition, the app can be operated easily."
Making a game of it
Other students have researched ways to popularize traditional opera among children and teenagers, who may not be familiar with the art form and possibly think it obscure and irrelevant.
Zhang Bo, a student of digital media art, designed a life-size interactive board game using augmented reality technology that serves to be both educational and entertaining.
The storyline of the board game is based on Uproar in the Underworld (Nao Difu), one of the three classical Peking Opera works centered on the fictional character, the Monkey King.
Her design has all the elements of a classic board game brought to life-a game map printed on a square blanket, a huge dice that can be used as a stool, and a set of cards that have hidden information to be deciphered with the game's exclusive mobile app.
Interaction is a key element in Zhang's conception, so she ruled out other forms of traditional tabletop or online games. "It feels so pleasant for people to sit together on the blanket and chat with each other while playing," Zhang says. "Now, everybody's online all the time, so it would be good if my game could help people communicate."
If a player rolls the dice and lands on the question mark, they will get a question card. By scanning the cards with the mobile application, questions will pop up on the screen, some of which include images. Answering the questions leads to rewards or penalties.
"My vision is that during the playing process, players would gradually remember the answers to the questions, and hopefully they will be intrigued and want to know more," Zhang says.
Another student Liu Sijia, also adopting augmented reality, presents an early education learning machine centered on Chinese opera, targeting children from 4 to 8 years old.