CBD products infusing the marketplace
Share - WeChat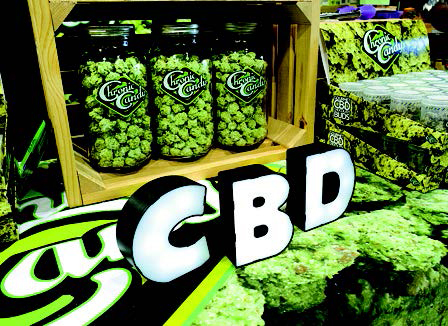 FDA holds first hearing as users, sellers await legal clarity on cannabis claims
It makes a variety of claims: It may relieve symptoms of Parkinson's, Alzheimer's and dementia; lessen arthritis pain; quell anger, psychosis and epilepsy; cure cancer; lower blood sugar; and counter anxiety and sleeplessness. It may even tame an unruly pet.
It is CBD oil, or cannabidiol, a chemical derived from hemp or marijuana plants that does not induce a high in users.
It's virtually everywhere you turn in the United States now: In beer, ice cream, tea, coffee, body oils, shampoos, gummy bears, the hamburgers of a national fast-food chain, even doggy treats.
CBD-infused products can be bought on the internet, at gas stations, convenience stores, drugstore chains and retail stores.
Many of the products are vague about what exactly CBD is supposed to do, and the US Food and Drug Administration prohibits unproven health claims. Yet that doesn't stop promises from proliferating on the internet, where articles and testimonials suggest that CBD can effectively treat an array of ailments.
The deluge of CBD-infused products started after US President Donald Trump signed the Farm Bill into law in December that legalized the production of hemp, which had been classified as a controlled substance on par with heroin. Hemp contains high levels of CBD, which is termed non-psychoactive, meaning it won't produce a high feeling.
The FDA says that selling CBD as a dietary supplement or adding CBD to food is prohibited. Only one drug containing CBD has been approved by the FDA - Epidiolex - which is used to reduce seizures related to a rare form of epilepsy.
"There is still a lot of research that's needed to provide definitive answers," Yasmin Hurd, a neuroscientist who directs the Addiction Institute at the Mount Sinai School of Medicine, told CNN. He said the benefits of using CBD to help treat anxiety, pain, and substance abuse have been "promising" so far.
The FDA hasn't decided how to regulate CBD products. The agency held its first public hearing on the legalization of CBD on Friday.
But it isn't holding back on overseeing CBD-infused products or enforcing its regulations. "We'll continue to closely scrutinize products that could pose risks to consumers," said FDA Commissioner Scott Gottlieb after the Farm Bill was signed. "Where we believe consumers are being put at risk, the FDA will warn consumers and take enforcement actions."
But since the bill was passed, manufacturers see a potentially huge market and aren't holding back on offering products to consumers.
In the retail sector, DSW, Neiman Marcus and Barneys recently began selling beauty products featuring CBD. "There is a demand for high-end CBD products," Kim D'Angelo, Neiman Marcus' beauty buyer, told CNN Business. "CBD products are the next big thing in beauty."
CVS, the No 1 drugstore chain, in the US, introduced CBD-containing topicals, including creams and salves, to stores in eight states in March.
CVS rival Walgreens, the second-largest drugstore chain, announced that same month that it will sell CBD creams, patches and sprays in nearly 1,500 stores in nie states, including Oregon, Colorado, New Mexico and Indiana.
The FDA, which also regulates the cosmetics and beauty industry, says it is "concerned" about the growing number of CBD products that make unproven health claims.
It's estimated that about 64 million US citizens have tried CBD in the past two years, according to a January 2019 Consumer Reports survey of more than 4,000 people.
As for the size of the market, total sales of hemp-based CBD products are expected to reach $22 billion by 2022, up from $619 million in 2017, according to Brightfield.
"There is high consumer interest in the demand of these products, and there's a complete lack of regulations in the available landscape," Paul Armentano, deputy director of Washington-based National Organization for the Reform of Marijuana Laws, which advocates for legalization of marijuana in the US, told China Daily.
"For instance, Idaho says that all marijuana, including hemp and products derived from hemp are illegal in the state. So, the federal government lifting the ban on hemp doesn't change the fact that in Idaho these products are still illegal," he said.
For a CBD product to be legal, it requires that a state has amended its laws on the same terms as the federal law, Armentano said.
But confusing rules about CBD oil led to some predatory companies entering the market and selling poor quality products with potential adulterants, he said.
One business sector increasingly interested in CBD is the pet-product industry.
Bill Bookout, president of the National Animal Supplement Council representing more than 230 brands in the industry, said CBD is "the hottest thing" that he has seen in his 20 years in the field.
Contact the writers at ruinanzhang@chinadailyusa.com.