Tree of friendship that continues to grow: China Daily editorial
Share - WeChat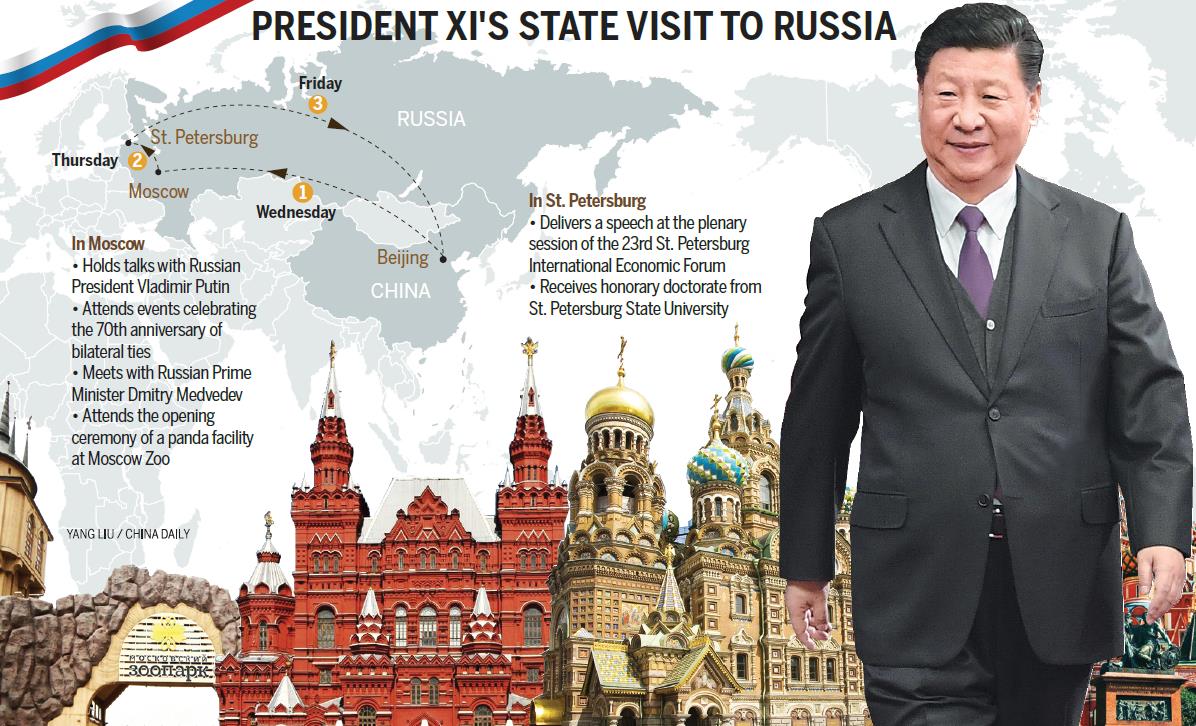 President Xi Jinping began his eighth visit to Russia in six years on Wednesday. The high frequency alone shows how much importance Beijing attaches to its relations with Moscow, not to mention his three-day visit coincides with official celebrations of the 70th anniversary of bilateral diplomatic ties.
And with the world facing the challenges of growing protectionism, unilateralism and economic chauvinism, China and Russia, both staunch supporters of multilateralism and the norms governing international relations, can jointly shore up confidence in global stability by ensuring they are on the same page and working closely together on the world stage.
Just as Xi said in a group interview with Russian media on the eve of his Russia trip, the relationship between China and Russia is now at its best in history and it is presented with new opportunities for further development. After seven decades of development, the Beijing-Moscow strategic partnership is stronger than ever before, as reflected in bilateral trade, which hit a record high of over $100 billion in 2018, up 27.1 percent year-on-year, the highest pace among China's top 10 trading partners.
Apart from his attendance at the 23rd St. Petersburg International Economic Forum, Xi is expected to hold bilateral talks with his Russian counterpart Vladimir Putin and sign or witness the signing of an array of important bilateral cooperation documents.
Bilateral cooperation is prospering in a wide range of fields including energy, aerospace, connectivity and people-to-people exchanges, with cooperation being expanded into new areas such as the digital economy, high technology, Far East development and Arctic exploration.
No doubt Xi's visit to Russia will elevate China-Russia comprehensive strategic partnership of coordination to an even higher level.
Setting a good example for major country relations, the strategic partnership between the two countries not only benefits the two neighbors, it also plays a crucial role on the global stage. With close coordination in major global platforms including the United Nations, the Shanghai Cooperation Organization, BRICS and the G20, China and Russia have become an indispensable force in helping solve major global and regional issues.
They have made concerted efforts to help address the world's most pressing issues, such as climate change, terrorism, the Iran nuclear issue, denuclearization of the Korean Peninsula and the crisis in Syria.
Their commitment to building a multipolar world and adherence to a nonalignment policy make them stand out against the Western-style military alliance, and this also sheds light on how other major countries in the world should interact with each other.
Against the backdrop of a fast changing world, China and Russia have everything to gain from continuously consolidating the political foundation of their relations and accommodating each other's major interests and concerns. We have every reason to believe the tree of Sino-Russian friendship will grow even stronger in the future.
Most Viewed in 24 Hours
China Views