Theater that strikes the right note
Share - WeChat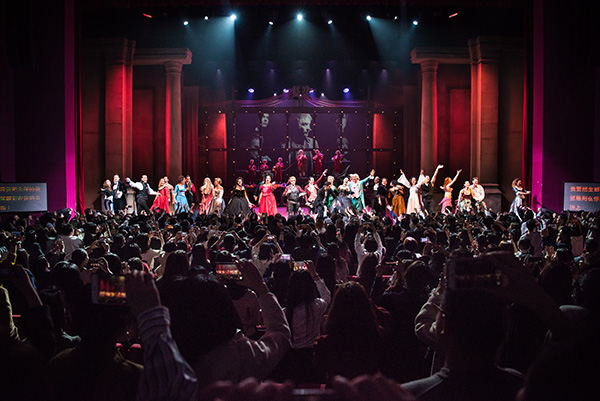 Melodious plays provide a backdrop for enthusiasts to don extravagant dress and makeup, Cheng Yuezhu reports.
As dusk descends, the music of the night is about to start. Time for full makeup and a theatrical costume. Lines must be rehearsed. But these are not actors, at least not on the main stage. These are some of the fans who spare no effort in their offstage performance.
The main cast will get the applause and maybe a standing ovation, but the cosplayers and bloggers have a supporting role as devoted musical fans.
For some enthusiasts, musicals entail such power that they extend far beyond simply a performance or a one-off experience. Rather, musicals are to be savored repeatedly, each time offering a new sensation.
Musical fan Li Li (pseudonym) has been to the theater to watch live performances of Les Miserables 38 times. She started a habit of going to musicals when she studied in London and lived in the West End, the center of the city's world-leading theater district.
When she goes to the Queen's Theatre, home to this world-renowned musical, she can discern the tiny details-how the performance differs from previous ones, or what minor changes the actors have made that fit the characters' personality.
"What attracts me the most about musicals is the inclusiveness, their constant exploration of incorporating other art forms, as well as those factors unique to individual musicals such as the beautiful songs, the charming actors, ingenious stage design and great storyline," says the 25-year-old.
Before a performance of Mozart L'Opera Rock in Shanghai in 2018, another fan named Liu Borui, 21, stands out from the crowd with his ornate sense of style. He is dressed as Antonio Salieri, an antagonist who's also empathized with by the fans, a flawed character driven by jealousy in the musical as his reputation is diminished as Mozart's rises.
Wearing a black velvet tailcoat, underneath a waistcoat and a bow tie, he has one arm poised in front of his body adorned in lace sleeves. He embodies the temperament and appearance of an 18th-century gentleman.
Liu says he was a timid boy growing up, and musicals encouraged him to come out of his shell.
"Being the focus of the crowd delights me, and the costume and makeup help me conceal my true identity," Liu says.
Musical fans showing up at performances in costumes are already part of the scene, but what makes Shao Feifei, a teenage girl and also a fan of Mozart L'Opera Rock, stand out is that she makes all her costumes herself.
Before becoming a musical fan, Shao was already involved in the cosplay scene as a makeup stylist for other cosplayers. She says that she has met a lot of male cosplayers who refuse to wear makeup because they want to "maintain their masculinity".
"I can feel how males are not encouraged to express their desire to look good, so to me it takes a lot of courage for Mikelangelo Loconte (Italian singer and actor of the protagonist Mozart) to wear heavy eye makeup. Whether intentional or not, he is breaking the gender stereotype, and I admire him very much for that," Shao says.
She started making her own costumes in 2018 because custom-made clothing is expensive. When she first modified a coat into a simple costume and wore it to a fan meeting of Loconte in Shanghai, she was invited onto the stage and was praised by the actor as "incredible", so she decided to pick up the craft.
She also seeks self-improvement from her love of musicals and the motivation brought by Loconte. "I actually have concerns about idolizing stars, because it requires a lot of unrewarding devotion, so I keep reminding myself to learn something in the process," she says.