Shanghai gold quest wide open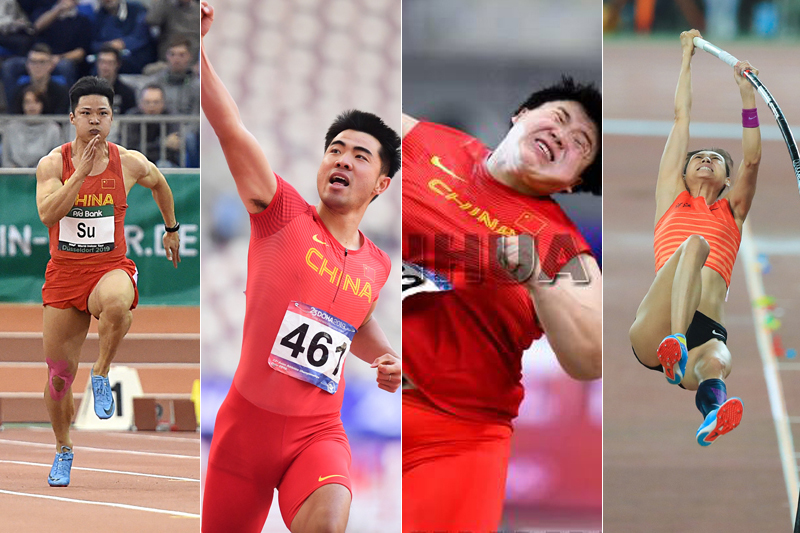 Diamond League meet a huge test for Team China
China's best against the rest.
That's the scenario for the IAAF Diamond League Shanghai this weekend as the best homegrown athletics aces go for gold against an army of global greats at Shanghai Stadium.
The host team's brightest stars are sprinters Su Bingtian, who holds the Asian record of 9.91 seconds in the 100m, and Xie Zhenye, who last year broke the 10-second barrier with a personal best of 9.97.
The 29-year-old Su has been on a roll this season, pocketing his third straight 60m victory in February in Europe. His top priority is to break the 9.90 barrier in the 100 and maintain optimum form heading into the September world championships in Doha and next year's Tokyo Olympics.
Su and Xie partnered at the IAAF World Relays in Japan last week, finishing fourth with a time of 38.16s-just 0.01 second behind third-place Britain.
"The new Team China needs more cooperation and each athlete needs to follow a growth process," Su said on Weibo, accompanied by a video of him training for the Shanghai challenge.
"We are on a journey to build confidence. I'm satisfied with our performance in Japan, but I believe we will chart a better future. See you guys in Shanghai!"
Unlike Su, who had a fabulous 2018 season, Xie Zhenye has battled the injury bug after being sidelined last July. But the 25-year-old proved he's still got what it takes to become one of the fastest men in China when he took gold in the 200m at last month's Asian championships.
"I had not competed in a major international tournament since last summer," he said. "I want to return to the highest podium this season, but I know there are many competitive runners. Compared to last season, I'm now more stable and I had some solid training while recovering from my injuries."
Another star expected to shine in Shanghai is Xie Wenjun, who raced to gold in the men's 110m hurdles at the Asian championships, setting a personal and season's best time of 13.21s. That topped the championship record of 13.22 set by China's former Olympic and world champion Liu Xiang in 2011.
After Liu's retirement, Xie Wenjun was hailed as the man to keep China's glory in the 110m hurdles while refreshing more records, and he'll be gunning for that achievement in Shanghai.
The 29-year-old considered retiring after last year's Asian Games in Jakarta, but decided to continue his quest for a podium finish in Tokyo.
"That time of 13.21 was a new beginning but there's still a gap between me the world's best," said Xie Wenjun, who won gold in Jakarta.
"I will spend more time in training to further improve my performance. There are more personal bests waiting for me."
On the women's side, China's pole vault queen Li Ling, who holds the Asian record of 4.70m, world champion shot putter Gong Lijiao and javelin thrower Lyu Huihui, who beat her own mark of 67.69m with a throw of 67.72m to set the Asian record last month, are all competing in Shanghai.
shifutian@chinadaily.com.cn