Stuff to unwind, sharpen minds, make profits
Share - WeChat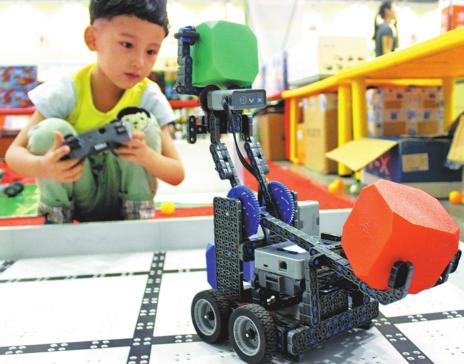 What's the 996 debate now raging among Chinese netizens got to do with toys that even adults love to play with? Let me explain.
For the uninitiated, 996 refers to a method of working 9 am to 9 pm, six days a week, or a 72-hour slogging through the week as against the global norm of 40-hour workweeks.
When Alibaba co-founder Jack Ma endorsed the controversial concept, some critics underlined its implications for the quality of life. They argued many 996 workers don't get paid overtime. Worse, some of them, stressed out and strained, end up in hospital.
But, thankfully, not all workers in China have to put in 996 weeks. I count myself as one of the luckier lot.
Despite my hectic, always-on-call schedule as a business journalist, I do manage to make some time over the weekend for my favorite pastime, which is Japanese anime Mobile Suit Gundam - I equip soldier miniatures with over 40 accessories, including extra clips and night vision instruments.
Others, such as the young people of China's northeastern region, have graduated from consuming alcohol in groups, working out together or driving to the countryside to kill weekend time to playing with high-tech toys like drones, assembling advanced-level Lego pieces, and building World War II-themed aircraft and tank models.
Being able to own and play with such celebrated, IP-protected toys means a lot to some adults, not just kids.
Certain social factors sustain interest in such things even in adulthood, although changes in environment could sometimes suppress that love during certain phases of life.
But, once conditions are conducive, high-tech toys bounce back into life, often by incorporating new cultural elements.
In China, literary traditions, copyrights, and cultural products like museum souvenirs are having something of a revival. Some people think such things have no bearing on the real economy. They are not right.
Amid the ongoing consumption upgrade and rising disposable incomes, the middle-income Chinese are developing diverse hobbies. One such hobby is the love of sophisticated high-tech toys that can help sharpen mental and physical skills, and help one to de-stress and recharge.
When such toys promise to spawn a multibillion-yuan market, focus will shift to high-quality manufacturing, which requires workers and machines with enhanced skills or functions.
Many young Chinese parents want their kids to spend more time playing with such brain-stimulating toys than watching mind-numbing content on TV, smartphones, tablets, laptops and such hardware.
In a sense, parents, it seems, would like their kids to have quality lives that they themselves may have missed out on. "Old-fashioned" or "classic" are among the frequently searched keywords on many e-commerce platforms' toy microsites.
Non-digital games are regaining popularity at the expense of some of the most innovative best-selling toys. However, given the fierce academic competition among kids, educational toys and robots are expected to hold their ground, especially in the STEM - science, technology, engineering and mathematics - space.
I see that many consumers in major cities are gradually abandoning action dolls associated with anime movies, and favoring toys and games related to skills or knowledge.
You may see fewer parents shopping at toy stores, but that's because they are buying stuff for their kids online. And e-commerce offers wider variety; this factor impacts on the kind of toys they buy.
Millennial parents are result-oriented. They want their children to go beyond dumb entertainment and develop an all-round personality built on a strong foundation of physical, mental and social skills.
So, I'd argue STEM and educational toys will remain key choices of parents, and e-commerce will continue to grow.