Cool kid Kuang a cut above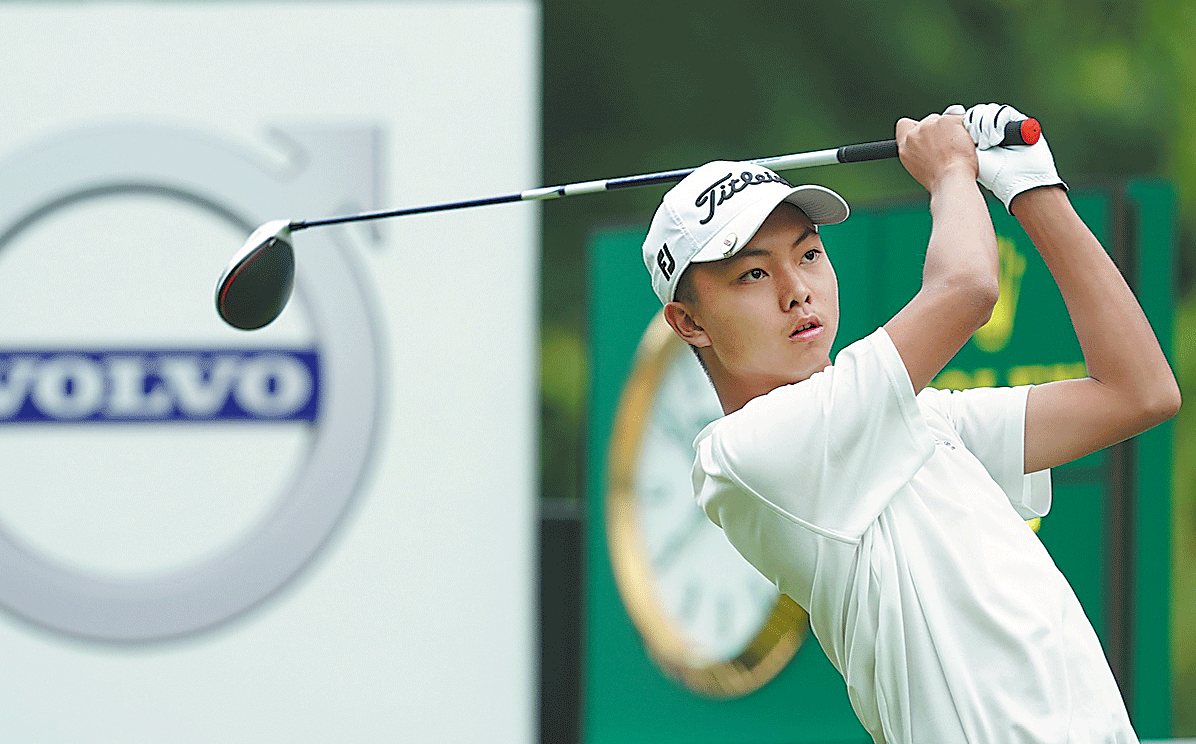 Like a lot of teenagers, Kuang Yang likes to doodle on his iPad or strum a guitar to while away the hours.
Over the weekend, however, he added 'thrilling the galleries while firing historic rounds of golf' to his list of favorite pastimes after he commanded the world's attention with a masterful performance at the 25th Volvo China Open.
On the opening day of the tournament, Kuang stepped on to the first tee as just one of a record 45 Chinese mainland players competing at Shenzhen's Genzon Golf Club.
The next day he was making global headlines after becoming the second youngest player ever to make the cut at a European Tour event, at just 14 years, six months and 12 days.
Over the next two rounds he was joined by another Chinese kid-17-year-old Liang Enqi.
Just as impressive as his 71-71-69-73 scorecard in Shenzhen was the ease with which Kuang coped with the spotlight-coolly draining a 20-foot putt on the final hole of his second round before acknowledging the roar of the crowd with a confident fist-pump.
"There was a lot of attention around us once we made the cut but I really enjoyed it. I enjoy having the crowd around me. I just have to enjoy the noise and have fun, you know? I like the cheering and the noise and the way the crowd shouts 'woooooaaaah'-it's fun!" said Kuang, who is naturally left-handed but plays right-handed because that's how the pros did it on the DVDs he watched as a 2-year-old.
"I do want to be a pro but I've no plans right now as it is all about studying and playing golf. In my free time I like to play games on the iPad and play the guitar. Do I play the guitar left-handed? I wanted to but my teacher said I wasn't allowed!"
Kuang eventually finished at 4-under in a tie for 55th place, 16 shots off winner Mikko Korhonen of Finland, who beat France's Benjamin Hebert in a playoff.
Kuang's breakthrough sent shockwaves around the world and featured on highlights packages on ESPN and Golf Channel.
At the time, though, he was oblivious to the magnitude of his feat.
"I only heard about the media coverage on Saturday afternoon and it made me very happy," said Kuang, who qualified for the event by winning the Volvo China Junior Match Play Championship.
"My only aim when I started the tournament was to learn from it and perhaps make the cut. I was so relieved and happy when I made that putt on 18-it was my dream and I wanted to celebrate."
At 17, Liang has a clearer idea about when he might join the pro ranks.
"I'd love to turn pro in three years when I am 20," said Liang, who secured his place in the field by winning the Volvo Amateur Qualifying Final.
"If I can get the chance to play NCAA college golf in the US then I will, but if I can't then I'll definitely study here in China."
Both youngsters appear to have their golf shoes firmly on the ground and can count on the support of their families.
"I had my father as my caddie this week, which was great," said Liang. "He's a terrific caddie and he used to play golf a long time ago. When I'm out on the course and maybe get angry or frustrated after a bad shot, he is there with advice and helps me focus.
"Golf probably takes up about 50 percent of my time when I am not studying. The rest of the time I'll work out in the gym or read. I like books about Buddhism as I think they are good for me and my game."
With the likes of Li Haotong, who finished fourth at 16-under in Shenzhen, and Wu Ashun (tied for fifth at 15-under) regularly impressing on the world stage, Chinese golf is in a healthy place right now.
The fact that a record 10 players from the Chinese mainland (including three amateurs) made it to the final two days of the Volvo China Open also speaks volumes.
"I would not be at all surprised if we see a major winner coming from China within the next 10 years," said European Tour chairman David Williams on Sunday.
"The work done in China over the past 25 years is remarkable."