XCMG cranes shine overseas
Share - WeChat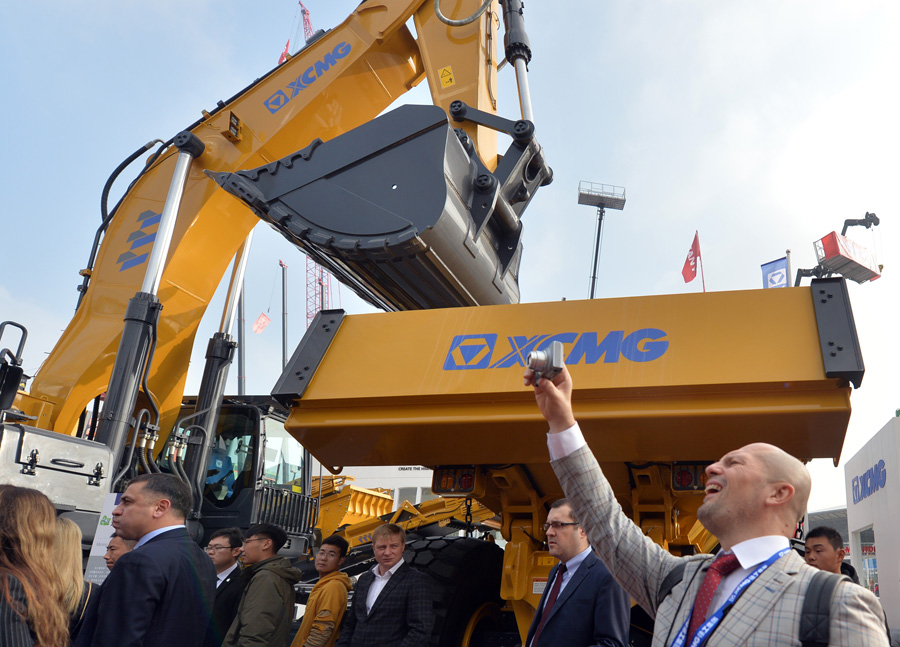 Maker of building machinery sharpens competitive edge with tech breakthroughs
Xuzhou Construction Machinery Group plans to launch 84 new types of customized cranes in overseas markets this year.
XCMG's ambition is to be one of the top three in its industry by 2025, its chairman, Wang Min, said.
XCMG is aiming to raise its global ranking in the construction machinery manufacturing sector from the current sixth to fifth in 2020, and to the top three by 2025, as the group is forging a world-class enterprise with great competitiveness.
"Overseas markets and the high-end market are the key to the future of China's construction machinery industry. Only when a company develops a competitive edge in the global high-end market, it is viewed as a world-class brand," said Wang.
"To become an industrial bellwether, XCMG needs to go global, increase its export volume and raise its global revenue to 50 percent by 2020."
According to Wang, the new-generation product named the G-series crane has been designed to adapt to the environment and work in different geographical regions.
"We are confident that our new line of cranes will achieve success in these markets. XCMG aims to make breakthroughs by adapting to client needs with differentiated products and cutting-edge technologies in the future," said Liu Jiansen, assistant president of XCMG Machinery and general manager of XCMG Import and Export, both subsidiaries of XCMG.
In 1990, XCMG exported 100 road-rollers to the United States, which was China's first order in the construction machinery sector, and also the very first batch of products of XCMG to be exported to the high-end market.
Since then, XCMG's export revenue surged from less than $10 million a year to more than $2.3 billion now. The group has held the top position among China's construction machinery manufacturers for 29 consecutive years, according to KHL Group's rankings of the world's top 50 construction machinery manufacturers in 2018. Its global ranking moved up two places to sixth from a year ago.
XCMG's tailor-made products are based on intensive survey and research in a wide variety of markets around the world, which can be regarded as "one country one policy" and even "one region one policy", according to Wang.
"Every time we look to exploit a new market, XCMG will fully understand the unique requirements of local customers, so as to design and adapt products in accordance to their needs," he said.
The cranes for the Russian market are developed to withstand low-temperature weather, whilst those for Southeast Asia can adapt to narrow construction areas and local humid environment.
The US market, which is the birthplace of world's top construction machinery brand Caterpillar, is a highly competitive market and represents the top standards. After exporting, and communicating with US customers for a while, XCMG gradually won their respect.
XCMG's brand awareness reached 46.3 percent in Europe and the US, and exceeded 90 percent in Central Asia, Africa, the Middle East, and the Asia-Pacific, Wang said.
Some 25 types of G-series cranes have already been introduced to markets in Southeast Asia, the Middle East and Africa, according to Liu.
"These markets are in the countries and regions related to the Belt and Road Initiative, and they are also the key markets for XCMG because of their high demand for construction machinery. There are many infrastructure construction projects here," said Wang.
"XCMG has laid solid foundation for its development in countries and regions related to the Belt and Road Initiative."
More than 3 billion yuan ($446.8 million) has been invested in BRI-related countries and regions, and XCMG's products have covered 97 percent of them.
This year started with outstanding sales of cranes. As many as 11,756 units were sold in January, up 10 percent year-on-year, and 1,614 units were exported, up 42 percent, according to data from the China Construction Machinery Association.
"The sales rebound was helped by the increase in infrastructure investment in domestic roads and water routes," said Ge Xin, an analyst from the Lange Steel Information Research Center.
Investment in roads and water routes totaled 128.22 billion yuan in January, up 9.2 percent year-on-year. Those in Central China soared 60.3 percent to 25.64 billion yuan, according to data from the National Development and Reform Commission.
"Domestic infrastructure investment will continue to grow in 2019, which will effectively enhance the market demand for construction machinery, and further stimulate sales of construction machinery equipment. Construction engineering projects have gradually kicked off since late February," said Ge.
More than 18,000 units of cranes were sold in February, soaring 59.5 percent from January and surging 68.7 percent year-on-year, CCMA data showed.
Headquartered in Xuzhou, Jiangsu province, the Chinese multinational exports its cranes to more than 183 countries and regions.
In 2018, XCMG saw its overseas sales of hoisting machinery business increase 33 percent year-on-year, and its crane exports to Europe and North America rose 50 percent from a year ago.