Building equipment boost proves economy is on track
Share - WeChat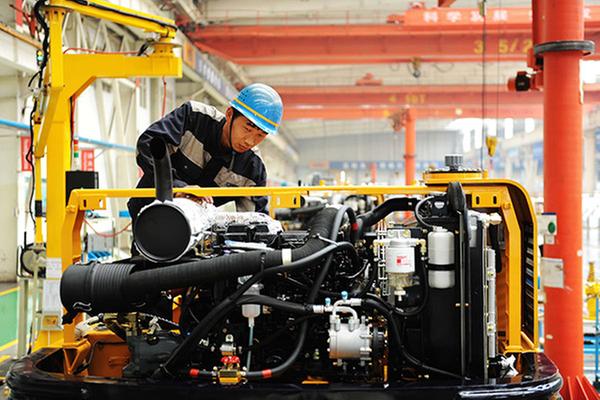 A worker assembles an excavator in a plant of Qingdao Lovol Excavator Co Ltd in Qingdao, Shandong province. [Photo/China Daily]
Sales of heavy duty excavators jumped to 11,283 units last month
Sales of heavy construction excavators doubled in May to cope with expanding infrastructure projects in China as the economy continues to purr along.
Industry insiders confirmed that the sector has been rising steadily in the past 10 months as demand increased here and globally for major construction equipment.
"The cost of buying an excavator is high, so most companies prefer to rent," said Ye Tan, a financial commentator, who writes for leading publications. "So, these sales figures show investment in the economy is now picking up."
Data released from Wind Information, a market leader in financial statistics and based in Shanghai, showed that major excavator manufacturers increased their sales last month to 11,283 units.
This was a rise of 106 percent compared to the same period last year.
To illustrate how the sector has grown, domestic sales of excavators hit 66,147 units in the first five months of this year, which is double the 2016 figure.
Wang Huajun, an analyst at Zhongtai Securities, pointed out in an infrastructure report that expanding domestic demand has stimulated sales.
"Infrastructure has seen 18.21 percent in investment growth in April year-on-year," Wang said.
"Rising excavator sales can be seen as a sign that the mechanical engineering industry is healthy," he added. "Growth in other equipment, such as bulldozers and cranes, is also expected to rise in next six months. "
The overseas market has also been a powerful driver as sales figures surge.
Sany Heavy Industry Co Ltd, one of the major manufacturers of excavators, has seen a 30 percent rise in the first three months of this year.
"Sany reported that first quarter overseas sales accounted for 40 percent of its total sales figures," said Huang Luchuan, chief marketing officer of ROOTCLOUD, an industrial internet open platform and end-to-end solution provider.
"Up to 70 percent of oversea profit was generated in countries and regions involved in the Belt and Road Initiative," Huang added.
Data from ROOTCLOUD showed that Sany's excavator sales to Russia have jumped more than five-fold in the first quarter, while sales to Latin America and the Middle East also increased.
"Excavators are not just used for basic construction," Huang said. "They are also used in advanced projects such as wind power farms, industrial housing, smart city developments and medical equipment factories."
According to 21-Sun, a machinery and engineering business service website, 21 out of 26 major companies manufacturing excavators posted sales growth in May, including the top five of Sany, XCMG Group, Doosan Corporation and LiuGong Machinery Co Ltd.