Keeping up with tradition
Share - WeChat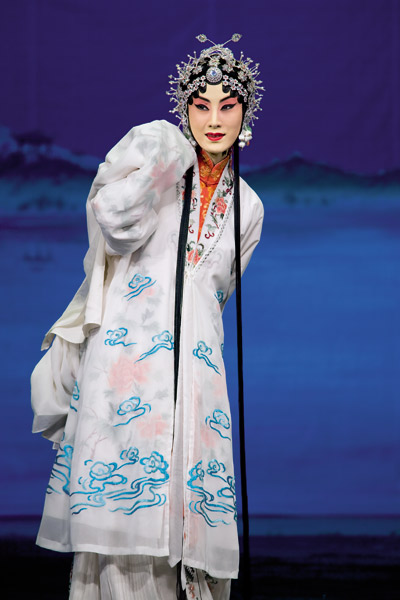 A decade in development, Peking Opera star Zhang Huoding's adaptation of the classic Farewell My Concubine in the Cheng style is nothing short of a dream come true, Chen Nan reports.
"One of my biggest dreams started more than 10 years ago, and now it's coming true," said Peking Opera star Zhang Huoding in a rehearsal room of the National Academy of Chinese Theatre Arts on April 23.
For the past year, she has been practicing and working on adapting the classic Peking Opera piece, Farewell My Concubine, from the same rehearsal room.
With the collaboration of 77-year-old Peking Opera artist Gao Mukun and 78-year-old composer Wan Ruixing, Zhang's rendition of Farewell My Concubine will premiere at the Chang'an Grand Theater in Beijing on May 25. In October, the show will be staged in Shanghai.
Telling the love story between Xiang Yu, a warlord of the Chu Kingdom, and his concubine, Yu Ji, the classic Peking Opera is one of the most famous pieces of the 200-year-old art form, which combines singing, dancing, martial arts and acrobatics.
Adapted from the Kunqu Opera piece, Qian Jin Ji, written by Ming Dynasty (1368-1644) writer Shen Cai, Farewell My Concubine was first performed by Peking Opera masters Yang Xiaolou (1878-1938) and Shang Xiaoyun (1900-1976) in Beijing in 1918.
In 1922, Peking Opera master Mei Lanfang (1894-1961), along with Yang, performed the piece, which later became one of the most famous works in Mei's repertoire. The piece is also regarded as one of the most classic pieces of the "Mei school", the performing style he developed.