Bullet trains stay on track
Share - WeChat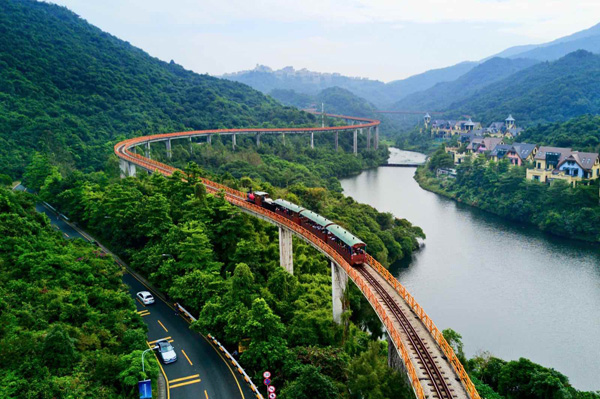 China's high-speed rail network carries 4 million passengers every day, connecting some of the country's top draws
China has built the world's longest high-speed rail network and is continuing to expand it rapidly.
With a total length of 29,000 km by the end of 2018, high-speed rail now covers 30 of the country's 34 provincial-level administrative divisions, accounting for more than two-thirds of the total high-speed rail lines in the world.
According to the China Railway Corporation, the country's top rail operator, China's originally planned "4+4" network of four north-south and four east-west main lines is nearing completion. An extended "8+8" network of 38,000 kilometers of high-speed rail lines is projected to be operational in 2025. Later improvements are likely to focus on speed rather than distance.
Notable high-speed rail lines in China include the Beijing-Guangzhou high-speed rail line, which at 2,298 km is the world's longest high-speed rail line in operation; the Beijing-Shanghai high-speed rail line, with the world's fastest operating conventional train services; and the Shanghai Maglev, the world's first high-speed commercial magnetic levitation line, whose trains run on non-conventional track and reach a top speed of 430 km/h.
This year, China will continue to expand the coverage of high-speed trains. According to the rail operator, 3,200 km of high-speed rail lines will be built this year, which is part of a planned development of new rail lines as the country will keep fixed-asset investment on railway on a large scale.
More than 4,000 bullet trains run in China, carrying 4 million passengers every day. High-speed rail lines have greatly cut down the journey time and attract travelers with their comfort, convenience, safety and punctuality. In China, most major cities are connected by high-speed rail lines.
China's high-speed rail technology has also gone global. In 2014, China completed the construction of its first overseas high-speed rail link in Turkey. In June 2015, China and Russia inked deals for 770 km of high-speed track connecting Moscow and Kazan.
In October 2015, China and Indonesia signed a joint venture on the construction of a high-speed rail link between Jakarta and Bandung.
panmengqi@chinadaily.com.cn