On the right track
Share - WeChat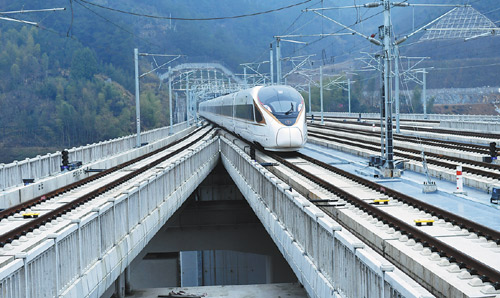 The arrival of a new high-speed railway line to the scenic lakeside town of Qiandaohu in East China's Zhejiang province has changed the lives of its residents immeasurably
I sat quietly in my seat on the new Fuxing bullet train on the first day of February, looking out of the window and watching the views outside flash by in an instant.
I passed by the boundless plains of northern China, with its endless farmlands and rows of trees, starkly lifeless save for a few nests lying amid the bare branches. Then came the silvery landscapes of Jiangsu province shining after a fresh fall of snow.
The train continued its dash toward the south. Dense cities and rolling hills with green trees took turns to make an appearance.
As the train began to approach its destination of my hometown of Qiandaohu in East China's Zhejiang province, I could hear more people talking in our local accent.
Some of them kept checking with each other where we were, which was the next stop and how much longer it would take before we arrived.
It was the first time I have been able to travel home by train directly from Beijing without having to transfer-and the first time I had shared a train with so many of my fellow townspeople.
The railway connecting Zhejiang's provincial capital Hangzhou and Huangshan city in Anhui province opened on Dec 25, linking a group of tourist attractions in the Yangtze River Delta and my hometown, which is named after the lake that it sits on.
Qiandao Lake, or Thousand Island Lake, was formed during the construction of the Xin'an River Reservoir in 1959 and it has now become a well-known scenic spot thanks to its beautiful landscapes and fresh water views.
A high-speed train leaves Beijing for Qiandaohu every day, taking five hours and 55 minutes.
Previously, I had to travel to Hangzhou, no matter if I traveled by train or by plane before heading onto my hometown by road, which added another three hours to my journey.