2018 WTCF Qingdao Fragrant Hills Tourism Summit opens
Share - WeChat The 2018 World Tourism Cities Federation Qingdao Fragrant Hills Tourism Summit kicked off in WTCF member city Qingdao in East China's Shandong province, on Friday, with the theme of "Orient Industry Trends, Brand Tourism Cities".
The summit is jointly hosted by WTCF and the Qingdao Municipal People's Government. About 400 representatives from 59 countries, 112 tourism cities and more than 200 tourism-related enterprises, as well as many international organizations, including the United Nations, attended the summit. More than 50 national tourism ministers and tourism city mayors were also present.
The summit consists of eight main activities: the opening ceremony and keynote speech, WTCF council meeting, summit forum, Tourism Market Promotion Conference, Tourism Trade Fair, World Tourism Cities Investment & Financing Conference, exhibition and subcommittee activities.
At the opening ceremony, WTCF welcomed its 12 new members with a ceremony. So far, the number of WTCF members has increased from 58 to 205, covering 67 countries and regions from the five continents of the world.
The 2018 Annual Report on Development of World Tourism Cities was released at the opening ceremony, with the list of top ranking cities announced. London, Paris, New York, Tokyo, Beijing, Seoul, Sydney, Dubai, Hong Kong and Rome topped the comprehensive rankings. Among cities ranked on individual criteria, London is No 1 in resource attraction, comprehensive support and tourism satisfaction; while New York leads in industrial prosperity, Frankfurt in tourism convenience, and Geneva in economic contribution.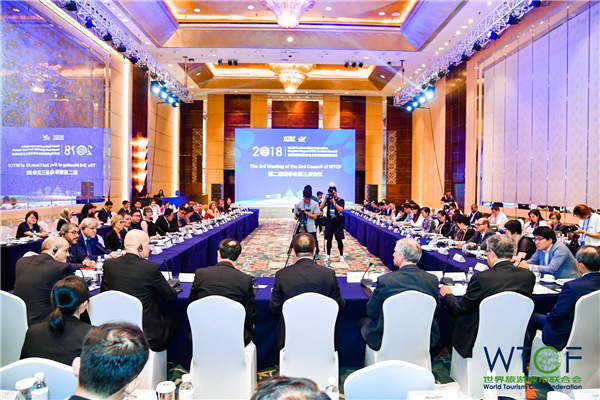 At the council meeting, the members agreed that Beijing, the location of the WTCF headquarters, will host the 2020 WTCF Member Meeting and the 2020 Fragrant Hills Tourism Summit.
The Market Research Report on Chinese Outbound Tourist (City) Consumption (2017-2018) was released at the forum and has outlined the new changes and trends for China's outbound tourism market after investigation and analysis.
The summit distributed the UNWTO/WTCF City Tourism Performance Research report in Chinese and English, jointly launched by WTCF and the United Nations World Tourism Organization. The report has selected 15 WTCF member cities, and researched them in key performance areas, with an aim of analyzing successful experiences and providing guidance for world tourism city development.
During the summit, the sixth China (Qingdao) International Cruise Summit was also held, with the WTCF Cruise Industry Committee and Alibaba Group jointly releasing the 2018 China Cruise Tourism City Consumption Report.
Established Sept 15, 2012, the World Tourism Cities Federation (WTCF) consists of world-renowned tourist cities and tourism-related institutions under the initiative of Beijing.