A mirage, come true
Share - WeChat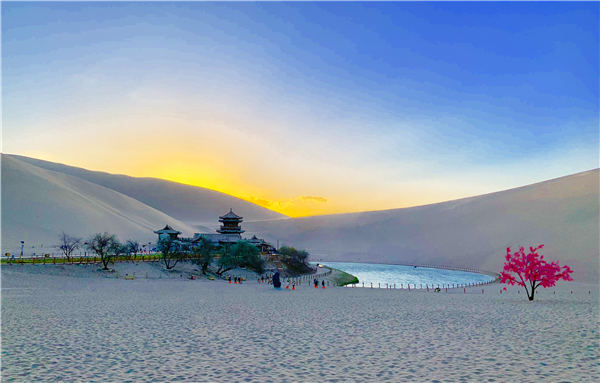 The Silk Road city of Dunhuang is an oasis shaped by the sands of time that has survived and thrived in the desert for millennia. The ancient refuge in one of the planet's toughest terrains sired an international settlement in no-man's land and continues to lure travelers from around the world.
Dunhuang appears as if a mirage come true in the desert - an oasis, an island of water in a sea of sand that seems as if it could not be but is. Camels once functioned like cargo boats that floated across the dunes that still crash like waves in the ocean of parched earth that led to this refuge constructed at the crossroads of thirst for water and hunger for trade.
The intersection of two major Silk Road routes in the Gobi, near the edge of the Taklimakan Desert, whose name translates as "place of no return", enabled passage through one of the least-hospitable swaths of the planet's surface.
Not only could people survive the sojourns across the wastelands - cross-border exchanges would flourish as a result.
Dunhuang sprang from its springs to become an international trade hub, regional garrison and place of pilgrimage for Buddhists.
Today, the city in Northwest China's Gansu province is experiencing a revival that's enhanced by the Belt and Road Initiative.
Visitors explore the desert at the edge of the city - and that edge, as viewed from the dunes, is abrupt. Poplars tower on one side of the road, dividing town from barren dunes. There's no transition between tall trees and pure sand.
Visitors to the 200-square-kilometer Mingsha Mountain Crescent Spring area still ride camels across the sand mounds that undulate like the backs of the beasts of burden that plod atop them.
Some opt for wheels rather than hooves and zoom across the dunes in buggies and all-terrain vehicles. They can also sled down the slopes in bamboo toboggans or soar above the rolling landscapes in three-wheeled, propeller-powered helicopter gliders.
The area's Crescent Moon Lake appears on Earth as if a reflection of the sky shimmering on the ground. The sliver of brilliant blue that streaks the sallow sands and the trees that stand at the edge of the water sickle's blade appear otherworldly, as if an illusion, as if impossible.