Arcfox plans to take charge by unveiling 3 new energy models
Share - WeChat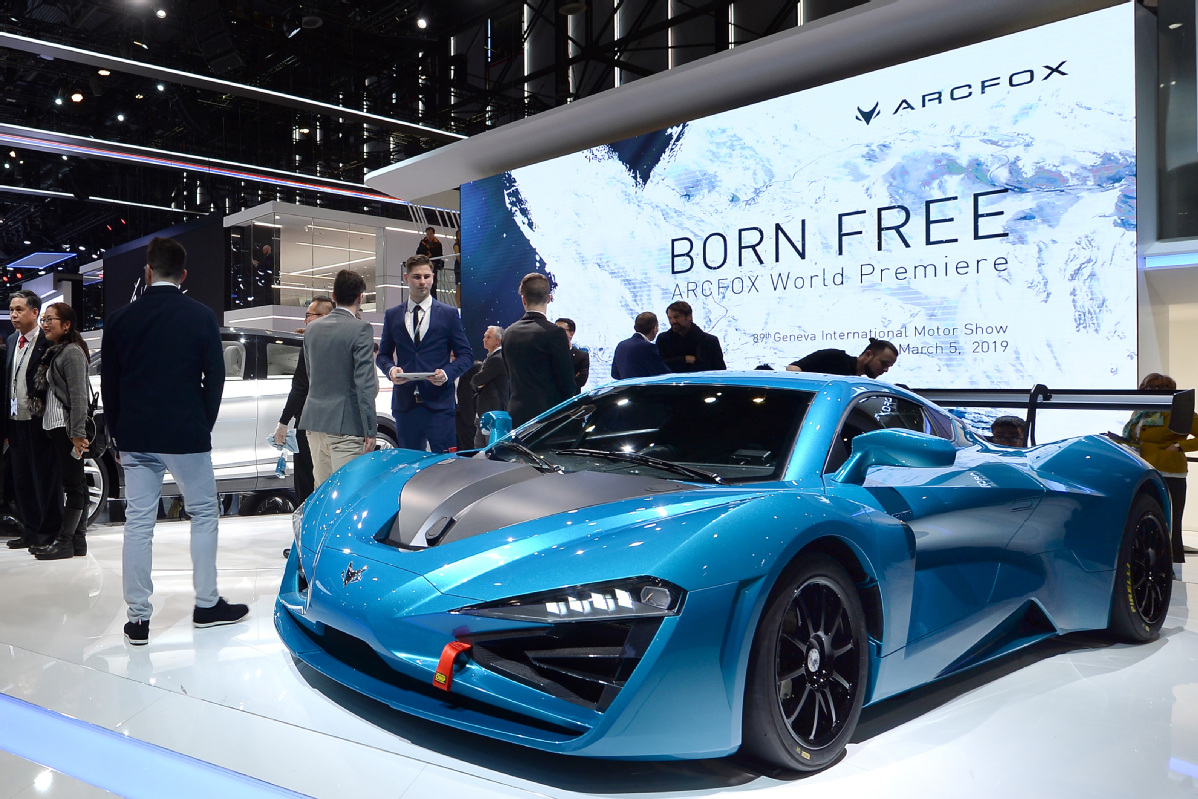 Beijing New Energy Vehicle, a subsidiary of BAIC Group, is to unveil three models of its high-end Arcfox brand on April 14 in Shanghai, as the latest move in its efforts to get ahead in China's increasingly competitive new energy vehicle market.
Arcfox's debut in Shanghai, which comes after its global premiere at the Geneva Motor Show last month, is positioned as a premium brand that pursues extreme performance, human-centered tech features and borderless design, said company executives.
The models - GT performance cars with road and track editions and a concept crossover - are meant to showcase the brand's signature extreme performance.
The GT was developed at BAIC Group's high-performance vehicle research and development center in Spain, and has obtained the certification of the European trade association. It can accelerate to 100 km/h in just 2.59 seconds, according to the company.
The ECF concept car, with its unique smart cockpit, is the brand's first premium intelligent SUV model with Level 3 autonomous driving for volume production.
Arcfox's first production model, a medium-and-large-sized SUV, will hit the market early next year, said Yu Chen, a deputy general manager of the brand.
Among other things, the model will have a range of more than 600 kilometers and will be hardware ready for Level 3 autonomous driving functions, with software able to be updated over the air.
Its rivals will include the ES8 SUV from Nasdaq-listed Chinese electric car startup Nio.
"Arcfox is the latest result based on the BJEV's accumulation of expertise in new energy vehicles in the past years," Yu said.
BJEV is China's largest electric carmaker. Last year, it delivered 158,000 cars, more than one-tenth of the country's total new energy vehicle sales.
Yu said three major partners - Daimler, Huawei and Magna - also helped in the brand's development.
Arcfox conducts technical validation at a lab Daimler built with BAIC, which is also its partner that locally produces Mercedes-Benz models. Chinese technology giant Huawei will provide connectivity and 5G-related solutions in Arcfox models.
Magna International, the Canadian automotive supplier, has an even bigger role to play. It has established two joint ventures with BJEV, one specializing in electric vehicle design and development, and the other a car manufacturing plant.
Located in Zhenjiang, Jiangsu province, the plant is one of the most advanced manufacturing facilities in China, capable of producing steel and aluminum car bodies, according to Arcfox.
The joint venture brings together Magna's vehicle engineering knowhow and BJEV's local clout to develop next-generation smart electric vehicle technology for the Chinese market, said BJEV.
The company said 70 percent of Arcfox's suppliers are global top 50 companies.
Arcfox aims to play a leading role in shaping the future of electric mobility and is also a part of BAIC's globalization strategy.
"Arcfox is the beam of light that BAIC Group presents to the world with its innovation and this beam of light is illuminating the way for us to move forward," said BAIC Chairman Xu Heyi.
BAIC, partner of Daimler and South Korea's Hyundai, is one of the largest State-owned carmakers in China. It will showcase up to 20 models from different brands to visitors at the forthcoming Shanghai auto show, which will get under way on April 16.